Washington cruises past Chicago 103-85 before Meesseman and Mestdagh depart for EuroBasket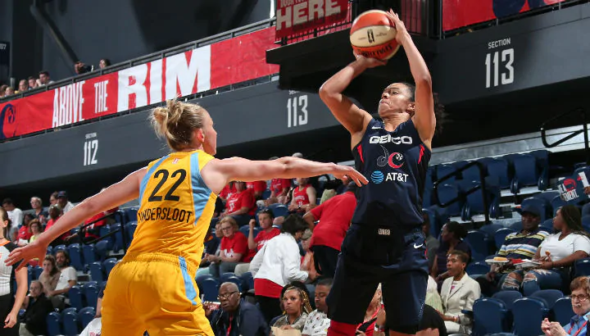 WASHINGTON – Every Washington Mystics player pitched in for a 103-85 win over the Chicago Sky Wednesday night.
"Well, we can all score," Washington Mystics head coach Mike Thibault joked before starting the press conference. "I'm happy. We had five people in double figures again, everybody is involved. On offense our bench scored 43 points – that's a lot of good stuff so now we just turn around and get ready for the next one."
Washington squeezed out a 27-25 first quarter lead, then took off in the second quarter with an 18-8 run by a mix of Mystics' starters and bench players.
Nine of Washington's players went 5-of-11 from three, dished 11 team assists and had only one turnover in the 30-point second quarter alone. The cohesive performance lifted them to a 57-42 lead, the most points scored at halftime this season. The second quarter cemented an upbeat tempo against Chicago, with the Mystics outscoring the Sky 26-16. Washington improved to 2-1 on the season with the win.
Chicago forward Diamond DeShields led all scorers with 24 points and five rebounds in the loss. Washington's forward Natasha Cloud's defense resulted in a scoreless game for Sky's guard Allie Quigley. Chicago shot 50 percent overall, but 19 turnovers plagued their performance.
"We just have to value the ball a little bit more." Chicago head coach James Wade said.
Five Mystics scored in double figures. Washington's bench scored 43 points. Guard Kristi Toliver led the Mystics with 19 points, six assists and four rebounds.
"We shared the ball really well and we get people in the right positions to utilize their skills," Toliver said. "It's not surprising. I think everybody came back this year with another year of experience and ready to go and it's good to see everybody contributing."
This spells a bright future for Washington because forward Emma Meesseman and guard Kim Mestdagh leave Thursday morning.
They are set to participate in the 2019 FIBA Eurobasket Tournament for the Belgian national team, the Belgian Cats. The duo will leave depart for roughly a month and a half, returning mid July to finish the season.
"I'm happy to leave to play for my country and try to pull off one of my dreams, but at the same time the chemistry here is pretty good," Meesseman said. "I'm going to miss playing with [Washington]. It's during the season so it's kinda annoying, but I'm going to make the best of it."
Thibault did a great job of reserving Meesseman and Mestdagh so they wouldn't get too comfortable in the lineup. Meesseman only started the first game since forward Elena Delle Donne re-injured her left knee before the season opener at Connecticut.
Against Chicago, Meesseman came off the bench and defended home court against Sky center Stefanie Dolson. Meesseman went 6-of-7 from the floor and was key in the second quarter run that separated Washington by defended the rim and Dolson.
Meesseman also added four rebounds and three assists. Her dominance and confidence in her on-court presence led to a total 11 point plus difference. She was right behind Toliver, tying with Delle Donne and Cloud for 12 points. Meesseman's Belgian teammate Kim Mestdagh scored three during her five minutes of action.
The answer lies within Washington's guard ensemble. The three remaining guards contributed 39 points together. Bench guard Shatori Walker-Kimbrough's two-way performance lifted the Mystics' efforts for a growing guard. The second -year player has made adjustments to complement Toliver and fellow guards, threading the needle for a thriving offense.
"We're definitely growing," Walker-Kimbrough said. "The chemistry is being maintained. We have weapons all down the bench. It's a scary site and we're only three games in the season. We're definitely going to build off of that and continue to improve defensively as well."
Washington will have their first games without Meesseman and Mestdagh at the New York Liberty Friday night, then return home to face the Dallas Wings June 9.
"Everyone's going to keep rolling," Cloud said. "Yeah, we lose them for a month. Yeah, it sucks but we gotta be able to play without 'em."
Stats
Points in the Paint: Sky 34, Mystics 46
Second Chance Points: Sky 15, Mystics 23
Fastbreak Points: Sky 5, Mystics 12
Biggest Lead: Sky 2, Mystics 27
Lead Changes: 3
Times Tied: 0
Attendance: 2,347
Shot Charts