Washington Mystics claim top spot in the league, earn fifth straight win after eclipsing the Sun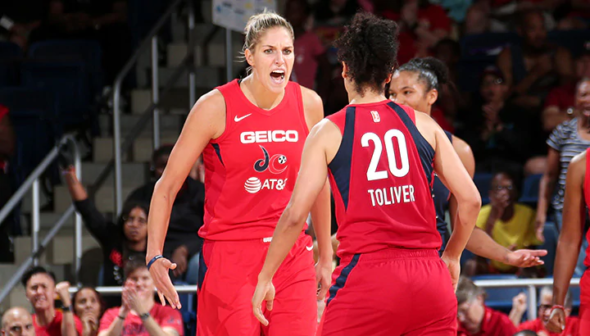 Stats || Shot Charts
WASHINGTON – Entertainment and Sports Arena's sellout crowd of 4,200 fans said it best. "We're number one! We're number one!" Fans yelled the phrase while the game's last seconds ticked away.
The crowd cheered the Washington Mystics, who indeed rolled to the league's top spot after their 102-59 win over the Connecticut Sun Saturday afternoon. Washington is still technically a half-game behind, though the Saturday win will move them up in case of a tiebreaker.
"Everything you could ask for in a game, we did today," head coach Mike Thibault said. "We shared the basketball. We got a lot of assists. We shot the ball well. Our bench played great. We had six players in double figures. And we defended. We frustrated them with our defense today. That's been the goal for the last two weeks."
Mystics played with the swagger of the best team in the WNBA. Six players scored in double figures, they practiced team ball with 23 assists and every active player scored for the largest win in franchise history. Reserve forward Aerial Powers collected 13 points and two rebounds for a 24+ margin off the bench. Washington's 56 points at halftime are the most this season.
The win over Connecticut came easy since Washington got into a dominant, balanced rhythm during their four-game road trip before returning Saturday. It was Washington's first-ever undefeated road trip over four games.
"Road trips are hard, playing in somebody's else home court is hard," guard Ariel Atkins, who scored 15 points and dishes four assists Connecticut, said. "For us to go out and do what we did, it shows us that we're capable. We can do this if we put our minds to it and that's the kind of focus we want to have."
It's also when forward Elena Delle Donne showed signs of being the best player in the league. She was everywhere against Connecticut with aggressive drives toward the rim, diverse shot selections, turn-and-shoots, buzzer beaters and rebounding with two or three Sun players crowding her.
"I'm really happy with this game and how we all played," Delle Donne said. "Our trust in one another is huge. We just want to continue to get better."
She was an unstoppable force, recording the game high of 19 points, ten rebounds, two blocks, two assists and a steal.  While a plastic blue ice patch resting upon her left knee, Delle Donne said the team balance creates a standard of excellence for Washington to continue while success places targets on their backs.
"We know we have such a talented group," Delle Donne said. "We know we never have to force the situation if we continue to spread the floor and let the right people attack."
Connecticut dropped three straight after their 47-point loss to Washington. They will still take the season series against them even with the loss. In previous matchups, Connecticut won both, the season opener 84-69 and a June 11 matchup 83-75. The Sun were atop the league with a seven-game streak that started June 2 with a win at Las Vegas and ended against Chicago June 23.
"We have to figure out how to score," Sun guard Shekinna Stricklin said. "Forty something points, 50 something points, is not good. We just have to figure some things out. We have to make some changes."
The Sun miss guard Layshia Clarendon. She's out for the season after surgery on her right ankle. Shooting an overall 30 percent, committing 15 turnovers and being outrebounded defensively 35-20 doesn't help their chances without her. Center Jonquel Jones finished with the team high of 15 points and seven rebounds on the night for the Sun.
While Washington holds the best road record in the league, they still haven't hit their full stride. First-round draft pick guard Kiara Leslie still missing due to recovery from shoulder surgery. Belgian players Emma Messeeman and Kim Mestdagh are still overseas with the their national team participating in the 2019 FIBA EuroBasket.
Connecticut returns to the floor July 6 against the Minnesota Lynx. Washington hits the road for two games against Las Vegas Aces and Los Angeles Sparks.
Stats
Points in the Paint: Sun 28, Mystics 24
Second Chance Points: Sun 16, Mystics 5
Fastbreak Points: Sun 6, Mystics 14
Lead Changes:
Times Tied: 0
Shot Charts