Washington's "bench mob" lifts Mystics in 86-62 win over Dallas Wings, Hawkins leads with career-high 21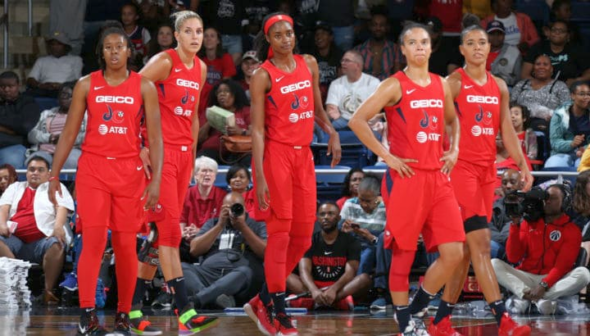 Stats || Shot Charts
WASHINGTON – "Somebody asked me the other day what our bench would be like with Emma [Meesseman] gone," Washington Mystics head coach Mike Thibault said to media during his postgame presser after his team beat the Dallas Wings 86-62 Sunday afternoon.
The Washington bench answered the question beautifully, providing 43 points in the win over Dallas (0-4) at Entertainment and Sports Arena.
Things didn't always go easy for the Mystics (4-1). The starters began the contest shooting 33% from the floor. Meanwhile, Dallas forward Glory Johnson came out with a punch-first mentality helping the Wings jump out to a 20-15 lead along with assistance from guard Brooke McCarty-Williams and Kaela Davis behind Johnson.
"She is a good, solid foundation player for us," Dallas Wings' head coach Brian Agler said about Johnson who is in her seventh year with the league. "With this type of team we have right now, she is like the veteran. We rely heavily on her in that kind of capacity."
Dallas' aggressive double teams on forward Elena Delle Donne and isolation against guard Kristi Toliver distracted Washington, until the bench, who refer to themselves as the "Bench Mob," showed up to stabilize the rocky first half.
Reserve forwards Tianna Hawkins and Aerial Powers pulled the Mystics out of their scoring rut. Hawkins and Powers combined for 12 second quarter points. Hawkins did the defensive groundwork for four rebounds. Powers sparked an offensive presence scoring five points in four minutes. Washington's mix and match rotations helped the rhythm evenly spread through the lineup. Starting guard Natasha Cloud played with Hawkins and Powers, adding 13 points, four rebounds and three assists in the game.
"They were phenomenal," Cloud said. "For us to be that versatile, especially with us talking about being a championship team, that's huge."
The Mystics led 40-34 at halftime, but an awkward third quarter start put the lead in jeopardy. Hawkins and Powers re-emerged to put Washington back in front and cruise to the 86-62 win. The two run sets together in practice, can share a few laughs and dominate on the floor. Washington's two bench mob marauders combined for 39 of Washington's 86 points.
Hawkins, in her fifth year, can be considered the biggest boss of the Bench Mob. Hawkins is a guard-forward, providing power and efficiency from the bench. The Maryland alumna's 6-3 height was already an advantage, but she's been keeping up with her weight goal of 180 pounds for quick attacks this season. She committed to her identity as a forward, driving opponent out of the paint with the guard-like presence and developing a three-point range shot.
"Being able to step out on the three-point line and hitting them with a dribble [inside worked tonight]," Hawkins said of her versatility. "And I'm in much better shape this year."
She was the most productive scorer for Washington, tallying a career- and team-high of 21 points and six rebounds. She missed her first bucket with 4:16 remaining in the game. Hawkins grabbed rebounds while making room for the team's offense success.
Her defense silenced Dallas' mid-range shooting options. She held Wings' center Isabelle Harrison to just nine points while giving room for Powers to produce. Johnson finished with Dallas' team high of 15 points and nine rebounds.
Hawkins ran the floor for Washington throughout the second quarter and smoothed the pace of the game.
"Everybody was able to play off her today and her energy," Powers said. "Her offense and defense, really. It was some offensive rebounds and it gave us these energy boosts. I feel like since she did that, we all felt it."
Powers continues to grow into her roles during her second season with the Mystics. She's another nifty forward with guard abilities, juggling the responsibility of locking defenders out while providing a diverse shooting arsenal. She tallied the second highest points against her former team, scoring 18 points and two rebounds off the bench. Washington's ability to count on bench players pays in the long run.
"Shatori [Walker-Kimbrough] didn't have field goals and her defensive getting to the basket and foul line was big," Thibault said. "You have nights when teams try to take out your best players. They doubled Elena the entire night and we found other people. The balance is what keeps things going for us."
Productivity brings little peace of mind to the Mystics. An active offense is a great advantage, but Washington's defense must mature. The issue needs to be addressed with rematches against two of the league's dominant forces looming ahead. Washington travels to the Connecticut Sun Tuesday night to face off in Mohegan Sun Arena, then look to avenge their WNBA Finals sweep against the Seattle Storm Friday night.
Dallas heads home to host the Indiana Fever Thursday June 13.
Stats
Points in the Paint: Wings 34, Mystics 22
Second Chance Points: Wings 9, Mystics 15
Fastbreak Points: Wings 4, Mystics 11
Biggest Lead: Wings 5, Mystics 24
Turnovers: Wings 15, Mystics 12
Lead Changes: 2
Attendance: 3,564
Shot Charts