Writing Washington: Lengthy road trip awaits the Mystics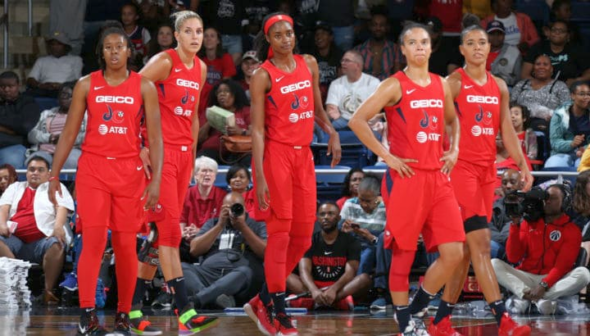 The Washington Mystics deserve credit when it's due. They defended their new home court at Entertainment and Sports Arena going 3-1 for the first four home games. Total attendance so far is 13,765 fans including the 3,654 that witnessed heartbreak against Seattle Friday night. An 81 percent fan turnout in a 4,200-capacity arena is ideal for how frequent Washington brings success to the nation's capital, but now they'll be hitting the road for four games.
There's not much soul-searching Washington needs to do. They just need to get back on track. Their strengths rely in their complete set of strong shooters and defenders who will need to work together for four games in an upcoming road stretch. Washington will approach all four teams differently, so it's interesting to see how they'll put their best foot forward. Below is a summary of the problems each matchup brings and Washington's assumed approach toward them.
Los Angeles
Though the Mystics didn't do too well against Seattle, the game exposed Washington's problems and potential. After all, Washington was up 13 points over the Storm before a rough fourth quarter. If Washington can stabilize their game upfront, and Kristi Toliver can stay in the game without any ejection, they can make the most of their trip.
Mystics head coach Mike Thibault complained about dropping the Seattle contest, especially before traveling out West for a matchup.
"Just those things – they are not good basketball," Thibault said of the performance. "So, we have to go and make up for it somewhere in the next month. We have to get one that maybe no one expects you to win."
I'm pretty sure the "one" Thibault was talking about is their road opener against the Los Angeles Sparks. Staples Center is the perfect place to start a road trip. Washington is going to face notable adversity and solid talent.
Los Angeles hosts Washington after New York's 98-92 win at Staples Center Saturday. Liberty center Amanda Zahui B gave a monster career-high performance of 37 points,  seven boards and three blocks. Los Angeles (5-3) punch-first mentality even without star forward Candace Parker who tweaked her hamstring before the season began. Star defender and guard/forward Alana Beard is also out with left leg injury. The team announced Monday afternoon that Parker's seasonal debut will be against the Mystics. The Sparks get their lead performer back in the game. Washington is going to see Los Angeles in a completely different identity no one has seen all season.
Los Angeles is dangerous right now. Washington is visiting a well-oiled machine. They won two big road games against the Phoenix Mercury and Minnesota Lynx. Chelsea Gray played well for Los Angeles in both contests. She became an offensive juggernaut with Parker and Beard out.
Gray and Mystics forward Aerial Powers will be a great matchup. Everyone in Washington's rotation will have to make the most of the first game. Earlier this season, It didn't seem as if Washington forward Emma Meesseman's absence for EuroBasket wasn't that big of a deal. She only started in the season opener due to forward Elena Delle Donne knee injury. Thibault did a great job using her scarcely for the three games she was present. But in situations like this serve as a reminder why Meesseman is an integral piece in Washington's success. Her height, versatility and efficiency are a problem for any opponent. Forward/center LaToya Sanders and Delle Donne will have their hands full with sisters Nneka and Chiney Ogwumike, two prominent post players with a knack for playing together.
Washington also get a taste of their own medicine with one of Los Angeles' new additions. Former Mystics player Tierra Ruffin-Pratt's first matchup against her old team since signing during the offseason. Los Angeles will take this game if Washington allows them to establish their offense, especially with Parker returning for the first time this season.
Las Vegas
This is the most even matchup the Mystics have so far this season. Both teams have seasoned bigs as Washington battles down low with Delle Donne and Sanders, and Las Vegas' measures up with centers Liz Cambage and A'ja Wilson. Guard play is another interesting facet. Las Vegas has guards Kelsey Plum and Kayla McBride. Toliver and Natasha Cloud lead for Washington. The only edge Washington has is on its bench. Mystics guard Shatori Walker-Kimbrough along with forwards Aerial Powers and Tianna Hawkins could be the deciding factor in this one. They've gotten more reps through the season, with Washington's bench contributing 32 points per game to Las Vegas' 26.
Again, Meesseman's presence allows Delle Donne to do her damage on the perimeter with Sanders having a strong hold in the paint.  Washington will have to rely on their perimeter heavily in Mandalay Bay. Efficiency among the perimeter is the key factor for a win against the Aces. It'll be interesting to see how much noise Delle Donne and Wilson will make against each other.
Atlanta
Atlanta isn't in the best condition to take on Washington. They're missing last season's leading scorer and veteran, guard/forward Angel McCoughtry. She's out with an injury sustained against Washington in the second round of the playoffs last season. McCoughtry averaged 16 points per game so now there's a huge hole the Dream's offense has yet to fill. Right now, they're second to last in the WNBA standings at 1-4. It's a rough start that may not get better with Washington coming June 23.
This may prove to be one of Washington's better games during the trip. Delle Donne will make the most of it since Atlanta is missing a huge defender in McCoughtry. Washington has to lock up Atlanta's perimeter before guard Tiffany Hayes gets Atlanta running beyond the arc. Again, a hefty bench comes in handy here. Being loaded with shooters like Powers, Walker-Kimbrough, and Hawkins gives the Mystics the advantage most teams don't have with a prominent bench.
Chicago
Washington rolled when Chicago visited DC for a 103-85 win June 9. Second year guard Diamond DeShields is a solid piece to Chicago's offense. She scored 24 points against Washington during the early June visit. Though Chicago's pieces are starting to glue together, they still don't have a solid answer for the entire Mystics lineup. Washington has a working chemistry, especially with their guards. Washington plays great iso-ball, too.  Washington will take from their lessons against a heavy-guard team like Los Angeles. That should stymy Chicago, especially since Washington will get some defensive work three games before.
Washington will most likely end their road trip with another win in the Windy City. It's not hard to imagine veterans Delle Donne and Toliver making the most of their Chicago visit.I It's fair to say Washington will come back home 3-1. Then, they'll prepare for Connecticut on June 29, the final game in the season series with the Sun.
So far against the Mystics this season, Connecticut is the dominant squad. Jonquel Jones, one of the best players in the WNBA right now, dominated Delle Donne and Sanders down low. Sun guard Alyssa Thomas is also in an offensive rhythm. Maybe Washington can build a stronger defensive identity in their four-game road trip. After all, the Mysticss are now in fifth place in the league and Connecticut is the strongest team in the uphill battle Washington faces to get back to the top of the league.