Battle of the Brittneys: Griner outduels Sykes in Phoenix Mercury's win over Atlanta Dream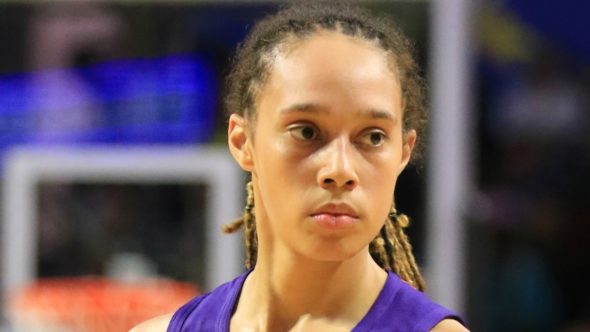 Video || Stats || Shot Charts
PHOENIX – Brittney Griner and Brittney Sykes battled all afternoon and combined for 60 points on Sunday afternoon at Talking Stick Resort Arena. In the end, Sykes sent Griner to the free throw line with the game tied and three seconds on the clock, allowing the 6-foot-9 center to ice the win for the Phoenix Mercury, 65-63, over the Atlanta Dream.
Griner recorded 31 points and 12 rebounds for Phoenix (6-6), which has now won eight consecutive games at home against Atlanta (3-10). Sykes scored a season-high 29 points and pulled in 10 rebounds for the Dream.
"Today was just a good win," Griner said. "It's not always going to be pretty; it's going to be ugly some times. She's (Sykes) talented and contested. Everybody's right there in her face. She's a hard guard, you just need to make her work and tire her out. We did a really good job on her today."
The Mercury led 8-0, before the Dream finally found the bottom of the rim, five minutes after tip off, and Atlanta cut the lead to 16-13 after one. Griner scored 10 in the first and produced the buzzer beater at halftime that sent the Mercury into a 29-25 lead. Atlanta took its first lead late in the third quarter, and the teams began trading it back and forth. Two threes from Mercury guard Leilani Mitchell established a five-point lead, and it soon grew to double figures, although Atlanta tied it again in the final minute.
The win was a relief for Phoenix coach Sandy Brondello, who watched her team blow a 13-point first quarter lead in its previous game, a four-point loss to the Liberty on Friday.
"Defensively, we were much more engaged, more physical," Brondello said. "We committed to playing hard, and sometimes you need to grind out some ugly wins, and that was one of them. One-point or 20 points, as long as you get the W, that's all that really matters."
Atlanta, which was 23-11 and second in the WNBA last season, was in search of its first back-to-back wins of the year and remains in last place in the league.
"If you look past the loss, we as a team are on a good horizon," Sykes said. "Our defense is there, we're finally starting to get our identity back, even if our shots aren't falling in. We did what we could do."
In addition to Sykes, Dream guard Tiffany Hayes scored 10 points. Dream coach Nicki Collen was much more impressed with her team holding the Mercury to 4-of-21 shooting from beyond the arc and limiting the WNBA's leading scorer, DeWanna Bonner, to 11 points.
"From a game plan perspective, we were OK with Brittney (Griner) getting 30," Collen said. "We just didn't want them to get hot from the three-point line. If you look at the stats, when Phoenix makes nine threes per game, they win, and when they make five, they lose. I thought defensively, the plan was good, Leilani stepped up – of course, but limiting Bonner, I'm really proud of our defensive effort. We lost the game at the offensive end."
Bonner, who scores 19 per game, grabbed a game-high 14 rebounds, while Mitchell connected on three from downtown and finished with 13 points. The Mercury will be at the Mystics on Wednesday morning, while the Dream hosts Connecticut the same day.
Video
Points in the Paint: Dream 18, Mercury 24
Second Chance Points: Dream 7, Mercury 12
Fastbreak Points: Dream 7, Mercury 7
Biggest Lead: Dream 3, Mercury 10
Lead Changes: 6
Attendance: 9,850
Shot Charts