Las Vegas Aces extend winning streak to five behind Colson's 17 points, Mystics drop third straight without Delle Donne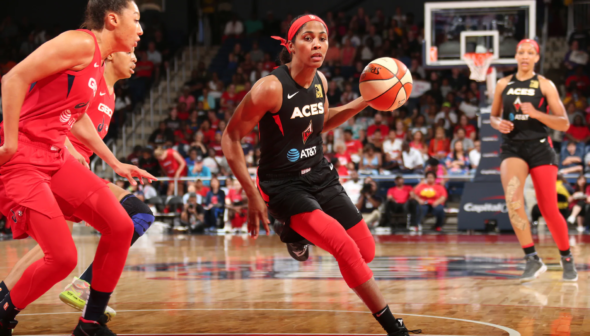 Stats || Shot Charts
WASHINGTON D.C. – The Las Vegas Aces defeated the Washington Mystics 85-81, earning their fifth straight win and holding steady at first place in the WNBA.
"Second half, our starters had energy," Las Vegas head coach Bill Laimbeer said. "Jackie Young made a couple of really good plays, we pushed the ball, we played defense like the bench did and that was the key to the game."
Washington welcomed back forward Emma Meesseman, who participated in the 2019 FIBA EuroBasket competition with the Belgian national team. She was the starting forward in the line-up in her first appearance since forward Elena Delle Donne has not cleared concussion protocol after since suffering a nasal fracture July 7.
Meesseman is the Swiss army knife addition to Washington. She's a skilled three-point shooter, great passer and a defensive juggernaut under the rim. But versatility doesn't always win games. In fact, there were diverse issues in Washington's loss, one of them being their ability to guard Las Vegas after a great start.
The Mystics were up to a 28-16 lead after a 22-7 run to start the game. Washington shot 52% overall, with an impressive 57% beyond the arc. The remarkable shooting withered away as Las Vegas played a game of catch up and won it behind reserve guard Sydney Colson who stepped in for 12 second quarter points.
The Aces embarked on a 10-0 run, creeping behind the Mystics 44-43 at halftime.
"It's the third time in a row that we've slow against them, but the starters learned a big lesson when the bench came in with the energy." Laimbeer said.
Las Vegas forward Kayla McBride's and-1 at the 5:43 mark of the third quarter ensured the back and forth battle began. The Aces erased their once 15-point deficit and outscored Washington 24-20 in the final quarter as sloppy play hindered Washington.
Aces power forward A'ja Wilson finished with 17 points and nine rebounds. Center Liz Cambage scored 13 points, nine which came in the clutch fourth quarter for Las Vegas. She extends her streak of scoring ten points or more to 47 games. It is the longest streak in the WNBA. Colson recorded a career-high of 17 points and eight rebounds.
"Her quickness today was a big key to our win," Laimbeer said. "They couldn't handle her quickness and she gave us a bolt of energy off the bench. 11 points in the first half, without that we were struggling but she's professional and everybody in this game contributed some way or another across the board in a good way"
Washington is now 0-3 without Delle Donne on the floor. Even without her average 15 points and eight rebounds, Delle Donne's absence still isn't excuse as Las Vegas tightened its grip on the number one spot in the league.
"Mistakes are inevitable, we're never going to be perfect in this game, but I'll take how hard we played today any day," Washington guard Natasha Cloud said. "[The Las Vegas Aces] are a great team. I think we're a championship team. Obviously, we're down [Elena Delle Donne], but I'm extremely proud of how everyone stepped up today and played hard. If we're going to lose in any way, I'd rather lose that way with everyone giving their everything."
Shooting an overall 38 percent, getting outrebounded 41-33 and a defensive inability to stop the Aces' fourth quarter finish are glaring mistakes in Washington's third straight loss. Depth did not save the Mystics, as Washington's bench only earned 12 points compared to Las Vegas' 26 points off the bench. Five starters landed in double digits with Meesseman notching 15 points, seven rebounds and two steals in her return. Cloud poured in the game-high of 18 points.
"I feel like the other thing is we are being held together by baling wire right now." Thibault said. "We have a lot of hurt people, and we're trying to get through. Emma was sick during the game, LaToya [Sanders] is hurt, Tianna [Hawkins] is hurting. It's just one of those nights."
Washington visits the Indiana Fever for a Friday night showdown in the Bankers Life Fieldhouse. Las Vegas has one more road game against the Seattle Storm July 19. There is still no word on Delle Donne's return.
Stats
Points in the Paint: Aces 44, Mystics 30
Second Chance Points: Aces 17, Mystics 11
Fastbreak Points: Aces 6, Mystics 4
Biggest Lead: Aces 4, Mystics 15
Lead Changes: 5
Times Tied: 9
Attendance: 4,200 (Sellout)
Shot Charts