Defensive intensity sparks Los Angeles in win over Phoenix, 84-74, on Pat Summit Leadership Night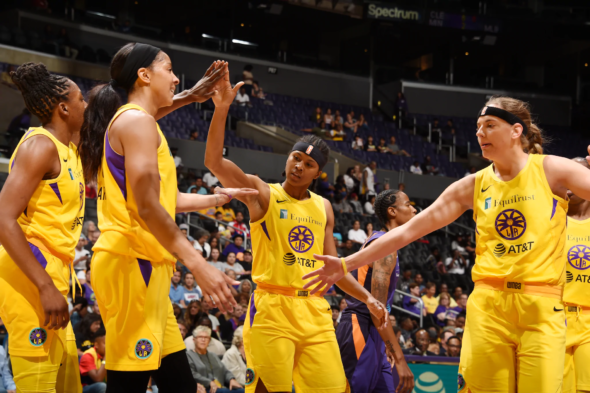 Video || Stats || Shot Charts
LOS ANGELES – In what could very well be a playoff preview, the Phoenix Mercury headed to Los Angeles on Thursday night to take on the Sparks. As has been their custom lately, the Mercury were banged up, with five key players sitting due to injury, including Diana Taurasi.
The lack of depth proved fatal against a Sparks team that is clicking on all cylinders. Los Angeles came out of the gate with strong defensive intensity, allowing just two Phoenix points in the first three and a half minutes. At the end of the first quarter, the Sparks led 25-15. It was the theme for the bulk of the game, as the Mercury were held to 17 second-quarter points, and 16 third-quarter points. Only a strong final 13 minutes turned a 22-point deficit into a more respectable final score of 84-74.
Los Angeles paved the way with defensive aggression, forcing 16 Phoenix turnovers, and never trailing. Their guards were highly active on the perimeter, and quick to help out their bigs in the paint.
"We work on defense so much in practice," said small forward Tierra Ruffin-Pratt. "I think we're starting to really lock in, and believe in the system that [coach Derek Fisher] put in. And we know that we need to help each other in certain situations and certain occasions. I think that's where we're starting to build that trust in one another, that we know if I help somebody, they're gonna help me."
It worked, as the Sparks held the Mercury to 34.9% shooting from the field, and 27.3% from beyond the arc. Center Brittney Griner had 27 points on 10-for-17 shooting, and guard Leilani Mitchell had 19 points on 6-for-11 shooting, but the rest of the team combined for a mere six made field goals.
Fisher opted for a unique strategy, starting point guard Chelsea Gray on 6-4 All-Star DeWanna Bonner. It was successful, as Gray held Bonner to 2-for-11 shooting.
"I'm not as tall as her, but I have a little bit more girth," the All-Star Gray said. "But I think my teammates did a good job when she did post me up, being able to show hands, show help, and things like that. It made her a little bit uncomfortable."
The unconventional defensive arrangement seemed to throw Phoenix a little off guard and preserved some energy for Los Angeles' top offensive players.
"We didn't really feel like trying to stop [Griner and Bonner] from being as great as they are was necessarily the strategy to take," Fisher explained. "We wanted to try and cut more into Leilani Mitchell's production and have [Ruffin-Pratt's] size on her. And then, because Chelsea's been playing so many minutes, limit the amount of times that she has to chase Leilani Mitchell, get hit with a step-up screen, get hit with stagger screens."
While the defense won the game for the Sparks, the offense clicked, with the team making 49.2% of their shots, including 43.5% of their three-pointers. All-Star forward-center Nneka Ogwumike had 24 points and seven rebounds on 9-for-13 shooting, while Candace Parker conributed 12 points, 11 rebounds, and six assists on a very special night for her. It was Pat Summit Leadership Night at Staples Center, and 10,345 fans came out to see tributes to the late Tennessee coach, who led Parker from 2004-2008. Parker wore Summitt-themed Adidas sneakers that she designed with her daughter, and talked with the crowd after the game about her former coach's impact.

The Sparks (14-8) have now won four straight, and seven of their last eight. They host the Chicago Sky on Sunday. The Mercury (11-11) return home on Saturday to take on the Dallas Wings.
Stats
Points in the Paint: Mercury 26, Sparks 38
Second Chance Points: Mercury 10, Sparks 1
Fastbreak Points: Mercury 9, Sparks 10
Biggest Lead: Mercury 0, Sparks 22
Times Tied: 0
Attendance: 10,345
Shot Charts