Memphis Grizzlies hire Notre Dame's Niele Ivey as an assistant coach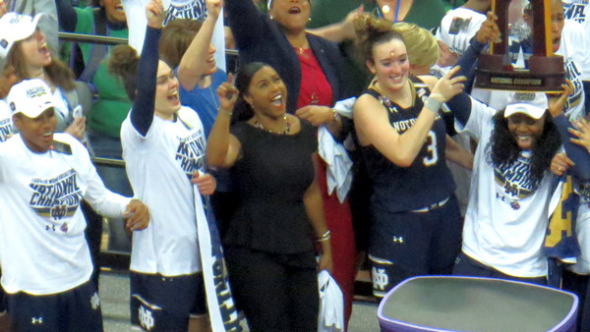 The NBA's Memphis Grizzlies hired Notre Dame associate head coach Niele Ivey as the newest member of its coaching staff. Ivey, who earned a national championship in 2001 as a player with the Fighting Irish, joined her alma mater's coaching staff in 2007.
Ivey joins eight other women currently on NBA coaching staffs: Jenny Boucek (Mavericks); Lindsay Gottlieb (Cavaliers); Becky Hammon (Spurs); Lindsey Harding (Kings); Natalie Nakase (Clippers); Karen Stack-Umlauf (Bulls); Kristi Toliver (Wizards) and Kara Lawson (Celtics).
She becomes the second female NBA assistant to come directly from the college coaching ranks. Gottlieb is the former head coach of California and joined the Cavaliers' staff in June.
Irish head coach Muffet McGraw promoted Ivey to associate coach in 2015.
"There is no other place that has impacted me more as a player, coach and person than Notre Dame," Ivey said in a release. "I've gained friendships and relationships that will last a lifetime. But the biggest impact that I've had is from the relationship I have with coach McGraw. I'm so grateful for coach McGraw. She has been so much more than just a coach, mentor and boss. She believed in me and gave me my first opportunity at Notre Dame and I am forever grateful. I stand tall, confident and ready because of the tools she has instilled in me."
During her time on McGraw's staff, Ivey helped Notre Dame reach seven Final Fours, six NCAA national title games and 14 conference championships. The Irish won the 2018 national title exactly 17 years to the date that Ivey made the All-Tournament Team after her team took the championship.
Known for her recruiting prowess and scouting skills, Ivey's protégés include Skylar Diggins, Jewell Loyd, Lindsay Allen and Arike Ogunbowale.
Before her time on the Notre Dame staff, Ivey served as an administrative assistant at Xavier under current Ohio State coach Kevin McGuff. She spent five seasons in the WNBA. Her son Jaden plays basketball and is a 2020 three-star recruit committed to Purdue.
In addition to Ivey, Grizzlies head coach Taylor Jenkins also added Brad Jones, David McClure, James "Scoonie" Penn, Vitaly Potapenko and Neven Spahija as assistant coaches.
?? ?? ?@MemGrizz, you got a good one.

Congratulations to @IrishCoachIvey, who becomes the ninth active female assistant coach in the NBA.#IrishInTheNBA #GoIrish pic.twitter.com/Mx26nqky7g

— Notre Dame WBB (@ndwbb) August 5, 2019
— Niele Ivey (@IrishCoachIvey) August 5, 2019
Words can't express the emotion I'm feeling right now. I'm so very proud of this woman right now. The@memgrizz better take care of my girl. @IrishCoachIvey you are my friend, family and confidant!!!!… and we will ALWAYS be. I'm so very proud proud of you!! #love #woc pic.twitter.com/HmWIaDVzEC

— Carol Owens (@GoIrishCoachO) August 5, 2019