Washington Mystics cruise past Los Angeles Sparks 95-66, hold steady in first place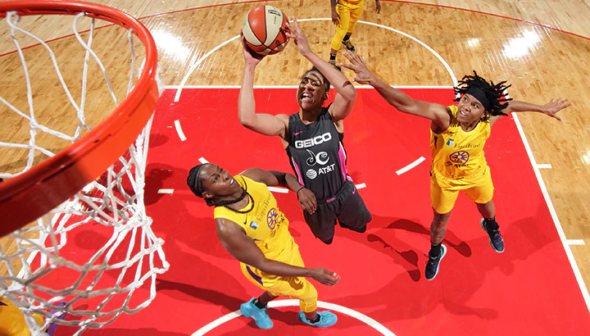 Notes || Shot Charts
WASHINGTON D.C. — The Washington Mystics dominated the Los Angeles Sparks 95-66 in a highly anticipated matchup Tuesday night in Entertainment and Sports Arena.
"We were into them and how to defend them," Washington head coach Mike Thibault said. "We did a good job. We played our lineup a lot in this first half to try to neutralize the boards and be able to switch on some defensive things."
The playoff-bound teams have similar advantages. They dominate teams in transition, shoot ample amounts of threes and outperform on defense. The Sparks have played only three games with their entire roster due to injury, suspension or playing overseas. Washington battled without starting guard Kristi Toliver for the sixth game in a row.
Washington punched first on defense, creating a 22-9 run.
"We got our offense going because we got deflections, stops on defensive end that let us get out and run a little bit." Thibault said.
The Mystics' 33 points scored in the opening quarter is a season-high record. Guard Natasha Cloud, honored with the Dawn Staley Community Leadership Award before the game, scored 13 points in the first half.
"An emphasis for us is being able to throw the first punch, sustain those little jabs in between." Cloud said.
Washington's ongoing offense widened the deficit to jump out to a 54-37 halftime lead. They held Los Angeles to just ten points in the third quarter as they cruised to victory.
Washington's 22nd win of the season has different meanings. This is their eighth straight home win and tenth sellout game at the team's 4,200-seat venue. They Mystics close in on the number one seed for and remain one of the four teams eligible to start the playoffs with a double bye. The 29-point win over the Sparks sets a WNBA record of winning eight games by 25 points or more.
Washington succeeded against the league's fourth-best defense. The Mystics dished out 22 assists and committed only nine turnovers (compared to 15 by Los Angeles) in the well-rounded performance. Five Mystics players landed in double digits.
Washington's usual starting guard Aerial Powers had a wardrobe malfunction moments before tip wearing the wrong colored leggings. Guard Shatori Walker-Kimbrough took her place and finished with eight points and two assists. Powers regrouped to lead the Mystics with a team-high 20 points and four assists.
"We showed our energy out there today," Powers said. "We were way more aggressive on defense and once we got it going it flustered them."
Against the Sparks, the Mystics' bench totaled 47 points while forward Emma Meesseman continued her 12-point average and added five assists. Cloud finished with 15 points and six assists.
"She set a tone," Thibault said on Cloud. "Her and Ariel Atkins were pretty geeked up about playing against Riquna Williams and Chelsea Gray and try to make them have to work. Natasha has obviously been struggling a little bit with shooting but kind of got herself in a little rhythm right away."
The Sparks still retain third place after the loss. Forward Candace Parker and guard Chelsea Gray notched team highs of 12 points. Gray added seven assists. Forwards Nneka Ogwumike and center Maria Vadeeva scored ten points each.
"[Washington] played faster, harder, more assertive than we did from start to almost finish," Los Angeles head coach Derek Fisher said. "A few of our bench came in and tried to do some things to have some better effort, but you got to give Washington all the credit tonight."
Washington takes the season series against Los Angeles 2-1, winning each game by 25+ points. Los Angeles returns to the floor August 29 at the Indiana Fever. Washington starts a two-game road trip August 31 playing the Dallas Wings followed by the New York Liberty.
Notes
Washington tied their franchise record for most wins in a single regular season that was set in 2010 and again in 2018. The Mystics need just one more win to set a new franchise record (23).
The Mystics have won 13 of their last 15 games, dating back to July 19, a stretch that includes eight consecutive home wins. Washington is now 6-0 at home for the month of August and 12-3 at home this season.  This is Washington's eighth game winning by 25+ this season and their thirteenth winning by 20+.
Points in the Paint: Sparks 30, Mystics 24
Second Chance Points: Sparks 8, Mystics 13
Fastbreak Points: Sparks 2, Mystics 9
Lead Changes: 1
Times Tied: 1
Attendance: 4,200 (Sellout)
Shot Charts