Washington Mystics bounce back to top New York 101-72, return to first place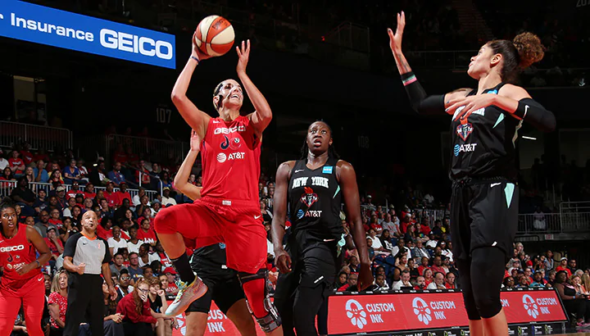 Notes || Shot Charts
WASHINGTON D.C. – The Washington Mystics (21-8) returned to the winning column with a 101–72 victory over the New York Liberty (9-20) Sunday afternoon at Entertainment and Sports Arena.
"It's a nice bounce back win after a disappointment on Friday," Washington head coach Mike Thibault said. "We played better offensively today. I thought we made some mistakes defensively at times but our hustle kind of made up for it a little bit."
The Chicago Sky snapped Washington's six-game winning streak Friday, beating the Mystics 85-78. Playing 48 hours later gave Washington a fresh blueprint on what to fix after the loss and knock out what Thibault called "a bad taste in their mouths."
"We spent some time watching film on Chicago before today's game to correct some things defensively." Thibault said.
Adequate ball movement was an issue against the Sky, so the Mystics spread the floor against New York for wipe open looks.
Against Chicago, Washington's lackluster performance on the glass allowed them to be outrebounded by 40-30. They responded against the Liberty, keeping veteran forward Tina Charles to just one rebound in the first half.
Thibault dug into his lineup early and reserve forward Meesseman became Washington's most active contributor. Scoring just nine points against Chicago, she led the team with ten first quarter points Sunday.
"If something was wrong today, we talked it through and it was good," Meesseman said. "We had good energy and if I had my chance, I just took it."
Washington's zone defense against New York took the Liberty's guards out of the picture, beating them in transition.
Smart decisions and focusing on finding the most open offensive looks created a dominant flow for the Mystics. New York couldn't appropriately guard Washington's double doses of Meesseman and starting forward Elena Delle Donne. The duo combined for 21 first half points.
"We know each other really well," Meesseman said. "We score on assists and if we can remember that we can have a game like today."
Washington led New York 47-31 at halftime. Successful patterns of team ball and covering opponents' top scorers helped Washington.
"Defensively we didn't execute the plan," New York head coach Katie Smith said. "One-on-one defense, rebounding, picking them up early – those are the type of things I don't think we did well."
Liberty guard Kia Nurse led all scorers with 24 points and three assists. New York forwards Bria Hartley and Charles scored 16 points each in the loss.
Delle Donne fulfilled her role against the New York Liberty and hit the 20-point mark for the ninth time this season with 6:30 remaining in the third quarter. She led Washington with 22 points. Washington is 9-0 when Delle Donne scores 20 points or more. Guard Shey Peddy scored a career-high 15 points. Meesseman and guard Aerial Powers scored 14 points each.
Every active player for the Mystics scored for the fourth time this season. The bench scored 50 points compared to their 28 in the Chicago loss. Depth is key for Washington's success and it'll be a reliable factor in the postseason.
The Mystics return to first place in the league with the win against New York. Washington is set to defend their home court against the third-place Los Angeles Sparks August 27 at 7 p.m. E.T. The New York Liberty also play Tuesday night, returning home to face the eight-place Phoenix Mercury.
Notes
Points in the Paint: Liberty 20, Mystics 34
Second Chance Points: Liberty 15, Mystics 10
Fastbreak Points: Liberty 3, Mystics 9
Biggest Lead: Liberty 0, Mystics 36
Lead Changes: 0
Times Tied: 0
Attendance: 4,200 (Sellout)
The Mystics have scored 100+ points in five games this season, tying the team record set in 2017.
Washington needs just two more wins to set a new franchise record for wins in a single regular season (23).
Washington set new season highs for the most points scored in the first quarter (31) and first quarter margin (+17), surpassing their previous season highs of 30 points scored in the first quarter.
The Mystics shot a perfect 11-11 from the free throw line tonight. Delle Donne was 5-5, Powers was 4-4 and guard Shatori Walker-Kimbrough was 2-2.
The Mystics recorded 30 assists, tying their previous season high set just last Sunday against the Indiana Fever.
Washington's bench scored 50 points tonight, which set a new season high for bench points, surpassing their previous high of 48. The Mystics sat their entire starting lineup for the entire fourth quarter. Guard Shey Peddy scored a career-high nine points and was 5-5 from the field including a field goal from 3-point range.
Shot Charts