With a bigger lineup on display, Washington Mystics top Indiana Fever 91-78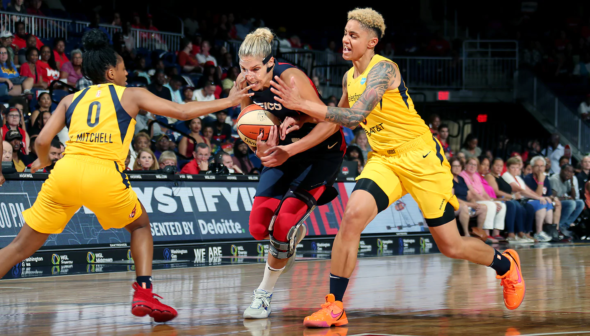 WASHINGTON D.C. – The Washington Mystics (16-7) returned home to defeat the Indiana Fever 91-78, incorporating a bigger lineup in the Thursday matchup.
"I thought our defense was up and down but it's a really good win," Washington head coach Mike Thibault said. "Every win at home to protect the home court right now is good. I liked what our big lineup did together tonight."
The taller lineup included 6-5 forward Elena Delle Donne, 6-4 forward Emma Meesseman and 6-2 forward/center LaToya Sanders. The height coupled with experienced veterans helped Washington defeat Indiana down the stretch.
Washington settled into a nice rhythm that spanned throughout first quarter. Delle Donne made the most of it, scoring ten first quarter points. Indiana head coach Pokey Chatman called in rookie center/forward Teaira McCowan to help disrupt Washington's pace. Her presence diminished the pick-and-roll schemes Washington utilized, pulling the Mystics toward the perimeter.
The home team went cold beyond the arc, going 2-of-10 in the first half. With Delle Donne as the primary scorer, Washington's offense withered. However, Indiana had to erase an ugly first quarter before a legitimate attempt for a game takeover.
"It sucks it came after 11-2 and a timeout," Indiana head coach Pokey Chatman said on the run. "Our offense needs to be there and needs to be consistent when you're playing against a really good, seasoned team that can punish you when you miss those opportunities."
Delle Donne earned for 15 first half points, leading all scorers and was the only Mystic player in double digits. Washington led 44-42 lead at halftime. Guard Natasha Cloud and Sanders lifted the Mystics in the third quarter, charging to a 29-15 quarter run.
Indiana (8-16)  would not be quietly defeated. Aerial Powers replenished energy for the Mystics off the bench to seal their 13-point win. Sanders, Delle Donne, Meesseman laid the foundation that eventually defeated Indiana.
Washington's bigger lineup solidified the defense against Indiana's successful pick and roll to help Washington in transition.
"I feel like, at first, we were a little stagnant with it – we're just not used to it," Delle Donne said of the lineup. "But as the game went on, we kind of got comfortable with it and got people the ball in the right positions. Emma [Meesseman] was really able to get confident and get going so I think we will try to work on it a little bit more."
The trio scored 57 of the 91 points for Washington. Delle Donne lead all scorers with 22 points and eight rebounds and Meesseman added 19 points and two rebounds. Sanders finished with 16 points and five rebounds. Guard Kristi Toliver, who did not score, dished eleven assists in the win.
Washington's defense made a statement during the battle forcing 16 turnovers for 25 points. And though they shot 6-of-20 from three-point range, an overall shooting 53 percent was good enough for the Mystics to break the 90-point mark for the 11th time this season. Indiana guard Kelsey Mitchell left the bench for a team-high 18 points and six assists. Veteran forward Candice Dupree scored 16 points and four rebounds in the loss.
"We can't shy away, regardless of who we are playing," Dupree said on the game. "Coaches came here after the game and they said turnovers did it for us. I think they had like 25 points off our turnovers, which we can't let happen. So, we have to be ready for Saturday."
Washington returns home for a Sunday night matchup against the Minnesota Lynx. Star guard Seimone Augustus made her 2019 debut August 7 and the Lynx try to cling on to the final playoff spot. Indiana will host the Atlanta Dream Saturday afternoon 3 p.m.
Stats
Points in the Paint: Fever 16, Mystics 24
Second Chance Points: Fever 6, Mystics 15
Fastbreak Points: Fever 4, Mystics 0
Biggest Lead: Fever 2, Mystics 17
Lead Changes: 2
Times Tied: 3
Attendance: 3,013
Shot Charts