Maryland's Brenda Frese watches proudly as Terrapins thrive in the WNBA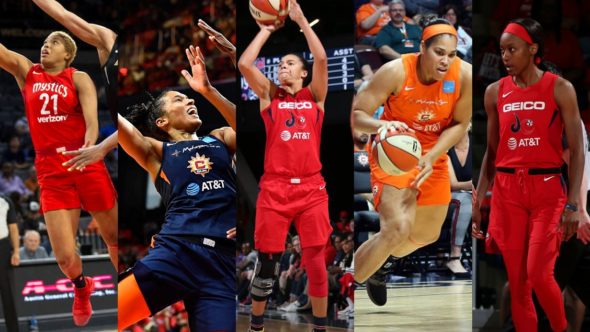 WASHINGTON D.C. – With a warm personality and an infectious smile, Maryland's Brenda Frese keeps the Terrapins among the crème of the crop of women's college basketball. She arrived in College Park in 2002 and developed a culture of excellence that fans expect year after year. However, on Sunday afternoon at Entertainment and Sports Arena, home of the Washington Mystics and 12 miles from College Park, Frese was in casual mode sporting a red Maryland tee-shirt and black capri pants. She greeted passing fans who recognized the familiar, shoulder length blonde mane and humbling character they have loved for 18 seasons.
She was just a fan, but still watching her Maryland basketball family take the floor, albeit in a different way. Between the Mystics and the Connecticut Sun, there is a Maryland program-high of five players in the WNBA Finals. Washington's Kristi Toliver, Shatori Walker-Kimbrough and Tianna Hawkins plus Connecticut's Brionna Jones and Alyssa Thomas. They are the proof in the Maryland program pudding, each reaching the highest levels of the league after developing under Frese.
"Our program has evolved into their dreams," Frese said. "For a lot of them, their goal is to play at the next level, so we take the development very, very serious—developing the whole person, whether it be mentally, physically, emotionally."
Frese recalled making direct calls to them. No assistants nor telemarketing script for her to recite through the recruiting process. She handpicked successful players on her team and their strengths shined throughout their collegiate careers and on the next level.
From the most seasoned player of Toliver, who reached 10 years in the league this season, to the youngest, Connecticut's two-year forward Jones, Maryland's standard of excellence continues to produce some of the best players in the WNBA.
Jones always knew playing under Frese at the next level was tangible and an ideal pathway to her dreams. Maryland was a breeding ground of success. Plus, a home-like environment drew her into the program.
"Growing up I always heard about Coach B and the Maryland team," Jones, a Baltimore native, said. "Being able to stay home and play was always a big thing for me going into college. It was one of the reasons why I picked Maryland."
Two pairs overlap in their Terrapin tenures. The youngest includes Walker-Kimbrough and Jones. As they are younger players on teams with veterans, they have yet to generate consistent contributions in the professional world. Walker-Kimbrough and Jones helped Maryland claim the No. 2 seed in the 2016 NCAA tournament after becoming Big Ten tournament champions.
A year later in the 2017 WNBA draft, Mystics coach Mike Thibault chose Walker-Kimbrough as the sixth overall pick. Connecticut Sun coach Curt Miller selected Jones two slots down.
In 2013, the Sun's Thomas and the Mystics' Hawkins earned spots on the AP All-American teams after dominating the frontcourt in their season together. Now, both players are producing on their respective pro teams. Frese recalled developing Hawkins from a rugged post player at Riverdale Baptist High School, into a tougher defender and an improved player around the rim.
"She liked to bang and obviously we were able to expand that and take it to the league." Frese said about recruiting Hawkins.
She transformed again to hit another stride in the WNBA. Hawkins lost nearly 30 pounds and added a three-pointer to her arsenal. She became the sixth player that Washington needed off the bench during tough stretches in games. She's currently playing her best ball yet, tying her career-high 24 points twice this season.
"Maryland is the main reason why I'm here," Hawkins said. "I learned how to be a pro. I was really prepared for the league and it shows with all the other players here."
Only one player in this season's Finals has a WNBA championship under her belt. Not surprisingly, it's the only one on Frese's 2005-2006 championship roster. Toliver has personal footnotes in both titles. As a freshman dueling with Maryland against the Duke Blue Devils in the 2006 title game, her clutch shot with six seconds remaining sent Maryland to overtime, and the Terps cranked out a tight 78-75 win.
"Kristi Toliver? Always a silent assassin," Frese said. "Cold blooded, she wanted to take the big shots and wanted the pressure. It really just evolved from there."
Toliver went on to be the third overall pick in the 2009 WNBA Draft and went on to win her WNBA title with the Los Angeles Sparks in 2016. She scored a team-high of 19 points in game 1 of the Finals when the Sparks visited the Minnesota Lynx.
"That's why I want to Maryland, to win and develop," Toliver said. "That was day one when we get there and obviously shows with five kids in the Finals."
Washington defeated Connecticut 95-86 in game 1 Sunday. Terp on Terp crime did transpire. Toliver blew past Thomas a few times to get a couple of tough looks through the lane, while still making her classic efforts beyond the arc. The former Terps combined for 40 points. Thomas contributed the most with 20 points, six rebounds, five steals and six assists. Toliver had 18 points and five assists.
"Alyssa Thomas was one of the most competitive players I have ever coached," Frese said. "So, it was really easy with her because she was really competitive in everything she would do."
Aside from the Terrapins, the DMV area is making a lot of noise in the 2019 Finals. Bahamas native Jonquel Jones became a superstar at the center position at George Washington University located 15 miles from UMD. Outside of the Finals, an additional member of Maryland's mark in the WNBA is guard Crystal Langhorne, a 2007 graduate from the program and member of the reigning WNBA championship team, the Seattle Storm.
It's been quite the year for Maryland with Frese making records herself. She reached the 500 career-win milestone with an 81-63 victory over Nebraska January 8.
"I'm not surprised she got 500 wins," Thomas said. "I know she'll probably get 500 more."