Run it Back: Washington Mystics excited for first semifinal battle against Las Vegas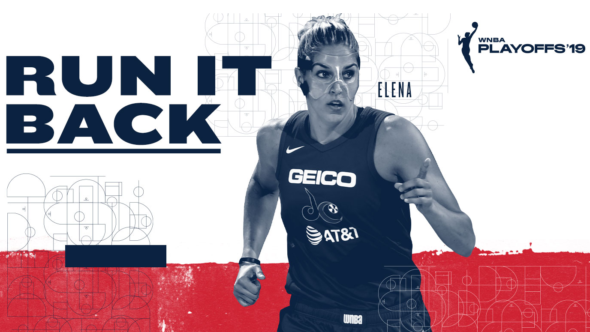 Washington D.C. – The Washington Mystics' "Run it Back" campaign to avenge their 2018 Finals loss shifts into the postseason Tuesday night. Entertainment and Sports Arena welcomes the Las Vegas Aces to face off with the Mystics at 8:30 p.m ET (TV: ESPN2).
Getting started on the right foot with a win is on the Mystics' agenda after claiming a double bye, good for two rounds of the WNBA playoffs and nine days without action.
"We've been practicing really hard and had scrimmages against the guys that have felt 'game-like'" forward Elena Delle Donne said. "We're excited to get out jerseys back on and play a real game."
During the last game of Sunday night, five seconds remained as Las Vegas' 2019 Sixth Woman of the Year forward Dearica Hamby's miracle three pointer sealed a 93-92 win over the Chicago Sky and sent the Aces to the nation's capital.
Washington took the season series 2-1 over Las Vegas where peculiar instances like clock malfunctions and an earthquake disrupted game play, but game 1 of the semifinals is no time for distractions. A spot in the 2019 Finals is on the line.
"We've preached to our team, 'teams that make fewer mistakes but stay aggressive usually come out on top,'" Washington head coach Mike Thibault said. "That's a good learning lesson about the kind of things you have to think about at the end of games. Hopefully somebody else taught us a good lesson."
Washington and Las Vegas enter the postseason with different identities than their last meeting July 13. The Aces signed guard Epiphanny Prince August 29, adding veteran playoff experience to a young roster. Second year forward A'ja Wilson missed nine games after spraining her ankle, allowing Hamby to emerge and build towards Sixth Woman recognition. Guard Kelsey Plum's contributions are sporadic. However, when Plum does play extensively, she is a difference maker, scoring double figures in the last four Aces victories.
Washington went on a tear throughout the league, winning 16 of their last 18 regular season games. They've increased their bench contributions with guard Aerial Powers starting in place of an injured Kristi Toliver in the last seven games. Plus, they possess one of the most versatile and lethal weapons in the league, Delle Donne, performing the best of her career at the right time.
She averaged 25 points and eight rebounds in the two victories against the Aces. Both resulted in 25-plus point wins for Washington, but she didn't see the floor in their 85-81 loss on July 13, healing from a broken nose she sustained July 11.
It was Wilson who shined with 17 points and four rebounds in that game. She and center Liz Cambage will duel in a frontcourt battle against Washington's Delle Donne and center LaToya Sanders.
Cambage led the contest against a Chicago with a 23 points and 17 rebounds double-double.
"LaToya's a great defensive center in our league she's done a pretty good job against them," Thibault said. "Elena and Wilson have been a great matchup all season– two All-Stars in our league."
Washington's "bigger lineup" featuring Sanders, Delle Donne and forward Emma Meesseman, is a sound approach to Las Vegas. Meesseman missed two of the three season matchups while playing overseas for Belgium, the FIBA World Cup championships. Last season she took a hiatus and missed Washington's 2018 playoff run.
She's now itching to play in the current playoff run, adding versatile weapons like her three-point shot, clean assists and her presence to muddle Las Vegas bigs' performance in the paint.
"They're one of the tallest teams in this league, so we're going to need to be tough and physical," Meesseman said as Las Vegas' bigs average to 6-4 in height. "For sure some calls won't be correct, but we can't lose our minds. It's going to be big tomorrow."
Toliver may be back in Washington's arsenal. Listed as probable for Tuesday night, she missed 11 games due to a knee injury sustained August 18 against the Indiana Fever. If she plays, she is not likely to start.
"Game one is the first of a chess match," Thibault said. "You go out there, do the things you do you best and they go out and do what they do best, and afterwards the coaches go out and re-evaluate on what you need to do for game two."
Notes
Mystics guard Kiara Leslie (right knee) is out for the game against the Aces. Guard Kristi Toliver (right knee) is probable.
During the 2019 regular season, Washington set numerous league and franchise records, including the most wins in franchise history (26), highest points per game average in franchise history (89.3), highest free throw percentage in a season in WNBA history (87.5) and most assists per game (21.9) in WNBA history.
Elena Delle Donne once again leads the WNBA's list of most popular jerseys. This marks the third consecutive season Delle Donne has earned top honors on the jerseys list.