Connecticut Sun evens Finals series, forces do-or-die Game 5 after topping Washington Mystics 90-86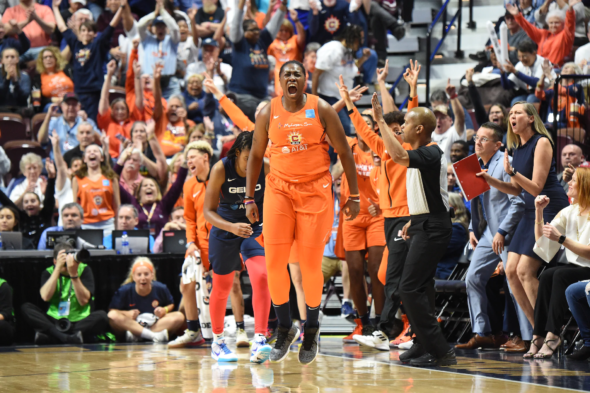 The WNBA Finals will go to a game five after the Connecticut Sun defeated the Washington Mystics 90-86 Tuesday night in Uncasville, Connecticut at Mohegan Sun Arena. With the series now tied at 2-2, the best-of-five Finals move back to Washington, D.C. for a Thursday night matchup that will determine the 2019 WNBA champion.
With five players in double figures, the Sun withstood a comeback effort by the Mystics who, at one point, were down by as much as 18 points in the second quarter While the Sun led 56-40 at halftime, the Mystics roared back to outscore Connecticut, 28-12, in the third quarter. At the beginning of the last period, the game was tied 68 all.
The Sun survived two lead changes and four ties in the last quarter to pull out the win and finished with all starters in double figures. Center Jonquel Jones led the Sun with 18 points plus 13 rebounds while Alyssa Thomas added 17 points, 8 rebounds and 11 assists. Guard Courtney Williams was not far behind with 16 points, 7 rebounds and 4 assists with forward Shekinna Stricklen right in the mix with 15 points and 4 rebounds. Guard Jasmine Thomas contributed 14 points and 5 assists.
While Washington had five players in double figures, the effort that included 27 points from the bench, was not enough. Forward Aerial Powers helped lead the failed comeback effort with 15 points while her phonetic namesake Ariel Atkins added 14 points. Guard Natasha Cloud scored 13 points, pulled down 7 rebounds and dished out 9 assists. Forward Emma Meesseman came off the bench for 12 points plus five rebounds. League MVP Elena Delle Donne, still recovering from a herniated disk and wearing a back brace, put up 11 points and grabbed five rebounds.
Game 5 is set for Thursday, October 10 at 8 p.m. ET. The game will be aired on ESPN2 in the U.S. and TSN in Canada.
Points in the Paint: Mystics 28, Sun 36
Second Chance Points: Mystics 3, Sun 13
Fastbreak Points: Mystics 4, Sun 8
Biggest Lead: Mystics 5, Sun 18
Lead Changes: 4
Officials: #39 Michael Price, #34 Maj Forsberg, #21 Byron Jarrett
Attendance: 8,458