Washington Mystics claim their first WNBA title, defeating the Connecticut Sun 89-78 in Game 5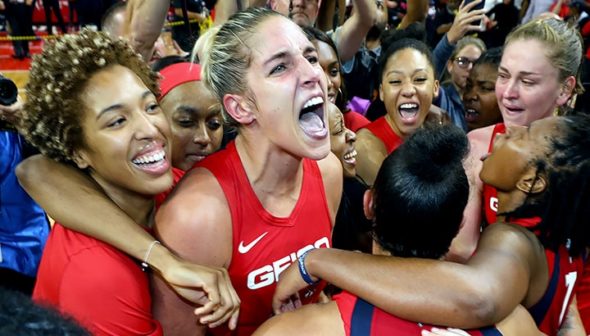 WASHINGTON D.C. – Operation #RunItBack is complete.
For the first time in franchise history, the Washington Mystics are WNBA Champions, taking down the Connecticut Sun 89-78 in a Game 5, winner-take-all match to claim the 2019 Finals. The league's 2019 MVP, Washington forward Elena Delle Donne, who battled a herniated disk since Game 2, marked herself as "100 percent" before the game.
"I think it's because I pissed the basketball gods off years ago when I decided to step away," Delle Donne said. "So, I'm hoping this ends this little drama that I've been having in the Finals."
She mobilized and dominated throughout the game with ten points and four rebounds at the halftime mark.
Foul trouble mucked up rhythm for some players, especially Connecticut center Jonquel Jones. While she led everyone with 13 points, six rebounds in the first half, she also racked up a glaring three personal fouls. Sun forward Alyssa Thomas, who played every minute of the first four games, sat out the last four minutes of the first quarter after accumulating two fouls. At the break, Connecticut had a 43-42 lead over the Mystics.
Jones powered the Sun's 9-0 run after halftime before she caught her fourth foul. Drama ensued as fifteen ties and nine lead changes kept Entertainment and Sports Arena's 4,200 sellout crowd on their toes until the final two minutes. Washington guard Natasha Cloud had words for her team to stick to their true selves and close of the game for each other.
"Just communicating, communicating, communicating, just saying everything that everybody was already thinking," guard Kristi Toliver said. "And her growth this year has been to a whole 'nother level."
The home crowd's blistering yet influential cheers fueled the Mystics to a 17-6 run in the fourth quarter, outscoring the Sun 27-14 to put the game, series and title away for good.
Hints of magic linger throughout the 2019 title for the Mystics. When head coach Mike Thibault sat down in his presser, his first move was patting Finals MVP forward Emma Meesseman on her back.
"The missing piece," Thibault said. "I'm just so happy for all these players and the organization who bought into what I was selling seven years ago, that there was a path to get out of what was a pretty desperate time here. And if people would buy in, the path would get accelerated. This girl right here was one of the first pieces. One of our draft picks that — the maturity and growth that she's shown since she showed up as a 19-year-old — what the heck are you now, 26?"
Meesseman missed an entire 2018 season for a personal break, away from the WNBA and to be at home in Europe with the Belgium national team. The break led to a fairytale comeback. Meesseman was stellar in the Finals, averaging 18 points per game and shooting 57.1% from the floor. She collected a team-high 22 points in Game 5.
"I just think that I really needed that break and to be home," Meesseman said. "So, I would not have been able to bring what I brought now. So, I'm just glad that I got that confidence from the team, that they had my back, and they gave me the support. Without them I would not be able to do what I did today. So, it was like my family, and I really mean that."
Meesseman's family includes Cloud, who broke Washington's single season assists record and finished the regular season with 617. Cloud scored 18 points and had four assists in the win. She also stepped up during the season as an activist in the community, speaking out to challenge local politicians to address violence in the nation's capital.
"There's a lot of politics and issues handled here in D.C., so we'd be doing a disservice to a bunch of people if we didn't speak up and use our platform," Cloud said. "Those people that say that we should just shut up and dribble, they should just shut up and watch us."
Cloud also spilled the beans on Delle Donne's medical injury as the MVP suffered from not just one herniated disc, but three. Nevertheless, Delle Donne scored 21 points and grabbed nine rebounds in the series winner. Championship talks were always a part of Delle Donne's role in Washington since her arrival in 2017. Thibault and Delle Donne's long embrace as confetti fell center court checks all her duties off the list.
"Coach and I, we've had this little thing through the Playoffs where we go up to each other and say, 'Have I told you lately that I love you,' even in bad losses where we're kind of angry at each other," Delle Donne said of the moment. "We do that to keep ourselves going and to realize how much we do love each other, and how much I've trusted in him in coming to D.C. and believing in his dream, and him putting together this team that is just so great on the court and off the court."
Thibault, the most winningest coach in the WNBA, earned what some may call the apex of achievement in his career. Though a title is not the "stamp of approval" of an elite coach in Thibault's eyes, it is still icing on the cake to an overall accomplished season.
Aside from the WNBA Championship, Washington earned a franchise-best record of 26-8, a WNBA record 21 team assists per game and a league-leading 21 three-pointers made in a game. In addition, Delle Donne became the first WNBA player to enter the elite 50-40-90 club, shooting 51.5% from the field, 43.0% from the three-point line, and 97.4% from the free throw line over the regular season.
Mystics assistant coach Marianne Staley is history herself. She played in the first televised women's collegiate game with her alma mater Immaculata against Maryland in 1975 and played in the first-ever women's basketball game at Madison Square Garden. She signs her name in history again with her first WNBA title.
"I'm sure she has had a ton to do with this and why we're so great, why our offense is flowing so well," Delle Donne said. To see her get this is really special, too. She's an awesome person. She deserves it."
In the loss, Jones scored the game-high of 25 points and earned nine rebounds while Thomas earned a double-double of 21 points and 12 rebounds. Guard Courtney Williams contributed 16 points. The Sun finished 23-12 on the season. This is their third appearance in the Finals and the first under head coach Curt Miller.
"I told them that they became household names in this series," Miller said. "Everyone is going to know their names now. And where we were considered a team without a mega-superstar, we were forced to trade a No. 1 overall draft pick weeks before the start of the season, and that locker room bonded together and said, nothing can derail us. So, they became legendary."
Washington achieved every goal they set for themselves during their preseason talks, wiping away the embarrassing 2018 Finals loss and series sweep against Seattle and entering a new era now with the championship trophy in the nation's capital. Washington can look forward, knowing their future can be as bright as their past.
"We're going to remember this season because we were around such incredible people, and we absolutely adore being together," Delle Donne said. "So, I'm kind of sad, like the season is about to be over, I'm going to miss everybody, but my goodness, we sure ended on a high note."
Points in the Paint: Sun 36, Mystics 50
Second Chance Points: Sun 6, Mystics 6
Fastbreak Points: Sun 13, Mystics 2
Biggest Lead: Sun 9, Mystics 11
Lead Changes: 9
Times Tied: 15
Finals best-of-five series results