Pac-12 to enjoy heightened visibility during USA Basketball November tour; Ogwumike and Clarendon represent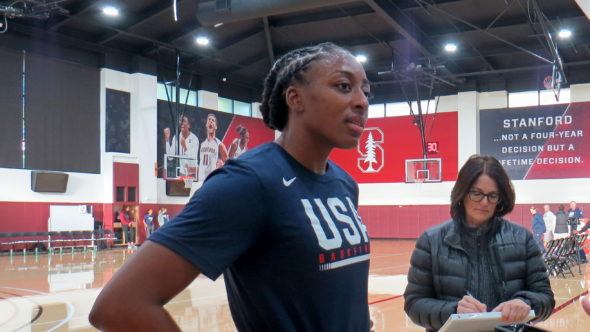 With members that represent some of the best teams in the nation, including preseason No. 1 Oregon, it is no surprise that the Pac-12 is set to play a prominent role in the USA National Team's November tour of top-ranked NCAA Division I programs. The journey kicks off Nov. 2 at Stanford and features Oregon State, Oregon as well as the SEC's Texas A&M.
While perennial power Stanford, ranked at No. 3 in the Associated Press and USA Today/Coaches polls, has a longstanding legacy of national prominence, the emergence of several other teams in the Pac-12 as regulars in national rankings helps to solidify the league's legitimacy as the best in the country.
Oregon State comes in at No. 7 in the preseason AP poll. Arizona State and UCLA are also among the top 25. In addition, Arizona, the 2019 WNIT champion, received votes in both polls.
Two former Pac-12 players, Los Angeles Sparks forward Nneka Ogwumike (Stanford) and Connecticut Sun guard Layshia Clarendon (California), are on the national team's touring roster. Ogwumike gets to play again at her alma mater, providing her with "a sense of pride" especially given Stanford's eminence year after year.
"It's good to know that we've been able to create a legacy that people want to uphold so I'm excited," Ogwumike said about coming to her college home court. "I mean, there's still a lot of familiar faces here. So, I don't feel like a stranger."
She expressed elation that Clarendon is a part of the tour. Both players were on the 2018 FIBA World Cup squad that won gold in Tenerife, Spain. In addition, they both serve on the executive committee of the Women's National Basketball Players Association, Ogwumike as president and Clarendon as first vice president.
"It's amazing to have Layshia not just as a world champion because she was at Tenerife, but also Pac-12. And then she's also on the [executive committee]. She's my executive vice president…I mean, we know how she was a Cal. She was such a leader, very solid player and a very solid person. I'm grateful to have her here and I'm also very proud for her to be here."
Clarendon, who suffered an ankle injury in June that required surgery, had to sit out much of the WNBA season including the Finals.
Ogwumike noted that even though Clarendon was injured most of the season she worked hard enough to be ready for the national team tour.
"For her to be prepared, and obviously always answering the call for USA whenever they need her, I mean, that speaks volumes. So, I'm excited to have her here as we're representing the Pac-12."
In Clarendon's words, it's "awesome" to have league representation on the senior team.  "It's what I've always dreamt of…wanting to see the West Coast be respected for the really good basketball talent it has."
"I'm just so proud of the conference, obviously always having blue and gold pride," she continued, "but also as a Pac-12 broadcaster and always repping the West Coast."
For Stanford head coach Tara VanDerveer, the contest against Team USA, is a unique event. She coached the national team to a 52-0 exhibition record and an Olympic gold medal in 1996.
"What a great opportunity to play against the best players in the world," VanDerveer said. "We're gonna have to play hard. It's a whole different level than college basketball, and they're going to show our team that. We're going to compete as hard as we can. And, and I'm excited about it."
Regardless of the game outcomes on the tour, the Pac-12's visibility will reach another notch over the next month.
"I love that USA Basketball is doing this partnership to get us out there to promote the women's game to inspire the young people," Clarendon said. "I think it just keeps building our brand as WNBA players as well."
Tour Schedule
Stanford vs. Team USA – Saturday, Nov. 2, 4:00 p.m. PT
Play-by-play: Kate Scott
Analyst: Mary Murphy
Available on the Pac-12 Now app, Pac-12 Bay Area and Pac-12.com
Oregon State vs. Team USA – Monday, Nov. 4, 7:00 p.m. PT
Play-by-play: Ann Schatz
Analyst: Mary Murphy
Available on Pac-12 Network, the Pac-12 Now app and Pac-12.com
Texas A&M vs. Team USA – Thursday, Nov. 7, 7:00 p.m. CT
SEC Network+
Oregon vs. Team USA – Saturday, Nov. 9, 4:00 p.m. PT
Play-by-play: Ann Schatz
Analyst: Mary Murphy
Available on the Pac-12 Now app, Pac-12 Oregon and Pac-12.com