South Carolina's young core prevails as Gamecocks defeat Maryland 63-54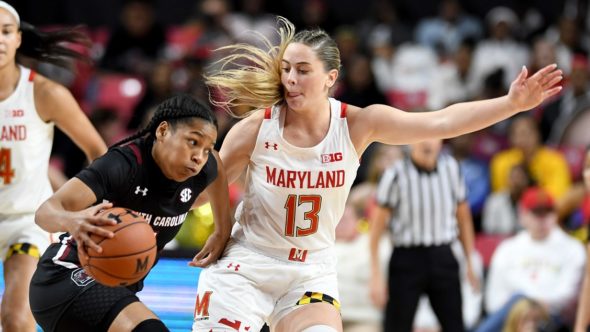 College Park, Md. – In the first top ten matchup in women's basketball, the No. 4 Maryland Terrapins and No. 8 South Carolina Gamecocks used the early opportunity to measure themselves on a basketball barometer.
They mirror each other's dominance, scoring 100 points and defeating their home opener opponents by 60 points. Both are stacked with young talent, displaying elite freshman classes. The Gamecocks have the No. 1 class with guards Zia Cooke, Brea Beal, and forward Aaliyah Boston while Maryland is No. 3 with forward Faith Masonius, and guards Diamond Miller and Ashley Owusu.
But South Carolina's young core made the winning difference, as they came out with a 63-54 win in front of the Xfinity Center's 7,447 fans.
"I think we just made it really tough for them and the pressure we tried to put on their point guard," South Carolina head coach Dawn Staley said. "It was a game of grittiness."
Boston, the youngest Gamecock to record a triple-double in program history (Nov. 5 vs. Alabama State), rose to the occasion again as a smothering presence in the paint. She collected ten points, four defensive rebounds, and five blocks in the first half.
"It was where I needed to be," Boston said. "It worked great because we were able to get out of transition and score some baskets."
The Gamecocks collected a total of 19 points on fast-break transitions. Boston's disruption in the paint called Maryland to step up on the perimeter, but the Terps were 1-10 from three-point land in the first half.
Owusu emerged early but faint presences from Maryland's leading scorers, forward Kaila Charles and guard Taylor Mikesell, muddied the tempo, going a combined 3-of-14 from the floor. South Carolina outscored Maryland 16-9 in the second quarter to lead 34-24 at halftime.
The second half warranted a quicker tempo, but Maryland fell victim to a traveling violation, turnover and a foul to start the second half. Spurts of energy helped Maryland chip away at a 14-point lead, but South Carolina's quick 5-0 run late in the final minutes eventually gave them the victory.
Quiet nights from Maryland starters were hurtful in the long run, but Owusu's consistency helped them stay in range. South Carolina offense matched their defensive performance in the paint. Owusu notched the team-high of 17 points and seven rebounds in the loss. As a freshman, her ball-handling skills as point guard came in handy in the thwarted comebacks attempt.
"She's super talented," Maryland head coach Brenda Frese said of Owusu. "You got to see a little bit of it today. You didn't even get to see the full package today of what she's capable of."
Beal led the charge on the glass with ten rebounds in addition to eight points and four assists. Boston collected 14 points, seven rebounds and five blocks in the game.
Senior guard Tyasha Harris scored 13 points in the win and hit the only three-pointer for Gamecocks to seal the win. Harris has her hands full this season, playing mother hen, leading the young Gamecocks and playing as the starting point guard.
"She utilized her experience in big games and controlling our team on the floor," Staley said. "She did what a senior point guard is supposed to do.".
"It's easy," Harris said on leading a young core. "They're a great group of girls, they like to have fun and play and they're very competitive and that's great for me and [senior forward Mikiah Herbert Harrigan]."
With each team shooting 31% from the floor, South Carolina's defensive edge helped outrebound Maryland 54-38. Twenty-three personal fouls from the Terps enabled South Carolina to finish with a 24-30 from the charity stripe.
"We've got to find our identity," Frese said. "Whether it be defense or pushing in transition, we've to find our strengths in one of those areas."
Picked to finish second in the SEC, Staley is getting the Gamecocks ready with non- conference games like contests against Maryland and defending champions No. 2 Baylor Bears on Nov. 30.
This tough non-conference is reminiscent of their 2017 slate when they faced then-No. 7 Ohio State, No. 8 Texas and No. 9 UCLA before facing the SEC teams and claiming the national title. They're crawling back to their top spot after winning the national championship that year with A'ja Wilson, Kaela Davis, and Alaina Coates – all playing in the WNBA with Wilson also training for the 2020 Tokyo Summer Olympics with Team USA.
"We like to use November and December to prepare for March," Staley said. "A lot of coaches may not want to play the kind of schedule we have because they just want to give young players experience. I think otherwise. These are the games to grow up in and learn. Win or lose, there's lessons in them."
Maryland hits the road to face James Madison on Wednesday before returning to College Park next Sunday to host the Delaware Blue Hens. South Carolina continues their road trip to take on the Dayton Flyers Wednesday night.