WBCA announces 2020 Wade Trophy Watch List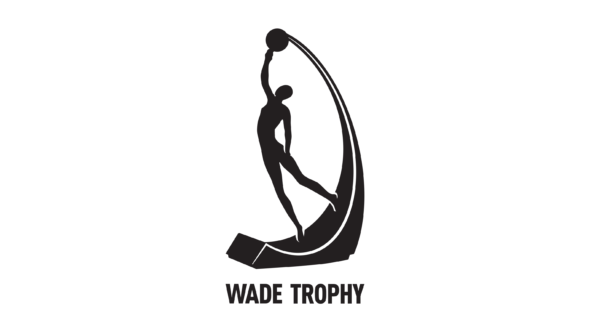 The Women's Basketball Association announced the 2020 Wade Trophy Watch List.  Now in its 43rd year, the Wade Trophy is named in honor of the late, legendary Delta State University head coach Lily Margaret Wade, who won three consecutive national championships with the Lady Statesmen.
The watch list includes players selected by the WBCA NCAA Division I Coaches' All-America Selection Committee. The committee will review the list in January to determine if additional players will be added based on their play during the first half of the 2019-20 season.
| | | | | |
| --- | --- | --- | --- | --- |
| Name | Institution | Position | Height | Current Year |
| Bella Alarie | Princeton | Forward | 6-4 | Sr. |
| Janelle Bailey | North Carolina | Center | 6-4 | Jr. |
| DiJonai Carrington | Stanford | Guard | 5-11 | Sr. |
| Chennedy Carter | Texas A&M | Guard | 5-7 | Jr. |
| Kalia Charles | Maryland | Guard | 6-1 | Sr. |
| Lauren Cox | Baylor | Forward | 6-4 | Sr. |
| Crystal Dangerfield | UConn | Guard | 5-5 | Sr. |
| Rennia Davis | Tennessee | Guard | 6-2 | Jr. |
| Chelsea Dungee | Arkansas | Guard | 5-11 | RS Jr. |
| Kiah Gillespie | Florida State | Forward | 6-2 | RS Sr. |
| Haley Gorecki | Duke | Guard | 6-0 | Grad. |
| Ae'Rianna Harris | Purdue | Forward | 6-1 | Sr. |
| Tyasha Harris | South Carolina | Guard | 5-10 | Sr. |
| Ruthy Hebard | Oregon | Forward | 6-4 | Sr. |
| Becca Hittner | Drake | Guard | 6-0 | Sr. |
| Rhyne Howard | Kentucky | Guard | 6-2 | So. |
| Sabrina Ionescu | Oregon | Guard | 5-11 | Sr. |
| Tynice Martin | West Virginia | Guard | 5-11 | RS Sr. |
| Aari McDonald | Arizona | Guard | 5-6 | Jr. |
| Beatrice Mompremier | Miami (FL) | Forward | 6-4 | RS Sr. |
| Michaela Onyenwere | UCLA | Forward | 6-0 | Jr. |
| Destiny Pitts | Minnesota | Guard | 5-10 | Jr. |
| MiKayla Pivec | Oregon State | Guard | 5-10 | Sr. |
| Sara Rhine | Drake | Forward | 6-1 | RS Sr. |
| Satou Sabally | Oregon | Forward | 6-4 | Jr. |
| Destiny Slocum | Oregon State | Guard | 5-7 | RS Jr. |
| Megan Walker | UConn | Forward | 6-1 | Jr. |
| Christyn Williams | UConn | Guard | 5-11 | So. |
| Kiana Williams | Stanford | Guard | 5-8 | Jr. |
| Peyton Williams | Kansas State | Forward | 6-4 | Sr. |