Cal overcomes slow start for 73-62 win against Boston University
Cal reduces turnovers, beats Boston University
Balance & belief gets it done!

4?? Bears in double-figures today ? pic.twitter.com/VorJn67Y82

— Cal Basketball (@CalWBBall) December 7, 2019
Team comparison || Social media recap
BERKELEY, Calif. – California (6-2) overcame an anemic start to defeat Patriot League-member Boston University (3-4) Saturday afternoon at Haas Pavilion, 73-62. The contest marked the first-ever meeting between the teams.
Cal had some "stretches where it was a little dicey" according to Golden Bears head coach Charmin Smith.
"I think, you know, Marissa has been a part of I don't know how many national championships at UConn, and she's instilled a championship type of fight and determination in her team. And I think was a really tough challenge for us today and I'm glad that we were able to come out on top."
Smith was referring to second-year BU coach Marisa Moseley who arrived at her alma mater after nine seasons coaching at Connecticut as an assistant with the Huskies and winning five national titles in that stretch.
A slow start for both teams made for a sluggish first quarter with only four points scored each in the first five minutes of the contest. Cal had a slim 11-8 lead after the first quarter and shot just 26% (5-19) compared to BU's 27% (3-11).
Cal ramped up its offensive production in the second quarter to outscore the Terriers 24-14 with a balanced effort. By halftime, eight players were in the scoring column for the Bears lead by senior center CJ West and freshman guard Jazlen Green. At the break, Cal led 35-22.
The third quarter was a different animal as Boston University turned up their offense with Maggie Pina starting the period off with a three-pointer. After a 16-7 run, the Terriers were within four points of the Bears. Overall, they outscored Cal 18-14 in the third quarter, but the Bears still had the advantage, 49-40, heading into the final period.
BU continued to fight in the fourth quarter but the pace of their offense for an effective rally was not good enough for them to overcome the Bears.
Four players finished in double figures for Cal: Junior forward Alaysia Styles (11 points, 10 rebounds), senior guard/forward Jaelyn Brown (11 points, 4 rebounds, 4 assists), West (10 points, 9 rebounds), and Green (10 points).
"It's been feeling really good this year that we're not reliant on just one player," Smith said about the balanced scoring. "We have a lot of weapons. We really do…everyone we put in the game has the ability to put the ball in the basket and I think it makes us really hard to guard because you don't know where it's coming from."
Freshman guard Sydney Johnson led BU with 19 points and junior guard Katie Nelson contributed 14 points, nine rebounds, and seven assists.
With the win, Smith was glad that her team saw a huge improvement in limiting turnovers. The Bears came into the contest averaging 17.0 turnovers per game. Against BU, they committed just seven.
"The one thing that I would say that's a huge difference is that we only had seven turnovers and we've been in the twenties, it's been it's been rough for us taking care of the ball," Smith said.
BU came into the game after a road loss at UC Davis, the first of a two-game of a West Coast road trip for the Terriers.
Cal returns to Haas Dec. 14 to host another Bay area team, Santa Clara. Boston University returns to the East Coast to play UMass at home Dec. 11.
Team Comparison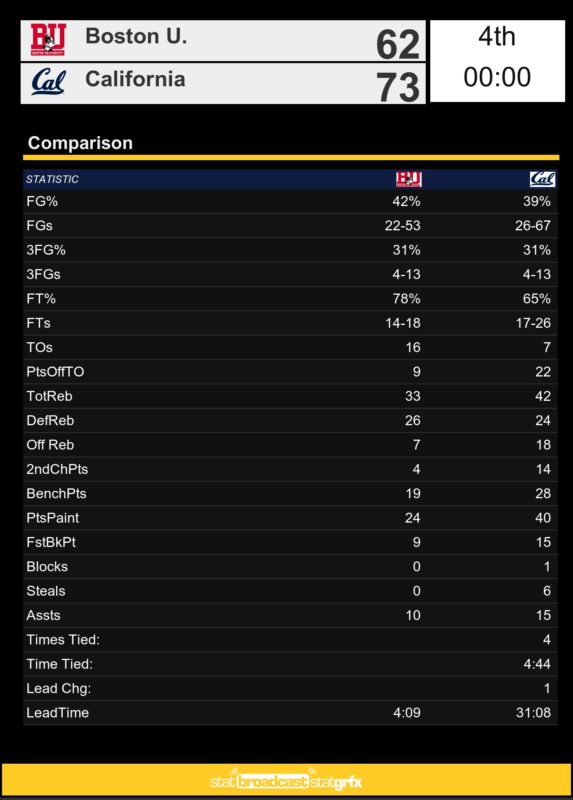 Live from Haas Pavilion, @CalWBBall hosting Boston University! It may be rainy outside but there's a nice turnout this Saturday afternoon for the Golden Bears. Live stream: https://t.co/jederUre1W pic.twitter.com/DMPeIhqACh

— Hoopfeed.com ? (@hoopfeed) December 7, 2019
Syd hits the mid-range jumper to get us on the board first! pic.twitter.com/i2cpU532cb

— BU Women's Basketball (@TerrierWBB) December 7, 2019
1Q 8:16 | Senior to senior! ?

Jaelyn with the lob down low to CJ for our first points of the day!

Cal 2-2 BU

— Cal Basketball (@CalWBBall) December 7, 2019
1Q 5:12 | @AnastasieskaS takes it to the rack and finishes, snapping a scoreless drought for the Bears

Cal 4-4 BU

— Cal Basketball (@CalWBBall) December 7, 2019
1Q 2:01 | Coast to coast!

Jaelyn grabs the rebound and finishes on the fastbreak, and we're all tied up at 8

— Cal Basketball (@CalWBBall) December 7, 2019
Anyone wanna guard Syd?

She has all 8?? of our points as we lead 8-6! pic.twitter.com/4OvSyRGMUd

— BU Women's Basketball (@TerrierWBB) December 7, 2019
1Q 1:04 | @elutjeschipholt with the finish in the paint to give the Bears their first lead of the day. And follows it up with a block on the other end!

Cal 10-8 BU pic.twitter.com/wMzuT1x8Wy

— Cal Basketball (@CalWBBall) December 7, 2019
End of 1Q | Late surge puts the Bears ahead after the first 10 minutes of action! #GoBears pic.twitter.com/3JC1WfQp8V

— Cal Basketball (@CalWBBall) December 7, 2019
Anemic offense for both teams to start the game, Cal leading 11-8 after 1Q, shooting just 26% (5-19) from the floor compared to 27% (3-11) by Boston University #ncaaw pic.twitter.com/ZM3PYb7Fbz

— Hoopfeed.com ? (@hoopfeed) December 7, 2019
2Q 9:30 | SPLASH! ?@GreenJazlen picking up where she left off vs Long Beach, and drains the corner three ?

— Cal Basketball (@CalWBBall) December 7, 2019
2Q 8:24 | Hoop AND harm! Jaelyn Brown with the three-point play and it's an 11-0 run for the Bears

Cal 17-8 BU pic.twitter.com/mSWP7Z6RU4

— Cal Basketball (@CalWBBall) December 7, 2019
2Q 5:45 | @alaysia____ showing off the smooth stroke with her first points of the day!

Bears picking up the tempo in the second quarter and extend lead to 28-12

— Cal Basketball (@CalWBBall) December 7, 2019
.@CalWBBall on a mission in 2Q, shaking off that slow start, outscoring Boston University 17-4, 3:24 left in the period. #ncaaw

— Hoopfeed.com ? (@hoopfeed) December 7, 2019
2Q 2:20 | Chen with the spin move and finish! Followed up by a mid-range jumper from @alaysia____

— Cal Basketball (@CalWBBall) December 7, 2019
OKAY CHEN! #GoBears pic.twitter.com/c5eczrrfXn

— Cal Basketball (@CalWBBall) December 7, 2019
.@CalWBBall redshirt sr. center Chen Yue has had quite a journey, she's improved so much, lots of potential still, had a beautiful hookshot jumper as 2Q came to a close, if she can do that consistently & confidently, the Bears will fare well in conference season. #ncaaw

— Hoopfeed.com ? (@hoopfeed) December 7, 2019
Halftime: Cal 35, Boston University 22 #ncaaw pic.twitter.com/a2JSTdjkKN

— Hoopfeed.com ? (@hoopfeed) December 7, 2019
Your Golden Bear leaders at the break:

? 6 pts – CJ West & @GreenJazlen
? 5 reb – @alaysia____
? 3 ast – @LeiMcintosh #GoBears x #Willing pic.twitter.com/pi1II7bGsz

— Cal Basketball (@CalWBBall) December 7, 2019
3Q 8:20 | Mid-range game on point! @AnastasieskaS sinks the elbow jumper after another stop by the Bears on the defensive end

— Cal Basketball (@CalWBBall) December 7, 2019
Balanced scoring effort for Cal as 8 players have scored, Bears maintaining the advantage over Boston University, 39-25, 7:45 in 3Q #ncaaw

— Hoopfeed.com ? (@hoopfeed) December 7, 2019
Syd is on ? to start the third!

She has 8?? points through the first five minutes.

42-33 Cal. pic.twitter.com/jCBD46X419

— BU Women's Basketball (@TerrierWBB) December 7, 2019
Textbook pick-and-roll!

Mack pushes our run to 5??-0?? pic.twitter.com/bdoyac0GC7

— BU Women's Basketball (@TerrierWBB) December 7, 2019
3Q 3:09 | Timeout

11-2 run by the Terriers puts the visitors back with 4

Cal 42-38 BU

— Cal Basketball (@CalWBBall) December 7, 2019
2Q 2:39 | @elutjeschipholt draws the foul and sinks both at the stripe, snapping BU's 8-0 run

Cal 44-38 BU

— Cal Basketball (@CalWBBall) December 7, 2019
End of 3Q: Cal 49, Boston University 40 #ncaaw The Terriers made up some ground in 3Q, outscoring Cal 18-14 pic.twitter.com/CFVjc8pank

— Hoopfeed.com ? (@hoopfeed) December 7, 2019
4Q 9:45 | Bears' lead back to 11 after the finish inside by @alaysia____ ! She's up to 7 points and 8 boards today

— Cal Basketball (@CalWBBall) December 7, 2019
4Q 7:25 | CJ joins Jazzy in double-figures with the finish down low! Crocker with the assist pic.twitter.com/py6rUStPvm

— Cal Basketball (@CalWBBall) December 7, 2019
Boston University still fighting to try and overcome Cal but the pace of their offense not helping them mount a dangerous rally, Cal 65, BU 57, 1:57 to go in 4Q #ncaaw

— Hoopfeed.com ? (@hoopfeed) December 7, 2019
Final: @CalWBBall 73, Boston University 62 #ncaaw pic.twitter.com/Lf1PhLtqc1

— Hoopfeed.com ? (@hoopfeed) December 7, 2019
Balance & belief gets it done!

4?? Bears in double-figures today ? pic.twitter.com/VorJn67Y82

— Cal Basketball (@CalWBBall) December 7, 2019
.@CalWBBall only had 7 turnovers, an improvement over previous contests, and very important vs. @TerrierWBB, "a well coached team" according to Cal coach Charmin Smith, says Marisa Moseley has "Instilled championship fight and determination" in her program. #ncaaw

— Hoopfeed.com ? (@hoopfeed) December 8, 2019