Blair Watson's defense shines in Maryland's 72-62 win over Ohio State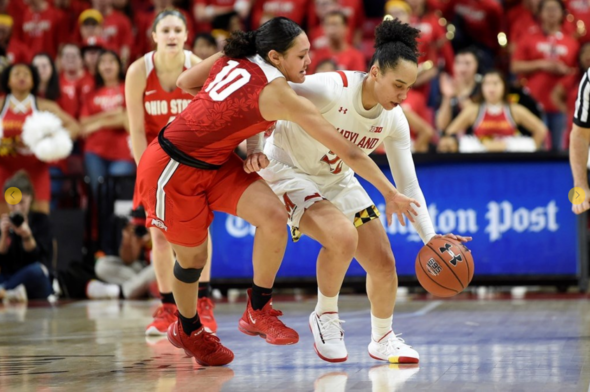 College Park, MD – The Maryland Terrapins returned to the winning column after defeating the Ohio State Buckeyes 72-62 in the first game of 2020 in the Xfinity Center.
On New Year's Eve, Maryland (11-3, 2-1 Big Ten) dropped the ball against Northwestern, losing 81-58 on the road. Wildcats guard Lindsey Pulliam dumped 24 points on Maryland, while the Terrapins committed just as many turnovers. It was an ugly way to ring in 2020. After practices ahead of facing the Buckeyes, Maryland head coach Brenda Frese felt her team was prepared for the battle.
"I loved our response in practice," Frese said. "But sometimes we get so inner focused we make mistakes and I felt some of that to start the game."
An offbeat first quarter start helped Ohio State (8-6, 1-2) to an early 13-8 lead as the Buckeyes drained their first three attempts beyond the arc. While sporadic shooting hindered Maryland, guard Blair Watson helped stifle Ohio State's offense. She earned a career-high seven steals in the game.
Maryland shot 38 percent from the field in the second quarter. A three-minute offensive silence in the period led to a 12-2 Buckeyes run. Ohio State led 42-35 at halftime.
Shots eventually started to fall for Maryland, especially for senior guard Kaila Charles who led her team's second-half charge.
"When we get those stops and steals, that jump starts our transition," Charles said. "One thing we practice is pushing the ball and running. I was trying to be aggressive and take what I had in transition."
Charles found most of her scoring opportunities in transition, a direct benefit from Watson's dominant pressing performance. Attacking the basket helped Charles and she earned a season-high 28 points. None of her teammates scored in double-digits.
"We couldn't keep her in front of us," Ohio State head coach Kevin McGuff said. "She was driving by and getting offensive rebounds. She's one of the best players in the country and she showed that today."
Maryland sophomore guard Taylor Mikesell hit a three that enabled the Terps to breathe a little easier with 5:47 left in the third quarter, outscoring Ohio State 18-9. A 13-0 run in the fourth quarter gave Maryland a cushioned advantage and eventually sealed their 72-62 win.
Maryland is still gluing their game together. Three battles into the conference and it's hasn't been easy for Frese to find what the Terrapins can rely on night in and night out for 40 minutes. Answers are blurry, but a consistent piece of Maryland's positive performances lies in Watson.
Her most notable disruption was blocking OSU guard Madison Greene, rebounding the ball and tying the game at 49. In the following sequence, another one of her steals led to a foul where Mikesell shot two free throws and Maryland led for the rest of the contest. After Ohio State forced another turnover, Watson limited Ohio State guard Braxtin Miller's space for a lay-up, which led to an offensive charge for Terps freshman guard Ashley Owusu.
"She plays really sound," McGuff said of Watson. "She was in the right place and stretched the defense and that's where we had most of our issues."
Maryland forward Shakira Austin grabbed nine rebounds as the Terps edged Ohio State 37-34 on the glass. OSU forward Dorka Juhasz and guard Jacy Sheldon tied for a team-high of 12 points for the Buckeyes.
Maryland's weaknesses include mishandling the ball and missing shots. Shooting 1-of-12 from three-point range won't help their case of improving during conference play either.
"We're [playing teams] who obviously know between Taylor and Blair, they shoot the three so they lock them down pretty hard."
For now, Watson can rest her legs from jumping to tie her career-high of seven steals before Maryland hits the road to face Iowa Thursday night.
"I'm thankful we get massages tomorrow," Watson said.
Ohio State hosts the Michigan Wolverines Thursday.