John R. Wooden Award 2019-20 Midseason Top 25 Watch List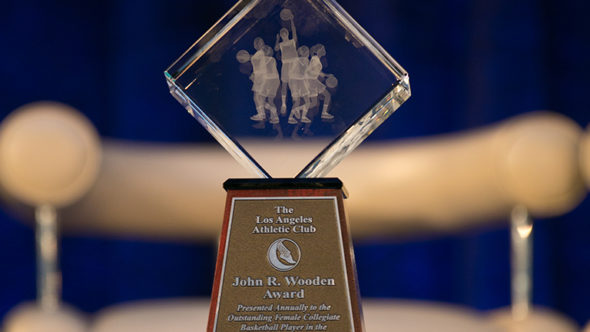 The John R. Wooden Award announced the Midseason Top 25 Watch List that includes athletes chosen by a preseason poll of national women's college basketball media members based on performances during the first half of the 2019-20 season. Four players on the list were not included in the Preseason Top 30: Aliyah Boston (South Carolina), Elissa Cunane (NC State), Olivia Nelson-Ododa (Connecticut) and Megan Walker (Connecticut).
Players not on the midseason list are still eligible for the late season list, and the national ballot. The final ballot consists of 15 players. The Wooden Award All American Team will be announced the week of the NCAA Elite Eight. The winner of the 2020 John R. Wooden Award will be announced Friday, April 10, 2020.
John R. Wooden Award 2019-20 Midseason Top 25
| | | | | |
| --- | --- | --- | --- | --- |
| Name | School | Conference | Class | Position |
| Aliyah Boston | South Carolina | SEC | Fr. | F |
| Chennedy Carter | Texas A&M | SEC | Jr. | G |
| Kaila Charles | Maryland | Big Ten | Sr. | G |
| Lauren Cox | Baylor | Big 12 | Sr. | F |
| Elissa Cunane | NC State | ACC | So. | C |
| Crystal Dangerfield | Connecticut | American | Sr. | G |
| Rennia Davis | Tennessee | SEC | Jr. | G/F |
| Chelsea Dungee | Arkansas | SEC | Jr. | G |
| Dana Evans | Louisville | ACC | Jr. | G |
| Kiah Gillespie | Florida State | ACC | Jr. | F |
| Tyasha Harris | South Carolina | SEC | Sr. | G |
| Ruthy Hebard | Oregon | Pac-12 | Sr. | F |
| Rhyne Howard | Kentucky | SEC | So. | G |
| Sabrina Ionescu# | Oregon | Pac-12 | Sr. | G |
| Juicy Landrum | Baylor | Big 12 | Sr. | G |
| Aari McDonald | Arizona | Pac-12 | Jr. | G |
| Beatrice Mompremier | Miami | ACC | Sr. | F |
| Olivia Nelson-Ododa | Connecticut | American | So. | F |
| Michaela Onyenwere | UCLA | Pac-12 | Jr. | F |
| Ali Patberg | Indiana | Big Ten | Jr. | G |
| Mikayla Pivec | Oregon State | Pac-12 | Sr. | G |
| Satou Sabally | Oregon | Pac-12 | Jr. | F |
| Destiny Slocum | Oregon State | Pac-12 | Jr. | G |
| Megan Walker | Connecticut | American | Jr. | F |
| Christyn Williams | Connecticut | American | So. | G |
# The 2019 Wooden Award Player of the Year