Minnesota Lynx added Katie Smith to staff as an assistant coach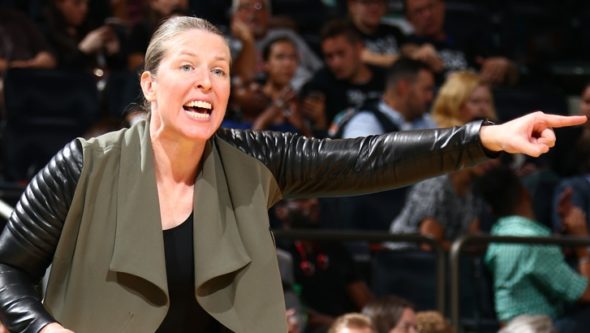 The Minnesota Lynx announced the hiring of former Lynx player and Naismith Memorial Basketball Hall of Famer Katie Smith as an assistant coach. Smith will be the lead assistant in the team's scouting efforts, talent evaluation, in-game analysis, and player development.
Per team policy, terms of the deals were not released.
"We are so happy that Katie Smith is returning to the Minnesota Lynx," the team's general manager and head coach Cheryl Reeve said. "Katie is a Lynx legend and will once again be a tremendous asset to the Lynx organization."
"I couldn't be more excited to be returning to the place I called home and began my WNBA career," Smith said. "I'm thrilled to be joining this successful, first-class organization. Coach Reeve has established herself as one of the all-time great coaches in our sport, and with my added experience, joining her group and what she's built in Minnesota was a no-brainer for me."
Smith joins the Lynx staff after serving as the head coach of the New York Liberty for the 2018 and 2019 seasons. Before taking over head coaching duties, she spent three years as a member of Bill Laimbeer's staff with the Liberty.
Bio from the Lynx:
The Logan, Ohio native played in a total of 482 regular-season games with five different teams (Minnesota, Detroit, Washington, Seattle, New York) and averaged 13.4 points, 2.9 rebounds and 2.6 assists per game. She helped guide the Lynx to their first-ever playoff appearance in 2003, averaging 18.2 points (on a career-high 45.7% from the field, including 39.0% from long distance), a career-high 4.1 rebounds and 2.5 assists per game while being named to the All-WNBA First Team for the second time in her career (also 2001).

Smith was enshrined in the Naismith Memorial Basketball Hall of Fame (Springfield, Mass.) in September 2018 and was also inducted into the Women's Basketball Hall of Fame (Knoxville, Tenn.) in June 2018.

Her illustrious pro career began in the American Basketball League, where she won the league's only two championships in 1996-97 and 1997-98 as a member of the Columbus Quest. She racked up 7,885 career points between the ABL (1,433) and WNBA (6,452), a combined total that trails only Diana Taurasi (8,575) for the most ever in U.S. women's pro basketball. Smith sank 1,089 three-pointers in her career (183 ABL, 906 WNBA), the latter total ranking second in league history behind Taurasi (1,103).

A two-time WNBA champion in 2006 and 2008 with Detroit, where she played under then-Shock-assistant Reeve, Smith earned Finals MVP honors in 2008. She was a seven-time All-Star (2000, 2001, 2002, 2003, 2005, 2006, 2009) and was the first player in WNBA history to win All-Star games with both conferences.

Smith was a decorated member of the United States Women's National Team, earning gold at three straight Olympics (2000, 2004, 2008) and gold at the 1998 and 2002 FIBA World Championships for Women.