Stanford dominates Washington State 77-58 in Pac-12 opener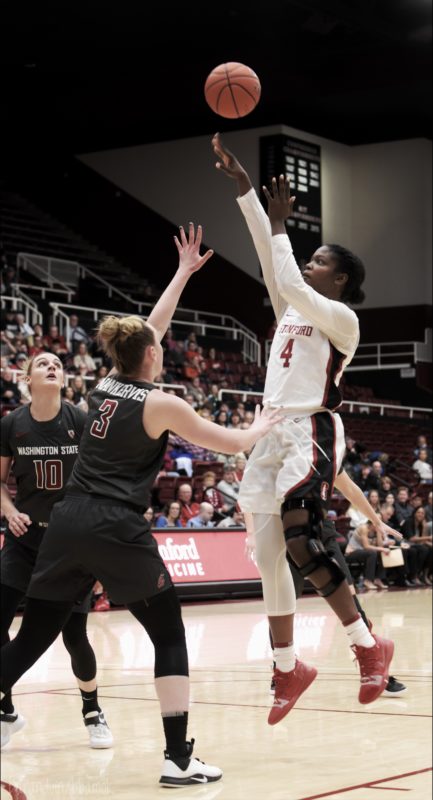 STANFORD, Calif. – Stanford (12-1, 1-0) started the new month, year, decade and Pac-12 play with a bang, earning a 77-58 victory over the Washington State Cougars (7-7, 0-2), Friday night inside Maples Pavilion.
Senior forward Nadia Fingall led the way for the Cardinal with 20 points and six rebounds on 54% shooting and a perfect time from the free-throw line.  Fingall also had her stroke going from beyond the arc, as she nailed three 3-pointers in the first half at a 43 % clip.
"Coming back [ACL injury], it was hard to find my rhythm, but I continued to work on it," Fingall said. "I had a couple of shots go in against Tennessee and things started feeling better as far as my body goes and it's gone from there."
Stanford head coach Tara VanDerveer presented a starting lineup consisting of two freshmen (guard Haley Jones and forward Francesca Belibi) and sophomore guard Lexie Hull. However, junior guard Kiana Williams (12 points) and senior Fingall, as upperclassmen, demonstrated their veteran leadership.
"That was a great game from Nadia," VanDerveer said. "She is embracing her senior year, being a leader and getting healthy. She's playing her best basketball."
Heralded freshman Jones put together an impressive stat line of 10 points, seven rebounds and three assists, in her initial Pac-12 conference game, while Belibi, tallied a solid five points and two rebounds.
Stanford received contributions from more players than just the starters, with junior forward Alyssa Jerome chipping in 10 points, four rebounds and three assists and senior guard Anna Wilson adding seven points and four rebounds in just 15 minutes of playing time off the bench.
The Cardinal never trailed and controlled the entire game, with leads by as much 27 points in the second half. Stanford also put defensive pressure on the Cougars, only allowing them four assists as Washington State committed 18 turnovers.
The Cougars' offense primarily came from two senior players, guard Chanelle Molina and forward Borislava Hristova.
Molina shot a scorching 69 percent from the field, including five threes to garner a game-high 27 points and four rebounds.
Hristova made half of her shots to give the Cougars 21 points and a team-leading eight rebounds.
Both players had great performances, but unfortunately not enough to end the winless streak (0-66) versus Stanford.
"You always need people who can create their own shot and we have two of those," Cougars' coach Kamie Ethridge said. "Stanford can switch so well on defense it makes it hard for anybody but those two. We're just not built right to take on a team like Stanford. It was an unbelievable effort though."
Washington State as a team shot 42.3% from the field, which is the highest field goal percentage against the Cardinal this season.
"We can play better defensively, but it won't be easy," VanDerveer said.
Stanford will get a chance to do just that next game as they host the Washington Huskies, Sunday, Jan. 5 at Maples Pavilion.
Washington State also plays Sunday. The team heads across the Bay to Haas Pavilion for a matchup against the California Golden Bears. Friday night, Washington defeated Cal 67-64 in Berkeley.