Tara VanDerveer hits milestone as Stanford dominates Cal 73-40 in rivalry series game
VanDerveer reaches conference victory mark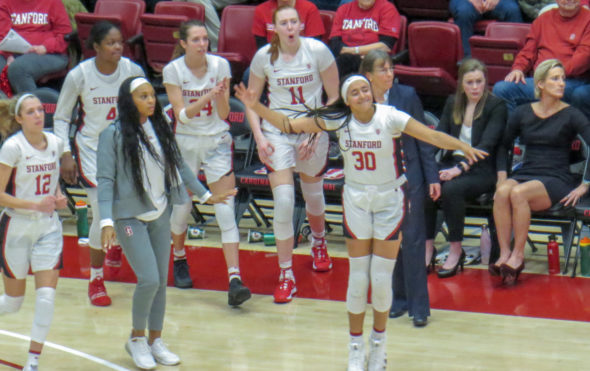 STANFORD, Calif. – In a week of upsets of elite teams including defeats for No. 1 UConn and No. 2 Oregon, No. 5 Stanford (14-1, 3-0 Pac-12) fared well as the Cardinal dominated California 73-40 in the first game of the Battle of the Bay series. With the win, Stanford head coach Tara VanDerveer became the first women's basketball coach to win 500 games in single Division I conference.1
The game included another historic moment as Golden Bears' first-year head coach Charmin Smith faced her alma mater for the first time. Smith, who helped Stanford to three Final Fours during her student-athlete days playing for VanDerveer, also spent three seasons as an assistant for the Cardinal before joining Cal's staff as an assistant in 2007. With the milestone for VanDerveer and Smith's debut, many former Stanford athletes were on hand to share and revel in the moments.
"It's really special and really cool," Smith said about the occasion and seeing many of her fellow alumnae at the game. "Obviously I don't like losing but it this was a very special day."
Unfortunately, her Cal (8-6, 0-3) squad, was overmatched Friday night. Stanford raced out to a double-digit lead by the 2:06 mark in the first quarter, 15-5, and never looked back. After the first ten minutes, the Cardinal, buoyed by contributions from freshmen off the bench like Ashten Prechtel, had a 20-5 advantage after shooting 50% (8-16) from the field compared to an anemic 12.5% (2-16) by the Bears.
While Cal shot better in the second quarter at 40% (4-10), the Bears had a lot of ground to make up but could not build any momentum as their opponent shot better at 45% (9-20). In addition, the Cardinal's bench outscored the Bears bench 11-3 in the first half. At the break, Stanford had a 39-15 lead.
Cal did not see better times in the third quarter. In fact, it took the Bears nearly seven and a half minutes to score while Stanford roared on a 13-0 run. The only shot Cal earned in the period came from junior forward Alaysia Styles who made a 3-pointer.
VanDerveer praised her squad's all-around defense in shutting down Cal offensively: "Our defense was locked in."
Cal did manage to outscore Stanford 22-15 in the fourth quarter, but since the game was well out of hand for the Bears by the third quarter, the feat had no significant effect on the game.
Overall, the Bears shot 27.3% (15-55) from the floor compared to 46.9% (30-64) by the Cardinal. Stanford outrebounded Cal, 50-29, only the second time this season that the Bears have been outworked on the boards. Forty points is also a season-low in scoring for Cal.
"We've got to be better for Sunday," said Smith referring to the next game in the series this weekend. "We didn't knock down shots and we got a little quiet in the second and third quarters. We found our fight late in the third quarter, so I was happy to see we got our fight back."
Stanford freshman guard Haley Jones led all scorers with 17 points. Prechtel added 13 points plus six rebounds. Eleven players scored for the Cardinal.
Freshman guard Jazlen Green led the Bears with nine points.
Even in the crushing defeat, Smith voiced optimism about her young squad.
"I think people know that we've got a group of fighters," Smith said. "I think they know we've got a young group. And you know, if they come in unprepared, I think they know that we're capable, but we want to keep building on that and being better."
While Stanford holds a 71-21 series lead, the teams have split their regular-season matchups during the last two seasons with each winning on its home court.
Part two of the series is set for a 5 p.m. PT tip on Sunday. The game will be televised on the Pac-12 Network and Pac-12 Bay Area.
1Wins in a single conference (as of Jan. 10, 2010)
Tara VanDerveer, Stanford (Pac-12/10) – 500
Pat Summitt, Tennessee (SEC) – 458
Geno Auriemma, Connecticut (Big East) – 403
Robin Selvig, Montana (Big Sky) – 359
Kathy Delaney-Smith, Harvard (Ivy) – 354 (**opens league play on Saturday)
Notes
VanDerveer is just 18 victories shy of passing Pat Summitt (1,098) as the winningest coach in women's college basketball history.
The Battle of the Bay series began officially during the 1974-75 season. However, Cal and Stanford played in the first-ever intercollegiate women's game nearly 125 years ago on April 4, 1896.
Stanford senior guard DiJonai Carrington and junior forward Maya Dodson are still out of commission due to injuries. Carrington is suffering from knee soreness and has not played since Nov. 24. Dodson has yet to see any action this season due to an undisclosed injury. During the 2018-19 campaign, she missed 10 games due to a left foot injury.
Cal announced in mid-December that redshirt junior guard Mi'Cole Cayton is out for the season after undergoing surgery to repair damaged cartilage in her right knee.