Maryland blows past Michigan State 94-53 for seventh straight win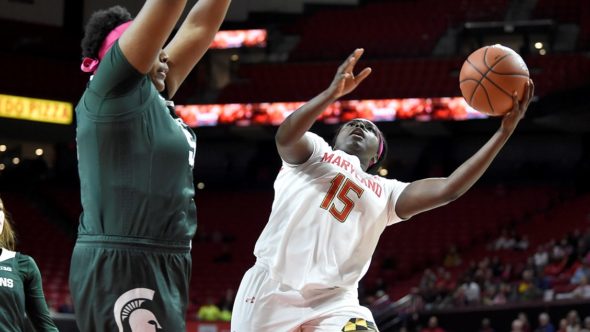 COLLEGE PARK, Md. – The Maryland Terrapins (18-4, 9-2 Big Ten) cruised to a 94-53 win over the Michigan State Spartans at the Xfinity Center during the home team's annual Play4Kay game Monday night.
Make that seven wins in a row for the Terrapins.
The win marks Maryland's largest margin of victory since an 89-40 rout of Wisconsin on February 15, 2017, and their highest scoring game since a non-conference battle against Quinnipiac resulting in a 107-52 in late November.
"I love where the [team] ownership is," Maryland head coach Brenda Frese said. "They've taken great pride in wanting to play at the highest levels."
Maryland's lukewarm offensive start, shooting 4-of-13 from the field, helped Michigan State stay in front for the first five minutes of the game. Terps senior guard Kaila Charles' responded with 11 straight points and the home team began to dominate. Maryland destabilized the Spartans' offensive sets before they even began. Force a turnover, miss shot or a shot clock violation. Score in a fast break sequence. Wash, rinse, repeat.
Maryland's gripping, perimeter defense disrupted the Spartans by the second quarter. Six steals and MSU shot clock violations helped Maryland to a 16-2 run in the second quarter behind individual 5-0 runs by guards Ashley Owusu and Taylor Mikesell.
"I think it started after we settled in the defensive end," Mikesell said. "We were able to get uncontested shots on the three-point line and in transition, I think Ashley and the other guards did a really great job of kicking it out to our shooters."
Maryland forward Shakira Austin managed well in the paint, especially against someone mirroring her towering height at 6'5". Spartan 6'3" small forward Taiyier Parks battled well, but Austin's quickness and accuracy below the rim outshined her. The Spartans committed eight fouls trying to stop Austin.
Superb shooting from the Terps didn't help MSU's case. Charles took the backseat while the Terps put on a full clinic despite the slow start. A defensive surge held the Spartans to eight points in the second quarter and sparked a lights-out shooting night.
Maryland's win is a testament to their typical dominance, but this particular victory came with digging in their bag of tricks. The 41-point blowout featured the team's best shooting stint this season, with a 9-of-13 three-point performance as the highlight. Austin battled down low with the game-high of nine rebounds to help Maryland outrebound MSU 37-27.
"I think we're starting to have a better feel for one another," Frese said. "It's obvious when you can share the ball like we did, with 22 assists. I think you can hear the communication, it's great because you can find the right person and we were really challenging to make the right play on the offensive end. You can see how easy the game can be for us when we're in a groove to want to make the right play for one another."
Four Terps scored in double figures with Owusu and Mikesell hitting the 20-point mark. Owusu led all scorers with 22 points and eight assists, all found in fast breaks. Mikesell went 4-of-6 from three on her own, adding five assists.
Owusu's highest scoring game comes after two points against Ohio State on January 30. Frese cited her shifting energy and attention to the game as factors into Owusu finding her footing in the season stretch.
"She picked up two quick fouls at Ohio State and was just a step slow defensively," Frese said. "It's like you can see her energy on both ends of the floor. She gets it on the defensive end and in transition, then aggressively on the floor in the offensive end. You see what makes her so incredibly gifted: her ability to pass, push in transition and score the ball."
Guard Nia Clouden scored a team-high of 17 points and two rebounds for Michigan State. Forward Kayla Belles contributed 14 points and three rebounds before fouling out. Spartan guards Moira Joiner and Taryn McCutcheon left the game with injuries.
The Big Ten tournament is in one month and NCAA Tournament Selection Monday is about 40 days away. The Terps are currently a half-game behind both Iowa and Northwestern in the conference standings.
Maryland is the eighth overall seed in the NCAA's ranking of the top 16 teams if the national championship tournament began this week.
Maryland visits Indiana Thursday. The Spartans have a week-long break before visiting Northwestern next Monday.