Maryland continues to roll, tops Purdue 88-45 on Senior Night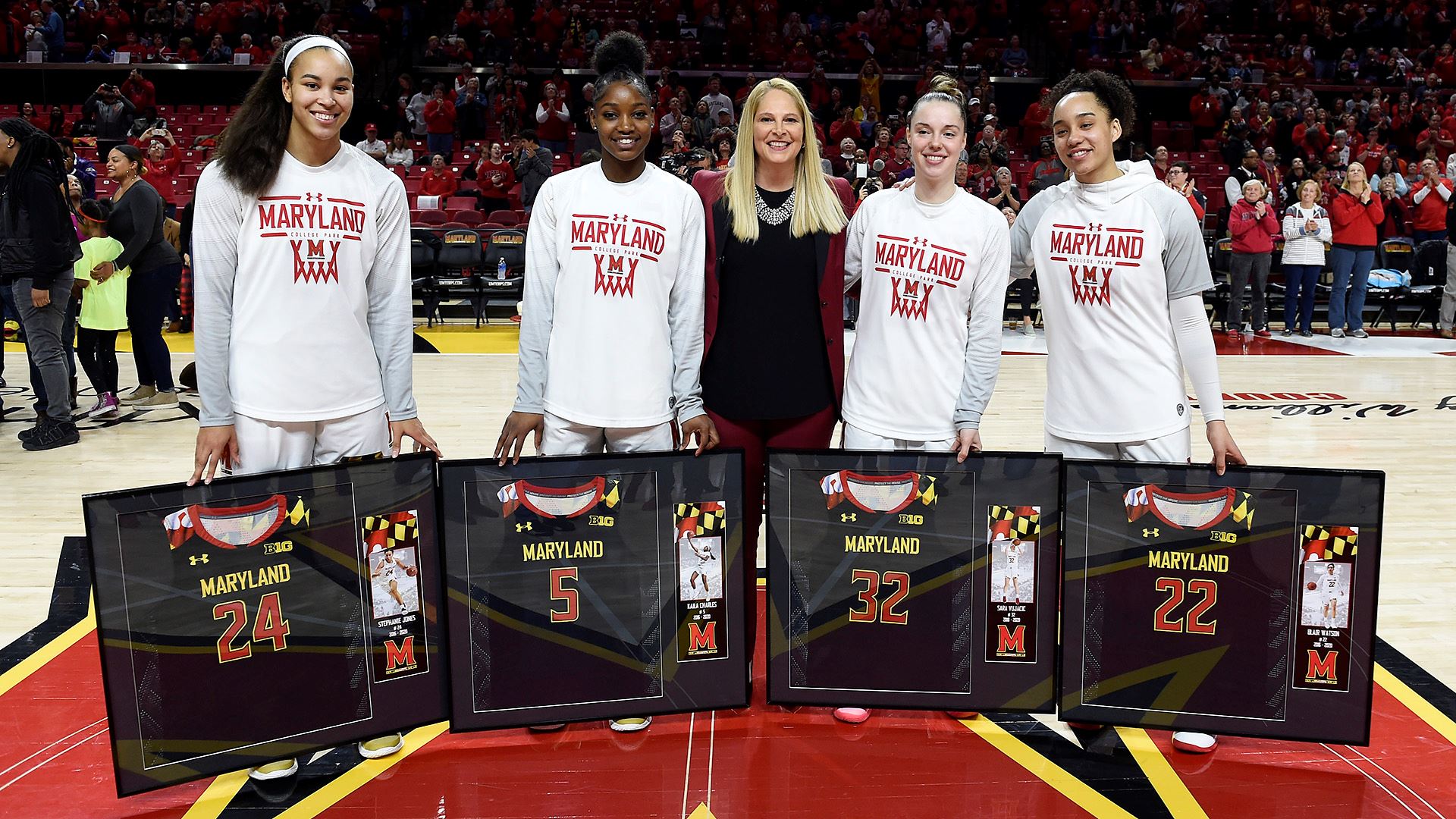 COLLEGE PARK, Md. – The Maryland Terrapins (24-4,15-2 Big Ten) defeated the Purdue Boilermakers 88-45 in front of 5,105 voracious fans during Senior Night at the Xfinity Center.
"They've really worked hard since day one," Maryland head coach Brenda Frese said about her seniors postgame.
The team honored the Terp quartet of forward Stephanie Jones plus guards Kaila Charles, Sara Vujacic, and Blair Watson Tuesday night. In addition, former Terp standout Tianna Hawkins returned to her alma mater for the game along with the 2019 WNBA trophy she won with the Washington Mystics won last October.
For Vujacic, the night included the playing of her native country Slovenia's national anthem, "Zdravljica", a carmen figuratum poem crafted by 19th-century Slovene poet France Prešeren. Her parents Nevenka and Vaso were also in attendance.
"My parents visited the USA for the first time," Vujacic said. "It was really special for me to have them by my side."
Cementing a legacy in a prestigious program such as Maryland can be a hard task. Even so, Charles excelled. She started every game of her career and averaged 15 points and six rebounds.
"[The seniors] had a load placed on us sophomore year and we did a great job responding," Charles said. "We've been leaders and trying to lead by example. I think this year we've all grown."
This rings true, especially for Jones. Her older sister, Terp alumna and current Connecticut Sun forward, Brianna made her name being an inside player from 2014-2017. Lately, Stephanie is making noise of her own.
"Especially after talking to Bri, I knew I would have my own journey," Stephanie said. "Over the course of the years with these seniors, I definitely left my mark here."
She was the first to shake off Senior Night jitters, scoring Maryland's first four points and helping the team earn their first lead with a lay-in at the 3:49 mark in the first quarter. After swarming Purdue's perimeter game behind Watson's defense and finding a rhythm in transition, Maryland led 35-22 at halftime.
The Terps showcased another dominating performance on both sides of the ball, subtracting Purdue's inside game from redshirt junior center Fatou Diagne and pace on the perimeter from junior guard Karissa McLaughlin.
"They steal the ball, their points are just lay-ups after lay-ups," Purdue head coach Sharon Versyp said. "When they up the tempo, they're just a dangerous team"
In the fourth quarter, all the seniors sat allowing freshman guards Faith Manosis, Miller, Owusu, and sophomores forward Shakira Austin and guard Taylor Mikesell to run the floor in next year's assumed line up. Maryland still rolled with a late 6-0 run before sealing the win.
There was no worry about what Maryland will be without their seniors. Owusu's mere presence gives Maryland an edge. She thrives in transition. Miller is finding her step on the perimeter and contributed 12 points, going 2-of-3 from three-point range.
Owusu and Miller both poured into the win, especially with an aggressive attack on defense.
"With the way we want to play defensively, it takes great effort and energy," Frese said. "[We need to] have this kind of flow in rotation then we can play our defenses aggressively and as hard as we want to play when everything's clicking with all nine players."
Five Terps landed in double figures. Jones flirted with a double-double, earning a team-high of 18 points and nine rebounds. Both Austin and Charles recorded double-doubles. Charles' notched her fifth double-double of the season with 14 points and 11 rebounds. Austin found 17 points and 13 rebounds.
Diange recorded a team-high of 12 points and six rebounds for  Purdue (17-12,8-9). Laughlin and senior forward Ae'Rianna Harris added ten points each.
With arms full of red roses and framed jerseys, Maryland's fate of being the sole 2020 Big Ten Champions is out of their hands. Conference foe, the Northwestern Wildcats, earned a gritty 69-55 over Ohio State before Maryland's match today.
Like Maryland, a win in their regular-season finale will lock in Northwestern's share of the 2020 Big Ten regular-season championship. NWU's next contest is against Illinois. The Wildcats rolled in a 77-50 game against Illinois to kick off their conference slate on December 28.
A Maryland win against Minnesota Golden Gophers Sunday will seal their share of the regular season title as co-champs and give the Terps the number one seed in the Big Ten tournament that begins March 4 in Indianapolis.
"We're ready for the challenge," Frese said. "We're happy to be in this position."