A STEP UP announces the Assistant Coaches Hall of Fame Class of 2020
A STEP UP, Inc. announced the Assistant Coaches Hall of Fame Class of 2020. The class will be inducted into the Hall of Fame on Tuesday, May 5, 2020, in Charlotte, NC.
In 2019, A STEP UP, Inc. became the first organization to exclusively recognize NCAA men and women assistant coaches with the Hall of Fame honor. This year A STEP UP will also honor a retired men's and women's assistant basketball coach whose body of work as an assistant coach is worthy of recognition and celebration.
Class of 2020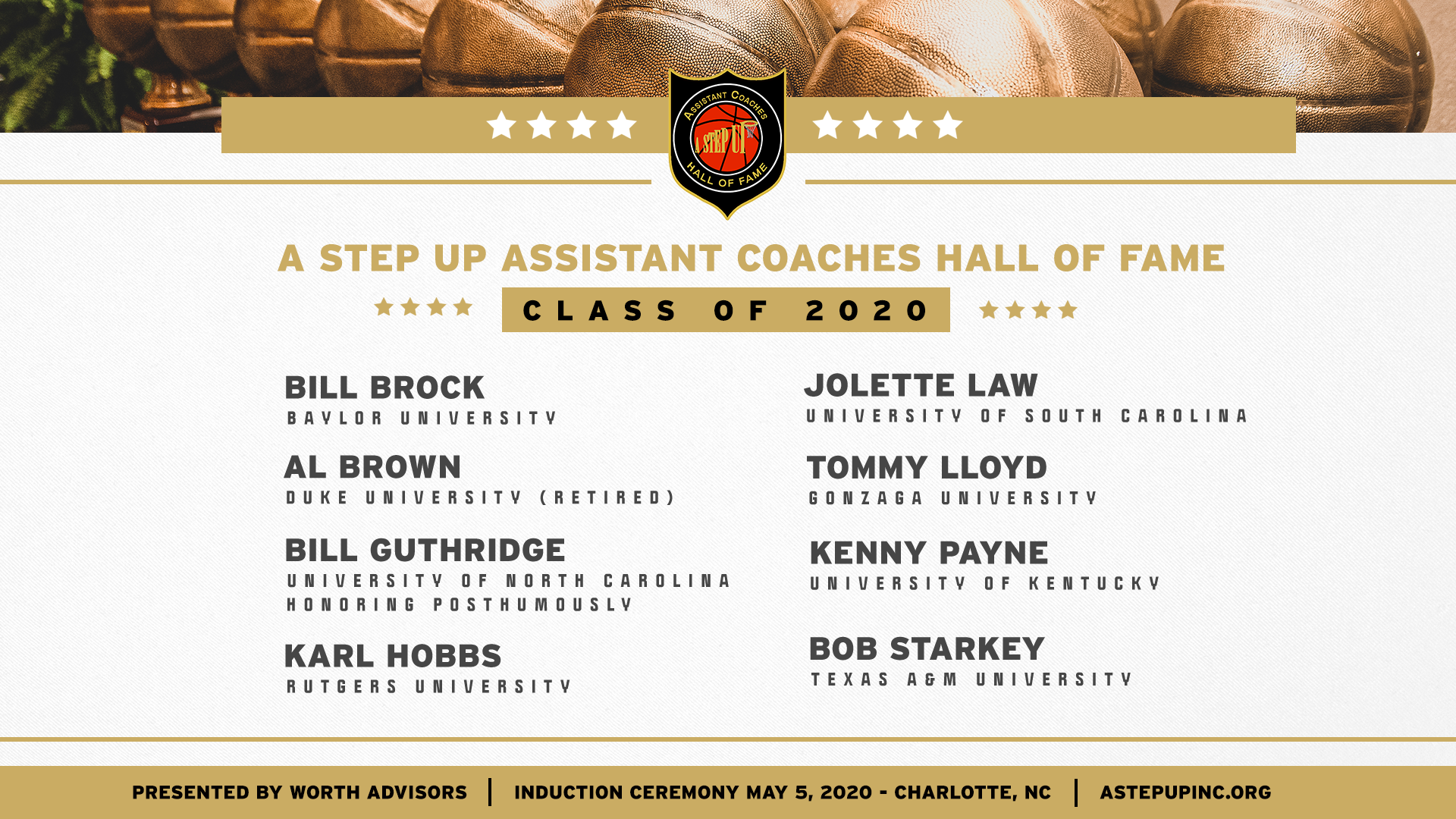 The Hall of Fame Committee received recommendations from individuals, coaches, the media and other professionals from across the nation. The committee researches the accomplishments, success and the body of work of each recommendation to develop the pool of candidates to be considered for the ballot. Voting is based on the candidate's track record of success, outstanding and significant contributions to the game as well as high character, integrity, and respect among colleagues.
For more information regarding the Class of 2020 or tickets to attend the Hall of Fame Induction Breakfast please visit www.AStepUpInc.org.
Bios provided by A STEP UP
BILL BROCK, Baylor University
Bill Brock is in his 17th season at Baylor in 2019-20, serving two years as an assistant coach and 15 years as associate head coach. Brock played an instrumental role in the Lady Bears winning the 2005, 2012 and 2019 NCAA championships, reaching the 2010 Final Four, six (6) Elite Eight appearances and winning 20 Big 12 Conference titles (10 regular season and 10 tournament). Working with posts, Brock has coached eight WNBA draft picks that include five (5) first-rounders, and the No. 1 overall pick in 2013. Eight centers and forwards have tallied 43 all-America awards under Brock's watch. After six (6) years at Baylor, from 2000-06, Brock coached at Texas Tech for three (3) years and immediately helped orchestrate a Top 10 recruiting class. His efforts helped prepare the foundation for a team that received its first NCAA Tournament bid in six seasons before returning to Baylor beginning with the 2008-09 season. On November 8, 2019, Coach Brock was inducted into the Inaugural Athletic Hall-of-Fame Class at Grayson College. Brock coached at the Denison, TX school for 13 seasons and compiled a record of 371-50. In addition to his HOF Induction at Grayson, the basketball court was named Bill Brock Court in his honor.
AL BROWN, Duke University
In 38 years, Al Brown was a part of three (3) NCAA Championships, four (4) NCAA runner-up teams, eight (8) NCAA Final Four squads and 24 NCAA Tournaments. Brown coached men's and women's basketball at eleven (11) different schools including Purdue, Minnesota, Wisconsin, Western Michigan, Ball State, South Carolina, Tennessee, Cleveland State, Michigan State and Duke. Squads that Brown helped coach won 80 percent of their games, advanced to the NCAA Tournament in 19 of 22 years, and won three (3) NCAA titles. Brown had an interesting and unique career as he is the only coach in the history of intercollegiate athletics to have played an active role in national championship games in three (3) different sports, including five (5) appearances as a coach in the NCAA Women's Basketball Championship game. Brown is also the only coach to coach men's and women's basketball in the Southeastern Conference and the Big Ten Conference at two (2) different schools in each conference. In addition, he is the only coach in college basketball history to coach in the men's (1969, Purdue vs. UCLA) and women's national championship game (Tennessee, 1996-98, 2000; Michigan State, 2005). During Brown's stint at Duke, ten (10) Blue Devils were been drafted in the WNBA, which during his tenure was the second-most by any Division I institution.
KARL HOBBS, Rutgers University
Has 32 years of coaching experience with 18 postseason appearances. Hobbs was named Associate Head Men's Basketball Coach at Rutgers University in 2016 where he is having a significant impact. This year the Scarlet Knights reached the Top 25 Polls a recognition that had not been achieved in over forty years. Last season, the Scarlet Knights were named the most improved team by Sports Illustrated. Hobbs spent eight years as a UConn's assistant (1993-2001) and (20011 – 2016) helping the Huskies to six (6) NCAA appearances, three (3) Big East titles and the two (2) National Championships (1994, 2014). Prior to joining the staff at UConn, Hobbs served as an assistant coach at Boston University for six years (1988-93) where he won two (2) conference championships and advanced to the NCAA Tournament First Round in two (2) of his four (4) seasons. Hobbs also made history by leading George Washington to four (4) straight (2004-07) postseason appearances and three (3) straight NCAA Tournaments. Hobbs was named Atlantic 10 Coach of the Year (2006) and NABC District 4 Coach of the Year. His experience extends to the international stage where he served as a court coach for the 2005 Men's World University Game Team Trials.
BILL GUTHRIDGE, University of North Carolina (*Honored Posthumously)
Bill Guthridge served as an assistant coach for 35 years including spending 30 years at UNC. He served as the head coach for three (3) years at Carolina. During his tenure at North Carolina, the Tarheels made 29 NCAA tournament appearances in Guthridge's 33 years on the staff and finished no worse than third in the Atlantic Coast Conference regular-season standings every year, finishing first 16 times and second 10 times. The Tar Heels either won the ACC tournament or finished atop the league standings — or did both — in 23 of those seasons. Guthridge became the first coach in ACC history to win ACC Coach-of-the-Year honors in his first campaign as a head coach. Guthridge also worked at Kansas State where in five years he would help lead the Wildcats to a 93-43 record, a pair of Big Eight Conference crowns and the 1964 NCAA Final Four.
JOLETTE LAW, University of South Carolina
In 25 seasons in the coaching profession, Law has been a head coach, an associate head coach and an assistant for five (5) different programs, including some of the most successful seasons at a pair of long-time women's basketball powers. Law has coached at Tennessee (2012-17), Illinois (2007-12), Rutgers (1995-2007), Ball State (1994-95), and now, South Carolina. Law coached 20 players who were selected in the WNBA draft and coached in 12 NCAA Sweet Sixteens, Eight (8) Elite 8s, two (2) Final Fours, and was the national runner-up once. Between the SEC and Big East Conferences, Law has four (4) regular-season conference championships and three (3) conference tournament titles. Law spent five (5) years as the head coach at the University of Illinois and in her first season helped her team march to the title game of the 2008 Big Ten Tournament as Illinois posted its first 20-win in eight years Jolette is the only women's assistant that can boast landing the No. 1 Recruiting Classes at three (3) different schools – Rutgers, Tennessee and South Carolina. The two-time All-Big Ten player launched her coaching career with on season as an assistant coach at Ball State after complete three worldwide tours with the Harlem Globetrotters (1990-94) as the only female member of the team at that time. During her time with the Globetrotters, Law appeared with her teammates on Wheaties cereal boxes and in M.C. Hammer's video for the song "Too Legit to Quit." Law was inducted into the Florence Athletic Hall of Fame Class of 2006. In September 2008, she was honored as the Florence School District One Distinguished Graduate.
TOMMY LLOYD, Gonzaga University
In 19 seasons, Lloyd has helped Gonzaga win seventeen (17) West Coast Conference regular-season titles (all but the 2011-12 season) and thirteen (13) WCC tournament championships. Gonzaga has reached the NCAA Tournament in each of Lloyd's 18 seasons on staff, including an appearance in the national championship game in the program's first-ever Final Four, Three (3) Elite Eights and six (6) Sweet 16 appearances in 2006, 2009, 2016, 2017, 2018 and 2019. In his 18 full seasons on staff, Lloyd has helped Gonzaga win 17 West Coast Conference regular-season titles (all but the 2011-12 season) and 13 WCC tournament championships. He's mentored 15 All-Americans and 77 all-WCC selections, including 12 conference players of the year, eight conference newcomers of the year and six conference defenders of the year. Lloyd also helped lead Gonzaga to its first-ever No. 1 national ranking during the 2012-13 season in which the Zags went 32-3 overall and 16-0 in WCC play. GU achieved a number one national ranking again during the 2016-17 team's 37-2 season, which started 29-0, and again twice during the 2018-19 season. Lloyd has been one of the main reasons Gonzaga's player base has expanded outside of the United States. His knowledge of international talent and the international game has helped Gonzaga outpace many Power 5 programs. Lloyd mentored 15 All-Americans and 77 all-WCC selections, including 12 conference players of the year, eight conference newcomers of the year and six conference defenders of the year. Lloyd also helped lead Gonzaga to its first-ever No. 1 national ranking during the 2012-13 season in which the Zags went 32-3 overall.
KENNY PAYNE, University of Kentucky
Coach Payne is in his 15th season as an assistant coach and currently in his 10th season at the University of Kentucky. Payne has advanced to four (4) Final Fours in nine (9) of his seasons with Kentucky. His first year as an associate head coach, Payne helped guide the Wildcats to the first 38-0 record in college basketball history. Nationally recognized as one of the game's top recruiters, Payne's ability to recruit has continued to flourish at Kentucky. Payne played a key part in Calipari's last 10 recruiting classes. The 2011, 2012, 2013, 2016 and 2017 classes all ranked No. 1 in the country, and every class has been in the top three (3), according to the Recruiting Services Consensus Index. The 2013 class consisted of a record six (6) McDonald's All Americans and was heralded as one of the best classes ever assembled by many pundits. The 2017 class was rated as the best ever by RSCI. In his first year as Associate Head Coach, he led Kentucky to a perfect 38-0 Record in college basketball history. Payne won the NCAA Championship title in his second season with Kentucky. Most notably, Payne helped develop two Kentucky freshmen who went on to become No. 1 overall picks in their respective drafts. Prior to his tenure at Oregon, Payne helped the Ducks burst onto the national scene with two NCAA Tournament appearances in 2007 and 2008. Oregon also claimed one (1) Pacific-10 Tournament title and three (3) Ducks were selected in the first and second rounds of the NBA Draft under Payne.
BOB STARKEY, Texas A&M University
In his 28-year collegiate coaching tenure, Starkey has been a part of 732 collegiate victories, twenty-three (23) NCAA Tournaments, nineteen (19) 20-win teams, eight (8) trips to the Elite Eight and five (5) straight trips to the Women's Final Four (2004-08), including serving as acting Head Coach for LSU's 2007 Women's Final Four run. Since arriving to Texas A&M in 2012, Starkey helped the Aggies to the 2013 SEC Tournament Championship, the 2014 NCAA Elite Eight and three NCAA Sweet 16s. One of the best defensive coaches in basketball, Starkey's teams have allowed an average of 56.6 points per game since 2004-05. In seven of those seasons, Starkey's team ranked among the top 10 nationally in points allowed per game, and seven of his players have been named to the SEC All-Defensive team since the conference started naming that team in 2007-08. Starkey spent a season at UCF (2011-12) immediately prior to coming to A&M. Starkey spent 22 seasons (1989-11) at LSU, the last 13 of which came on the bench with the women's basketball program. In his first role at LSU, Starkey served as an assistant coach for Dale Brown on the LSU men's basketball staff from 1990-96, during which time the Tigers participated in four NCAA Tournaments. While on the men's staff, Starkey worked closely in developing three first-round NBA draft picks. As a recruiter, he helped sign three nationally-ranked recruiting classes, including one which was rated No. 1 in the country. His players have won the SEC Defensive Player of the Year three times. Seven of his players were named NBA or WNBA All-Rookie during their first year in the league. In addition, three (3) of his players went on to win Olympic Gold Medals. Before his extended stretch at LSU, Starkey spent one year as an assistant at Marshall during the 1988-89 season and three seasons as a men's assistant coach at West Virginia State from 1984-87. In his final season at West Virginia State, he helped guide the Yellow Jackets to conference and district titles on their way to the NAIA National Championship game. Starkey began his coaching career on the high school level as an assistant at Winfield High School in West Virginia.