Notre Dame's Muffet McGraw steps down after 33 seasons, Niele Ivey to take over as head coach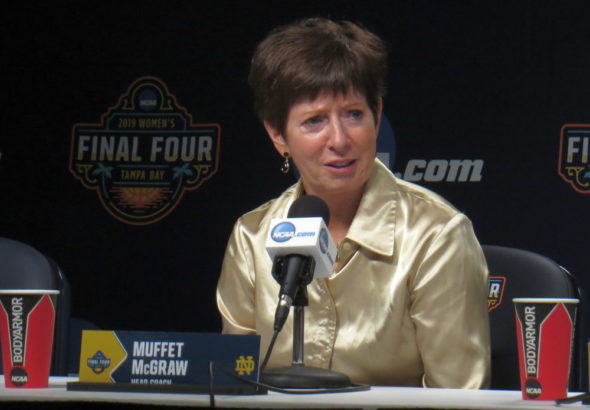 After 33 seasons at Notre Dame, a period that included two national championships and induction into the Naismith Hall of Fame, legendary head coach Muffet McGraw announced her retirement. Former Irish associate head coach Niele Ivey, who led the program to its first national title in 2001, will take over as head coach. Ivey returns to the team after spending a season as an assistant in the NBA with the Memphis Grizzlies. Notre Dame will introduce Ivey as the new head coach on Thursday.
"It has been my great honor to represent the University of Notre Dame these past 33 years, but the time has come for me to step down as your head basketball coach," McGraw said in a release. "I want to thank Monk Malloy and Father Jenkins for giving me the opportunity to coach the game I love at a university I love. I have learned much about leadership from the many athletic directors with whom I have served, and in particular, I want to thank Jack Swarbrick for his unwavering support."
"I am grateful to have worked with the best assistant coaches in the business, and I have been blessed to coach so many phenomenal women," she continued. "To the best fans in the country, it was my honor and privilege to play for you."
After a stellar playing career at Notre Dame, Ivey played in the WNBA for five seasons. She started her ascent in the coaching realm at Xavier, staying there for two seasons before joining the Irish staff in May 2007. She earned a promotion to associate head coach in 2015.
During her tenure at Notre Dame, McGraw earned 842 wins and has 936 overall, placing her at sixth all-time among Division I coaches. She became the fastest coach to reach the 900-win milestone during the 2018-19 season.
Some of McGraw's accomplishments:
Two national titles: 2001 and 2018
33 seasons at Notre Dame: 848-252 (.771)
38 seasons overall: 936-293 (.762)
 Inducted into the Naismith Memorial Basketball Hall of Fame in September of 2017
Seven trips to the NCAA Division I national championship game
Nine trips to the NCAA Women's Final Four (1997, 2001, 2011, 2012, 2013, 2014, 2015, 2018, 2019)
17 NCAA Sweet 16 trips
26 NCAA tournament appearances
In 2018, named the Associated Press, espnW and USA Today Coach of the Year
Ranks first on the all-time wins list among single sport coaches in the history of Fighting Irish athletics
 Earned a perfect 100-percent NCAA Graduation Success Rate (GSR) score from 2004-2014
— Muffet McGraw (@MuffetMcGraw) April 22, 2020