Opinion: Be sad Mississippi State fans, Texas is getting a good one in Vic Schaefer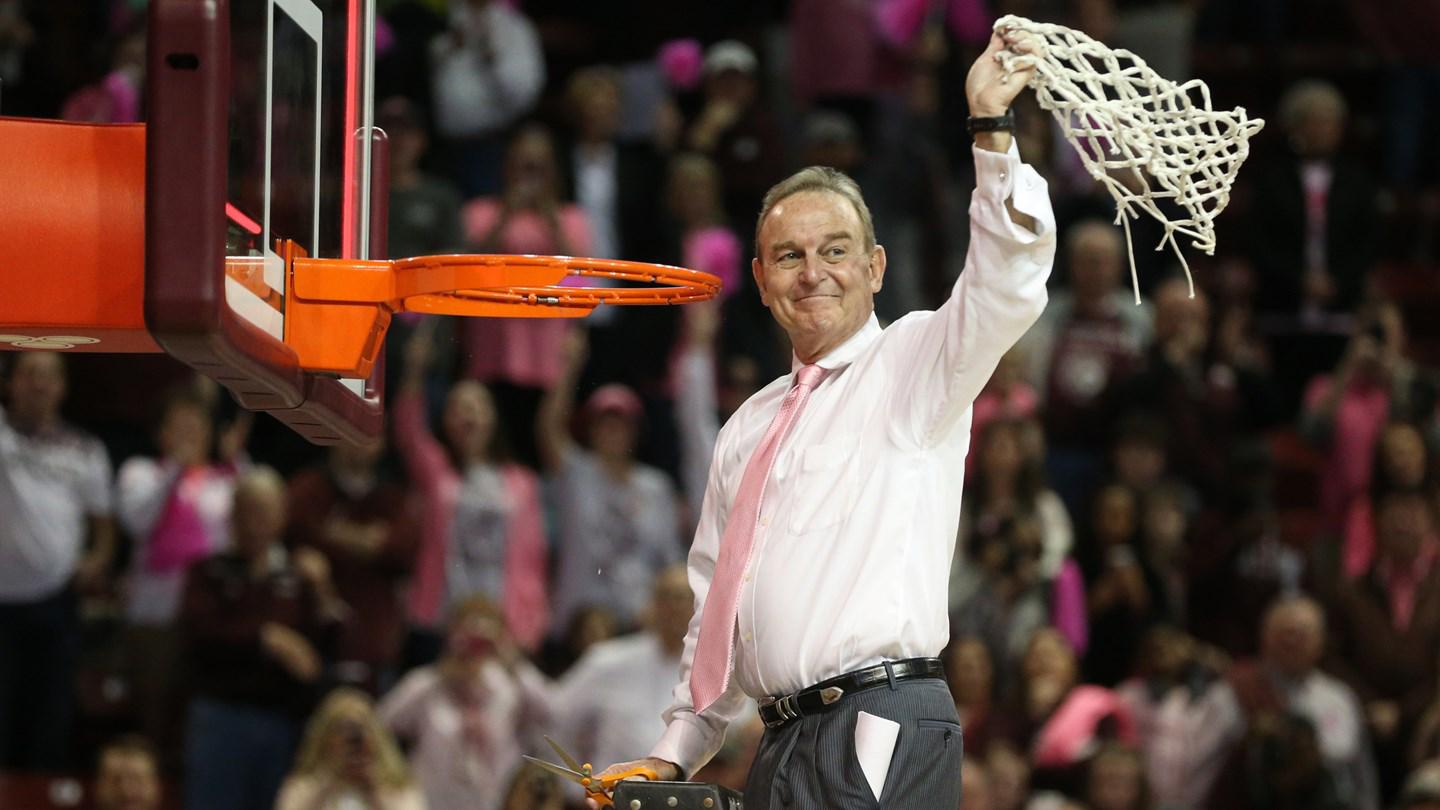 Dreading my new normal of working from home on Monday, I nonchalantly scrolled through Twitter to enjoy debates, opinions and sports debacles, the regular occurrences on Twitter Sunday afternoon. Something caught my eye.
Former Mississippi State guard Blair Schaefer is in the middle of a photo sporting the classic, Texas burnt orange blazer with a Longhorn head behind her. Her father, Mississippi State's head coach for eight years, Vic Schaefer stood to her far left with his wife Holly and twin brother Logan Christopher on her right. In my mind, the news breaking was Blair snagging her first coaching position outside of Mississippi State.
Good for Blair, I thought.
Then my timeline was filled with the word "Vic" and "Hook 'em" and "new head coach" and the real news began shattering.
It was Vic Schaefer who inked the new deal with Texas – becoming the program's fifth head coach. He will replace Karen Aston, who did not renew her coaching contract after five seasons with the Longhorns.
"There's a wish list [for] coaches," Texas Athletic Director Chris Del Conte said. "…And my wish list name was Vic Schaefer. "
Ouch.
That was my first initial thought. Sunday was a somber day to be a Bulldog, but one Palm Sunday out of heaven for the Longhorns.
The shocking coaching change comes with reason. Mississippi State even matched the Texas offer but one thing is clear about Schaefer's values.
"I'm excited to be returning home," he said. "My job now is to restore this program to the national prominence that it once had."
Austin is welcoming their golden child home. Vic grew up there, born at the Brackenridge Hospital in 1961, which once stood across the street from Texas' Austin campus – a main source of sports camaraderie, tradition, and family in Schaefer's young life.
He's now just 65 miles away from his parents, Charles Albert and Amy Dorothy Schaefer's burial site. His sister, his only next to kin alive, Elaine Baldwin is now just two hours away. Schaefer finally gets to come and stay home, not to mention a fresh start for a national championship.
"It's a tremendous responsibility to be the head women's basketball coach at the University of Texas," Schaefer said. "I don't know that there's a greater responsibility in all of college athletics, because of the history and the story tradition that that program is at. And there's not enough time in the day to talk about the impact that Texas women's basketball and specifically Jody Conradt has had on our game. And I'm just honored to have an opportunity to restore it to where it needs to be on the national scene."
What more could Texas want? Here comes a Lone Star native with a monstrous resume, ready to tackle a new chapter. A fresh start will grab new eyes and usher new bodies into the Frank Erwin Center. Schaefer has proven he can win. He ultimately completed his college education at Texas A&M where he snagged a national championship as an assistant head coach to Gary Blair in 2011. He leaves Mississippi State with a 221-62 (.781) record, a regular and tournament SEC title, and two pairs of Final Four regional championships and National Championship appearances.
Winning and success is nothing the Longhorns will need to wait on. It even spices up competition in the Big 12 again.
Baylor's head coach Kim Mulkey, a recent inductee into the Naismith Memorial Basketball Hall of Fame, has had a stranglehold on the conference for the past two decades. Just down the road from Texas on I-35, the Bears have been crowned regular-season conference champions every season since 2011, won eight conference tournaments except in 2011 and were crowned national champions three different times since 2005. Schaefer has a chance to give Texas a shot at what looks like the impossible.
As Schaefer enters a new era so will Mississippi State. It's no question, he did his job as MSU is no longer regarded as a "diamond in the rough" program in Division I women's basketball. The Bulldogs are legitimate competitors.
"For our youth and inexperience this year, I was so proud of my young ladies and my student-athletes," Schaefer said. "I watched them grow up right in front of my eyes, literally daily and hourly sometimes."
Current notable players are freshman guard Rickea Jackson, who led all scorers at the abrupt end of the season with 15 points per game. She made most of her noise in the latter half of the season with 16.5 points per game in conference play.
Juniors Andra Espinoza-Hunter Yemiyah Morris, and Sidney Cooks get one more year out of Mississippi State. Schaefer's specialties of hard-nosed defense and shooting schemes should stand strong. It's good faith to think the Bulldogs will bloom no matter who gets to fill Schaefer's big shoes.
As the coaching staff is still being sorted out, Mississippi State has a familiar name in mind to prolong the dominance. Johnnie Harris is the first name that pops up. She's been Schaefer's right-hand woman since their A&M days, helping develop defensive players like sophomore center Jessika Carter. Her most notable work is on former center Teaira McCowan who left as a two-time All American to join the Indiana Fever as the third overall pick in the 2019 WNBA Draft.
"You know, how I feel about my staff, we're family," Schaefer said. "If Johnnie can be the head coach at Mississippi State, I'd love that. There wouldn't be anybody happier for her and would be prouder."
Kentucky head coach Matthew Mitchell made the Wildcats a top contender in the SEC. Though I'm sure Mitchell, a native of Louisville, Mississippi and an MSU alumnus himself, will get a call for the head coaching vacancy – he seems to be knee-deep in his own masterpiece.
Will Schaefer say "Praise the Lord and hook 'em Horns?" reminiscent of his frequent sign off with the Bulldogs. Maybe. To me, "Praise the Lord and go Dawgs" hits the ear a tad bit smoother. That's just my opinion, but one thing just isn't debatable.
Mississippi State is waving goodbye to arguably the best coach in MSU sports history.
Schaefer and his players put Mississippi State on the national radar – dazzling many with Morgan William's buzzer-beater against the UConn Huskies in the 2017 Final Four in Dallas – three hours away from the University of Texas. He's a coach who developed players for the next level. He made his players meet and greet fans even with sweat drenching their jerseys right after a game. Sore, exhausted or just downright tired – players still interacted with their die-hard fans or as Schaefer called it "shaking hands and kissing babies." It wasn't a chore, but a thank you for their unrivaled support.
Farewell to a coach that donated $10,000 to the local Girls' and Boys' Club in Starkville and fans who added an extra $41,000 just from the genuine love for Schaefer and his team. Mississippi State is bidding adieu to their Hail State Hoops host who welcomed 180+ fans to eat their weekday lunches with him. They asked questions about his dog, commented on the defense, and listened to his rants that gave insight to game-changing plays. He was open to it all.
They're losing someone that got ESPN and the SEC Network as regular guests to see Starkville's exhilarating alter ego, StarkVegas, in White Out's against South Carolina, coating The Hump's 10,500 fans in white for a makeshift winter wonderland or blackouts against Ole Miss because fans wore black.
Schaefer also left a personal impact, shaking my hand and thanking me for my work when I wrote about the tough times as the only black and female beat writer for Mississippi State.
Schaefer dirtied his hands to build an ear-blistering home dance floor where most opponents stiffened up, finishing 119-16 at home in his eight years at the Humphrey Coliseum. He held himself, his coaching staff, players, and fans accountable. He got emotional during postseason press conferences where it was his players' last time soaking in the unmatched home-court atmosphere. Schaefer lent his heart and soul to Mississippi State. Now his time is up.
Business is business and Schaefer did what coaches do with his Texas decision: move into programs most suitable for their current or upcoming circumstances. Once, he had to prove himself by taking Mississippi State under his wing, nourishing it to its fullest potential.
It is a surprising, numbing departure, but the eight-year journey was nothing short of amazing and worth every minute Schaefer dedicated to it.
That's something I'm sure every Bulldog can agree on.
And it's something Texas is excited about.