Dawn Staley, Carolyn Peck, Muffet McGraw and Geno Auriemma discuss racism and inequality during virtual panel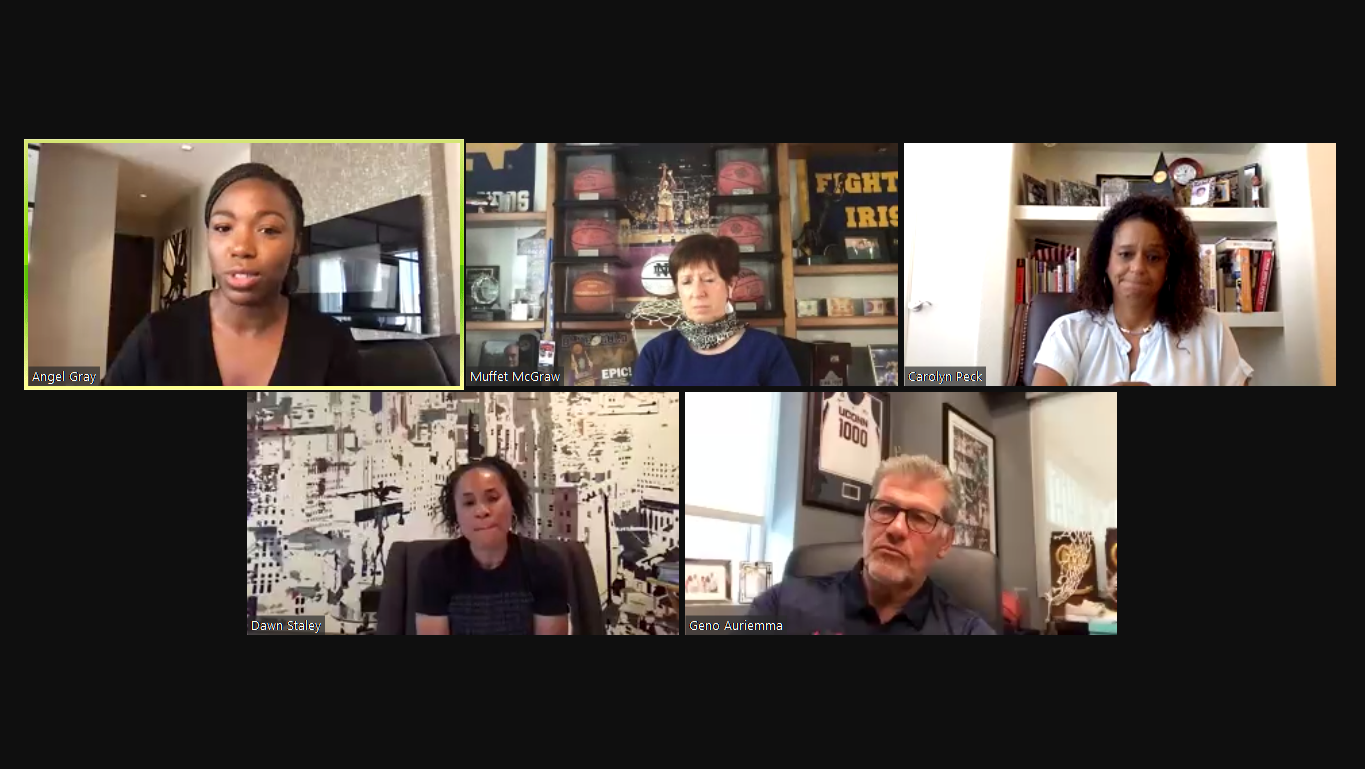 ---
Listen to Carolyn Peck talk about being racially profiled in her own neighborhood
---
After weeks of protests around the country following the deaths of multiple Black Americans at the hands of current and former police officers, the Women's Basketball Coaches Association (WBCA) held a virtual panel to address racial injustice and inequality.  Moderated by Cleveland Cavaliers sideline reporter Angel Gray, the "A Time for Action" panel included:
Dawn Staley, head coach, South Carolina, and the U.S. Women's Senior National Team
Carolyn Peck, sportscaster, ESPN and SEC Network
Muffet McGraw, recently retired head coach, University of Notre Dame
Geno Auriemma, head coach, University of Connecticut
The panel was a timely event as many college and pro athletes, coaches, and administrators spoke out online against systemic racism and some participated in peaceful demonstrations in their communities.
With a worldwide outpouring of frustration and rage at systemic racism and empathy for the plight of Black Americans, the WBCA formed a social justice task force to address race relations. According to the WBCA the task force "will lead active efforts by the association to improve race relations, combat racism and promote social justice within the sport, all of athletics, and society as a whole."
Below are excerpts from the panel on a variety of topics.
On empowering student-athletes and conversations that are taking place
Dawn Staley
"I think for us, we have to give them a place where they can have those raw moments and be…vulnerable. I also expressed to them that they do have a voice and if they want to utilize that voice, then here's your platform, but you must arm yourself with knowledge. We work in the South, we work in South Carolina, which has a deep and rich history of racism. I haven't experienced that in the 12 years that I've coached here. But if you open up history books, you know you can read about it.
I just told our players if you're going to use your voice, if you want long term change, then you have to understand that there are going to be people here that disagree with you and they are not going to link up with what you align with. So you have to equip yourself with the knowledge to go out there and clap back, if you will, because you just can't say a statement and do something and just leave it out there to hang. and you have people who are responding to it.
I'll give you an example. I did The Players' Tribune. And I just conveyed my heart in that particular article. And we had a radio personality that took one sentence, out of that and tried to stir the pot a little bit. That one sentence was, 'I understand why people are rioting.' I can have an understanding, I don't have to agree with it, but I can have an understanding. And, if, if that stirred the pot, just that one sentence. You know, what about the sentence where I explained why my mother left this state? That hasn't come up yet.
So, it is all about perspective, and how people see things, their perspective is their reality in the same way with me, but I think this is something that's never going to go away. It's going to be in our faces for a long time….And we have to have uncomfortable conversations with everyone, not just our players not just, you know, our fans or our administrators in order for us to change systemically. It has to come from higher than, then the police officers, if they're not they govern themselves, so it has to come, higher, you know, higher than them.
Muffet McGraw
Well, one of the most important things that I always tried to do was let them have their voice, to find their voice, to use their voice to use their platform and to know that I was behind them 100%.
In 2014, my team came out in "I can't breathe" t-shirts, to warm up before a game. We took a little bit of a hit….there was some backlash that we took. But we knew what we were doing, we knew what we stood for. And I think it's so important.
It takes courage to stand up and fight for what you believe in, you're going to always have people that don't agree with you that are going to come at you, some more intensely than others. There were death threats and, and a lot of really bad things that happened to our team at that point, but we stayed together because we were unanimous in that.
---
I think the important thing for me to do right, especially as a white head coach is to listen. I think it's important to hear the voices of the people that you're coaching, to let them speak, and to really welcome anything they have you're going to hear some negative things that the way they've been treated. And I think it's important that we know their story.
But more importantly, I think the biggest thing we can do is hire people who look like them. We want to have somebody on our staff. We have to have women of color on our staff. We have to have people that everyone can relate to. And I think that's the most important thing that I can do. And the one thing that I think I did.
Geno Auriemma
The conversations have been very, very difficult. They've been difficult because I'm trying to have a conversation with kids, they're very emotional conversations. And I'm coming from a place where I represent my age group at least anyway. And the color of my skin. I represent the people that are most responsible for what's happening today. That's who I look like and that's my age group.
---
It's more than just what's happening with the police department….You know, when I was an immigrant, it was easy for me, because no one knew I was Italian until I opened my mouth when I was a little kid. But if you're a black kid in my class, when you walk out the door, there's no hiding. So, it's an everyday problem, from the time you're born.
---
This isn't about Black Lives Matter only when the police, take someone's life. This is about black lives matter when they're five years old, where are they going to school. What neighborhoods are they living in? What opportunities can they look forward to and why? And so, I've tried to get my players to look where they live, look in their own look in your community. Look where you grew up, because that's where everything's got to start when you go home. You're a voter. You need to figure out a way to connect and change what's happening in your neighborhood. First in your community in your town or your precinct whatever the case may be before you can affect anything at the national level. Because those are the people that are making decisions that are affecting kids at your age. Who's the mayor, who's the school board? Who are the zoning directors? Who are the health and education people in town? They're the people that are going to affect your life on a daily basis…and then what's happening on campus and you know, we're a predominantly white campus and everything that goes with that. So, every conversation has been me asking questions and listening to what they have to say and just providing an old white guy's experience from the 60s.
On having a diverse coaching staff
Muffet McGraw
We have such a long way to go. We are so far away from where we need to be and it's incumbent upon all of the head coaches out there to really look at their staffs and make sure that they have the diversity on their staff so that these young women can look up and see role models and can see people that they can really relate to and talk to. I think that's just so important, especially in the head coaching we can't control [who] the athletic directors hiring…but we can certainly control our staffs and that's where it's got to start. We give them that training and get them ready to be good coaches.
On being a Black coach
Dawn Staley
Here in South Carolina, I'm a Black coach. There are things that I could teach my players that a non-Black coach can't, they just can't do it. They can't teach you how to navigate through life, as somebody that's a black person, because you're not armed with what we're armed with. You don't understand you don't really understand and until you're able to switch places. And just, it just switches just a little bit, put yourself in our shoes.
---
But when you're black and you are subjected to racist comments or experiences, that sticks with you, for your entire life. And then when things come up in the media like this, you internalized it and there's just nowhere to go. And that's why I say we're tired. We're tired of having to defend this. We're tired. The George Floyd murder took all the imagination out of police brutality. Because police brutality, you don't always see it. You get pulled over, you go to the precinct. You die in between. We have to say, maybe it didn't happen that way. Maybe, maybe it just, you know, it was different you know a health condition previously. You bring up all these things to make it, so you're able to survive. We didn't have that with [Floyd]. We saw him take his last breath, we saw the plea for another breath. And that makes it real.
On educating athletic departments
Geno Auriemma
There are a lot of coaches in every athletic department that have never coached black people in their sport…nor do they have they had any experiences with it. So they don't even know what we're talking about sometimes. And there's administrators who don't know really what is being discussed here today, or there's one or two administrators in a group of 20….You know, so the whole education part, that is something that we as a basketball program, can actively do…
---
The police department on campus is the first police department that a lot of these kids interact with….We want the chief of police and his representatives to come explain to us what they do, how they do it and why and answer our kids' concerns. Those are things that are so easy to do. But nobody wants to hear what's going to be said and what's next in those meetings.
On respect, letting players be vulnerable and being anti-racist
Muffet McGraw
I think we can all agree we need to get out of our comfort zone. And that's how we grow, for sure. But I think it's important to have that support group and like Carolyn was saying, we have to learn to respect each other and be less judgmental of each other. Try to live in each other's shoes for a little bit. And I think that you can learn that in the locker room and living with all kinds of people on your team. And I think that's really healthy. But change starts with you. I mean, you've got to start it you can't be accepting, when you hear things said that you know, are wrong. You have to stand up and be anti-racist. You can't just say, you know, I don't think it's right. You really have to stand up and have the courage to stand up for other people.
Dawn Staley
I do think you have to have environments in which I do think coaches aren't involved. Because I think our, our players, historically speaking, do better when or they're more vulnerable when we're not around.