Erica Wheeler Stays Hopeful, Focused on Playing Career and Giving Back
Erica Wheeler Looks Forward to Getting on the Court Again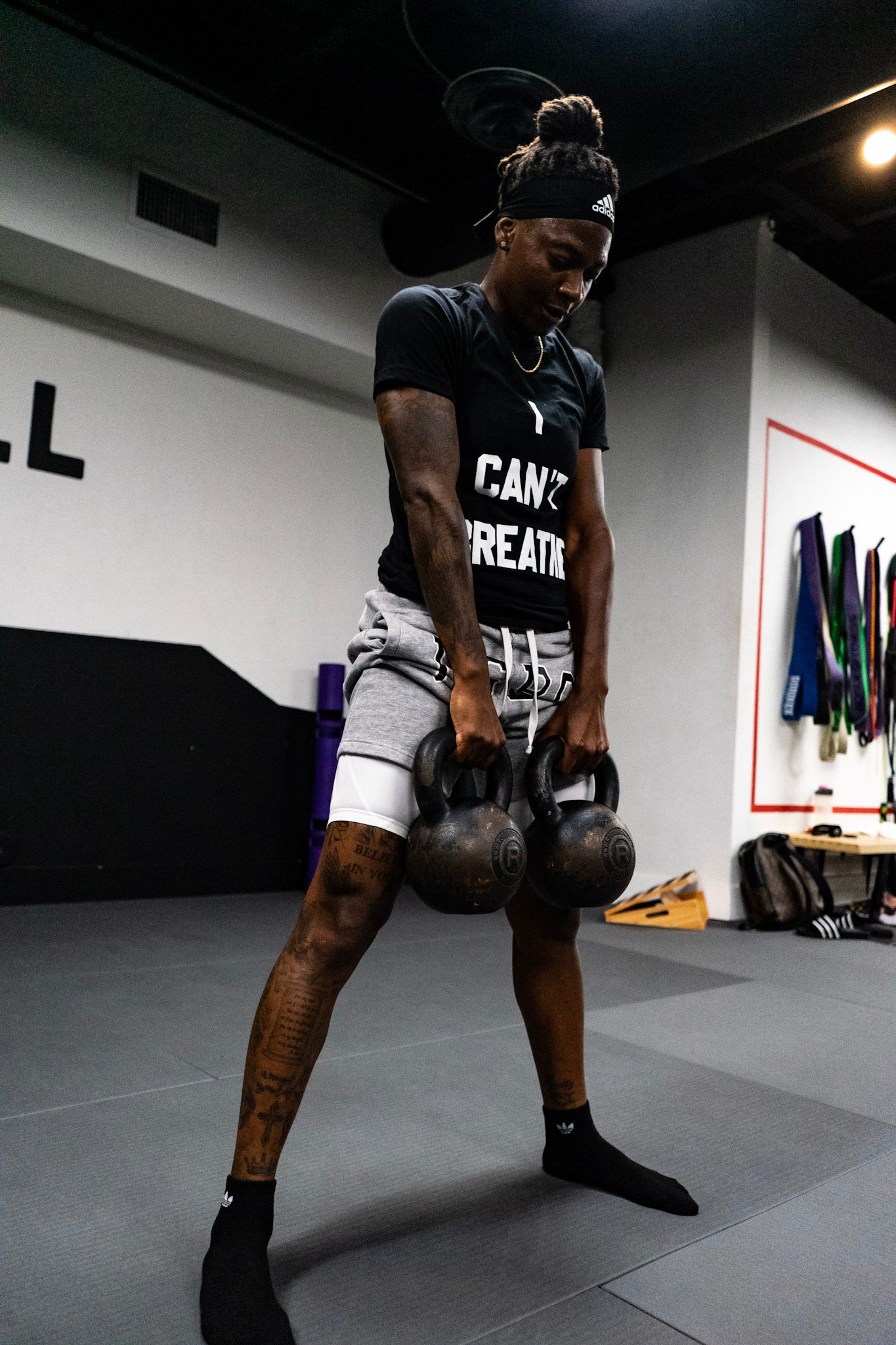 It's been almost a year since Erica Wheeler took the women's basketball world by storm with her outstanding performance in the league's All-Star Game last July in Las Vegas. For those who knew Wheeler, the accolade was no surprise and icing on the cake for someone who overcame heartbreaking tragedy in college and seemingly insurmountable odds to gain a place on a WNBA roster.
After going undrafted in 2013, the Rutgers graduate, went on a winding route to the WNBA, with brief stints with Atlanta and New York, before arriving as a free agent in Indiana for the Fever in 2016. Due to her intense work ethic and perseverance, she became the team's starting point guard culminating in becoming the first-ever undrafted player in league history to be named the All-Star MVP.
With the onset of the coronavirus pandemic earlier this year and the subsequent shut down of all sports at every level, including the cancellation of the women's NCAA tournament and the suspension of the NBA season, WNBA players have to contend with uncertainty about how the 2020 season will proceed. As of now, the league plans to have 22 games in a confined environment at IMG Academy in Bradenton, Florida.
Players have the option to skip the season without any penalty, and those with pre-existing medical issues can sit out while receiving their pay. Those who participate will receive 100 percent of their season salary. Five players have already decided to skip the season (Renee Montgomery, Cecilia Zandalasini, Jonquel Jones, Natasha Cloud, LaToya Sanders, and Tiffany Hayes). But, none yet from the Indiana Fever.
As far as Wheeler, she recently signed with a marketing agency to help elevate her career, not only as an athlete but as a role model in her hometown with a quest to provide opportunities for underserved youth. Her former agent helped her find the right fit, Miami-based Distinction Agency.
"She helped me out with trying to figure out a marketing agency that would take care of me," Wheeler said. She is excited to begin building on her brand as well as planning for the future. "As soon as we signed, they had gigs for me already lined up," Wheeler said, "so that just showed me that they were willing to work hard for me."
Unfortunately, the spread of the coronavirus stymied her community outreach efforts. However, she still plans to stay connected to the kids in her community via a local Boys and Girls Club during the bubble season through videoconferencing and other activities.
As a young athlete in Miami, Wheeler was able to stay focused despite numerous distractions around her and the struggles endured by her mother, who was a single parent raising several kids. Her mother passed away from cancer the summer before her senior year of college.
Wheeler understands the challenges that at-risk kids face, especially during the summer when they don't have school and after school activities to keep them busy. Now, with schools out of session, recreation centers closed, and youth league seasons suspended, young athletes face unique circumstances.
"People don't know that these activities, being able to go play basketball, football, these things to get out of the house, are really saving kids from a lot of things," Wheeler said. She worries about "these kids that go to school just to eat" and are stuck at home with no positive outlet.
"It's tough. It's mentally tough, it's physically tough. And I can't speak on exactly what people are going through, but I'm sure it's tough."
She credits her college coach, the legendary C. Vivian Stringer, on helping her on the tough journey from Miami to being a starter on a WNBA team. She was happy when Stringer hit the 1,000-career win mark in 2018.
"She always taught us that nobody will give you anything. Work for everything….So, I knew that she would get one thousand wins…. She's put in the hard work."
Wheeler also discussed how Stringer was there for her when her mother died, referring to the Hall of Fame coach as a mentor and another mother figure.
With everything going on in the world, Wheeler knows she must remain attentive to her career and preparation for the WNBA season. She is confident in her decision to play and expressed respect for those who chose to sit out the season.
"I mean everybody's decision is their preference," Wheeler said. "I don't think any decision is right or wrong….For me, you can throw me in the woods with a basketball and a goal, and I'm going to play because basketball saved my life."
Some players like Cloud and Montgomery, cited a call to focus on social justice as their reason for not playing this season. Like those two and many others in the league, Wheeler participated in marches and peaceful protests against police brutality. While shying away from the activist moniker, Wheeler, nevertheless feels that it is vital for her to use her voice to bring attention to racial inequality. In addition to marching in Miami, she designed a t-shirt with the phrase "I Can't Breathe" on the front and "End Racism" on the back.
With all of the issues facing the country at the moment while the league continues to work on a detailed plan to get the season off the ground, Wheeler's hope for fans and players alike is for "everybody to have an open mind."
"You know, we're in a strange time right now, but we'll get through it. Just bear with us and try to enjoy what you can right now because a lot of things are taken for granted."