With her cousin's memory heavy on her heart, Sparks' Tierra Ruffin-Pratt discusses recent police brutality in the U.S.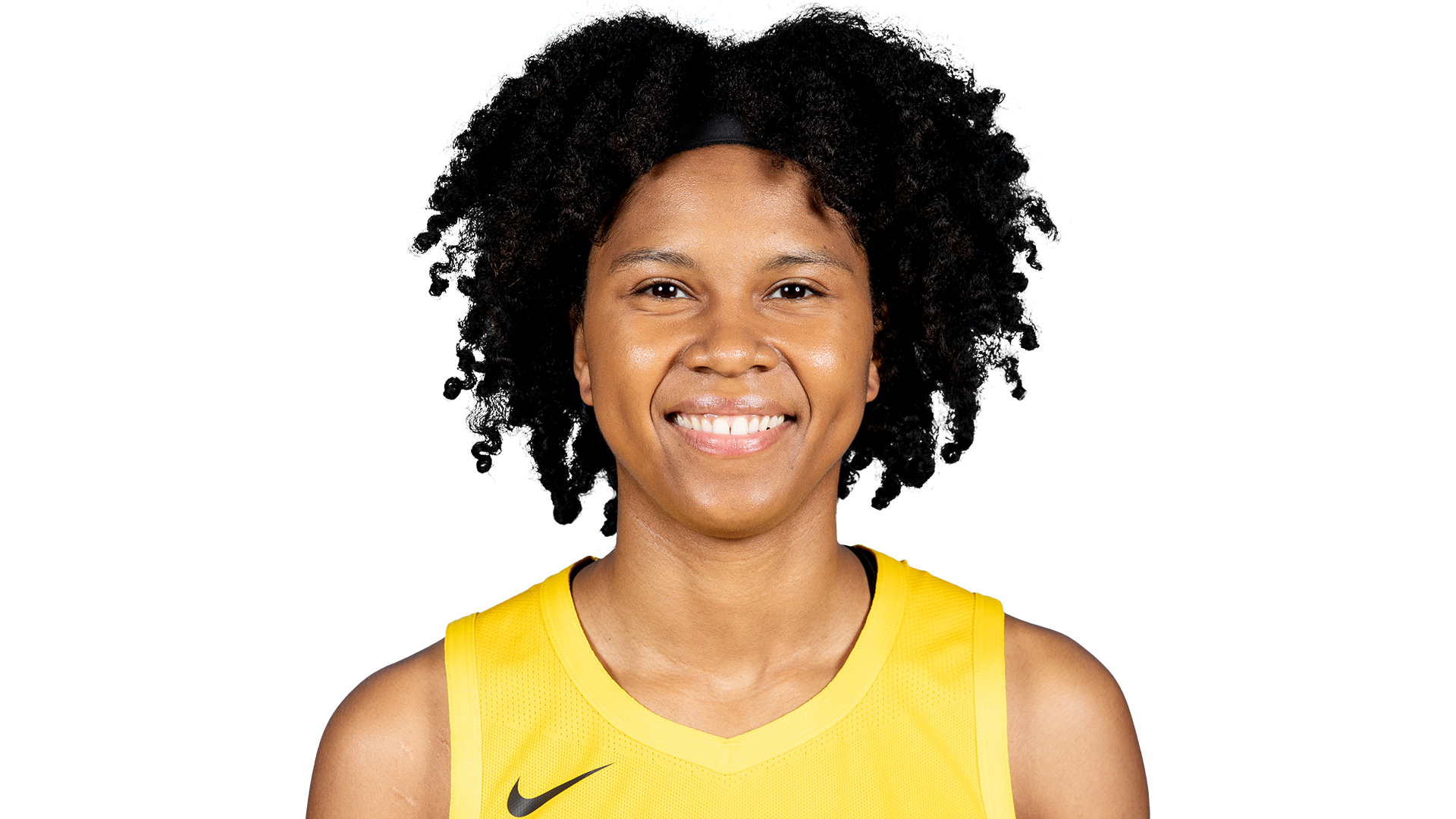 There were thirty journalists crammed into small, square Zoom screens, some were comfortable in their home offices, small apartments, or bedrooms, while others participated without video. Inside the fifth box on the fourth row, Los Angeles Sparks guard Tierra Ruffin-Pratt relaxed in front of a lemon-colored wall, wearing an ash gray, low brim hat, and matching graphic t-shirt.
Stoic, Ruffin-Pratt was ready to discuss the racially motivated violence and injustice in America amid the murders of Ahmaud Arbery, George Floyd and Breonna Taylor. Ruffin-Pratt highlighted that demonstrations across America aren't one-off incidents. The national cry for justice is just the tip of the iceberg.
"We're fighting racism in America, we're fighting the justice system, we're fighting a lot of things right now," Ruffin-Pratt said. "To pinpoint one [issue] would be difficult for me because it's all relevant."
The current COVID-19 crisis is attracting newcomers to fight against racial injustice inequality since African Americans are dying at disproportionate rates compared to other groups. However, the struggle is not new to Ruffin-Pratt who has personal experience with police brutality.
"It's just the same feeling as when my cousin was killed by the police, a little over seven years ago," Ruffin-Pratt explained when asked if these current uprisings are a trigger. "All the same memories are coming back up, so it's been an emotional week for me and my family.
Minutes away from her childhood home in Arlington, Virginia, her cousin, Julian Dawkins, was shot and killed by Craig Patterson, an off-duty police officer on May 22, 2013. The shooting occurred hours after she was offered a contract by Mike Thibault and the Washington Mystics for her rookie season.
Seven years later, the circumstances are eerily similar for Ruffin-Pratt and Arbery's families. Patterson was arrested a week after shooting Dawkins. Arbery's killers were arrested on May 8, nearly three months after he was killed on February 25.
"Who knows what justice really is," she said. "Is it that these cops are arrested and put in jail for life? Justice to me may be different for somebody else. The guy who killed my cousin got six years, he's out already."
Now, entering her second season with the Sparks, Ruffin-Pratt is using her platform for recurring, racial issues that have brutalized new victims.
Athlete activism is a term that came to life after athletes like Tommie Smith Muhammad Ali, Wilma Rudolph, and Arthur Ashe publicly discussed issues plaguing African American communities It is a unique socio-political platform combining both moral and political ideologies. Ruffin-Pratt combines the memory of her beloved cousin and fights for racial equality.
"When we use our platforms, we use it in the right way," Ruffin-Pratt said. "I think a lot of my teammates and counterparts around the WNBA have spoken up and said what they feel and believe and we all want change in this country, we all want things to be different, we all want justice for black people in America. So, we're going to speak out, we're going to say what we feel."
The WNBA season takes place during the summer, a time when the U.S. sees a spike in protesting against injustice. In the summer of July 2016, both Alton Sterling and Philando Castile, unarmed African American men, were killed by police officers. After those violent incidents, Ruffin-Pratt led Mystics' protests with a media blackout, citing her cousin Julian as the driving force behind her fight against oppression.
Players for the Indiana Fever, Phoenix Mercury and New York Liberty expressed their desire for justice, wearing black t-shirts with slogans like "Black Lives Matter" during warm-ups. Liberty guard Brittany Boyd did not stand for the national anthem. The Phoenix Mercury's Mistie Bass and Kelsey Bone also knelt through the anthem as well. Then-league president Lisa Borders fined the Mercury, Fever, and Liberty $50,000 apiece, and players who protested $500 each, citing on-court apparel policy violations. The fines were later rescinded.
Fining the teams and players was a puzzling move for a league that is not only 80 percent African American but is branded as a socially progressive organization. In recent years, the WNBA has openly recognized Pride month with rainbow-infused logos during June and plays J. Rosamond Johnson and James Weldon Johnson's "Lift Every Voice and Sing", during Juneteeth, the American holiday celebrating when African Americans in Texas learned that they were no longer enslaved, two years after the 1863 Emancipation Proclamation.
Ruffin-Pratt remembers condemning league fines, something "that's always in the back of our minds." The league's commissioner, Cathy Engelbert, has not made an official statement about recent events, but the WNBA shared a graphic on social media with the message "The time for change is now. Enough is enough."
"All we know is they put out quotes, saying they're standing with us," Ruffin-Pratt said. "I think, as time goes on, we'll see if it's just those one or two posts that they put out. Does it end there, or what goes on after? I know for us as players, we're trying to do everything we can possible to stand in and be united on one front."
Other players are making noise on their platforms. Ruffin-Pratt's former teammate, Washington Mystics' guard Natasha Cloud discussed the issues of silence and people not publicly condemning the murders, with an essay in the Players' Tribune, "Your Silence is a Knee on My Neck," referencing the way Floyd was killed. He died of asphyxia when officer Derek Chauvix put his knee Floyd's neck for eight minutes and 46 seconds.
South Carolina Gamecocks head coach Dawn Staley also penned a letter in the Player's Tribune titled "Black People are Tired."
Cloud and Staley's calls for justice can help shift the paradigm on how leaders of American institutions show support as they lean on black participation for success. Cloud plays basketball for a city that is 49 percent black.  Staley coaches a program that is home to ten black ballers out of the 12 on her roster.
"Tash broke the ice and I think gave everybody that confidence and that okay like, shit we could say whatever we want, if we're gonna speak on it we need to speak on it, simple as that," Ruffin-Pratt said. "Yes, [Staley] is a black woman but she's speaking on behalf of her players who are predominantly black if not all black at South Carolina, you know. She's speaking from a university, who knows, like you're in South Carolina anything can be going on. And I know a lot of coaches who have spoken up, but I know a lot of coaches who haven't. So, hopefully, they speak up at some point. But if not, I'm sure a lot of decisions when it comes to making those college decisions, I know it's going to change a lot of people's minds."
Currents events are forcing many U.S. citizens to advocate for changes in thought and policies when it comes to race-based violence. Between the patterns of police brutality against African Americans and the effects of COVID-19 ripping 40 million Americans from jobs, national anguish is demanding relief from institutionalized suffering. Ruffin-Pratt asks that this momentum keep rolling once protests wither away and media coverage fades.
"Keep it relevant," Ruffin-Pratt said. "This is a talk that we have to constantly have with ourselves, with people around us, with our kids…And it can't just end in a week, like it usually does or in a month when all this kind of dies down. So, it's something that we have to constantly talk about until a change is made."