With opt-outs and pending medical evaluations, what does success look like for Washington Mystics?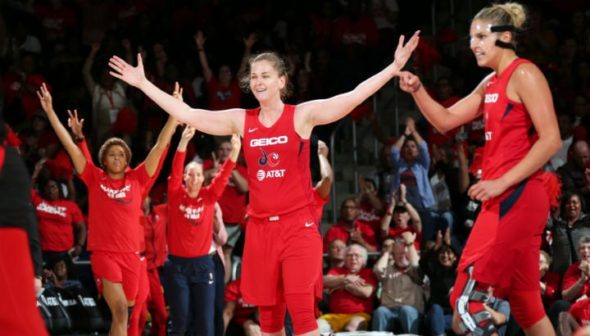 On July 6, WNBA players traveled to Bradenton, Florida, to start their delayed 2020 season under new quarantine protocols in light of the current coronavirus pandemic. For the Washington Mystics, forward Myisha Hines-Allen, guard Ariel Atkins and 2019 Finals MVP Emma Meesseman arrived at their new makeshift abode, shimmying and shaking in celebration of a safe arrival.
Fun-filled videos posted by the trio on TikTok indicate that they have a positive outlook on the season. However, two players were missing from the trip: the league's reigning MVP Elena Delle Donne and veteran center Tina Charles. On July 8, the Mystics announced that both players "entered the WNBA player medical evaluation protocol."
Though Thibault did not disclose the official pre-existing condition, Delle Donne was diagnosed with Lyme disease in her senior year of high school after being bitten by a tick at her Delaware home. She's missed games before, citing flare ups which cause muscle and joint aches. Charles' reasoning remains unknown. She was never "in market" with the Mystics, never having an in-person meeting.
"She would have come in last week," Thibault said of Charles. "Several weeks ago, after talking to doctors, she's had some past history with things, and the recommendation was to see a doctor and submit the paperwork to the league and get this opinion."
If they receive a medical opt-out, they will receive their full salary for the season. Washington won't be able to replace the two and would have to play shorthanded. A total of ten players does not meet the qualifying number for a medical hardship. Thibault called this circumstance "a triple whammy."
"As a team at the [salary cap], we cannot replace them," Thibault said. "We'd have to play with ten players."
Guard Natasha Cloud opted out of the 2020 season to focus on participating in social justice efforts describing herself as "more than an athlete" and with a "responsibility to myself, to my community and to my future children to fight for something that is much bigger than myself and the game of basketball." Cloud has a shoe deal with Converse, and the company announced it would cover her entire salary for the 2020 season.
Center LaToya Sanders is also sitting out of the 2020 season, citing anemia as the medical reason. Sanders missed six games during the 2019 season due to the condition. Washington signed Alaina Coates to replace the height and skill around the rim that Sanders brings.
Thibault also snagged guard Essence Carson, a 12-year veteran in the WNBA. What Thibault lost in Cloud, he gained in Carson's valuable veteran experience.
"She has multiple skills, she's tough-minded, and she's a great veteran leader," Thibault said. "She just has a great presence about her, and I think that will make up for some of the loss of leadership in our locker room. She just has a great attitude of how you approach the game every day."
The season provides opportunities for Washington's younger players, including Hines-Allen, guard/forward Aerial Powers, and guard Kiara Leslie, the tenth overall pick in the 2019 Draft. Leslie sat out her rookie season to heal from a knee injury.
"Luckily, we have players like Emma and Tianna [Hawkins] and the two Ariels that have totally embraced the challenge that's in front of them." Thibault said.
With Cloud out, and Mitchell and Carson not acclimated into the Mystics offense yet, Atkins also has a chance to solidify her spot as the leading guard entering her third year.
Former Mystics player, veteran guard Kristi Toliver, nicknamed her "Little A."
"This is an opportunity for Ariel Atkins and Aerial Powers to assert themselves as a main cog in our offense," Thibault said. "
As the team is shorthanded, five-on-five practice drills have been downsized into three-on-three and four-on-four. Thibault even asked his former assistant coach and the Indiana Fever first-year head coach Marianne Staley to play her squad against the Mystics for full drills and scrimmages.
"I told my son to go and get in shape 'because he'll have to practice some," Thibault said. "I told [assistant coach] Ashja Jones she might have to get on the court a little bit and revive her career."
Though Washington is potentially missing out on the reigning league MVP, there is a sense of hope. New pieces can emerge for a revamped version of the Mystics that can still win and maintain their success in the league. For Thibault, things like multiple players averaging double figures every night must be maintained.
"We've been successful by having multiple scorers on a team," Thibault said. "That's still going to be a trademark of what we're trying to do."
Thibault noted the potential stories in veteran guard Sue Bird and forward Breanna Stewart returning to the Seattle Storm and even rookie guard Sabrina Ionescu's highly anticipated start at the New York Liberty being news.
"I think you're going to have a new story every year," Thibault said. "We'll be part of a story because we don't have something, but maybe we'll make our new story too," Thibault said. This team can still win and they're doing it differently. Things happen. There's just going to be a different chapter written in this league."