Kiana Williams hits her stride as No. 1 Stanford continues to roll, beats USC 80-60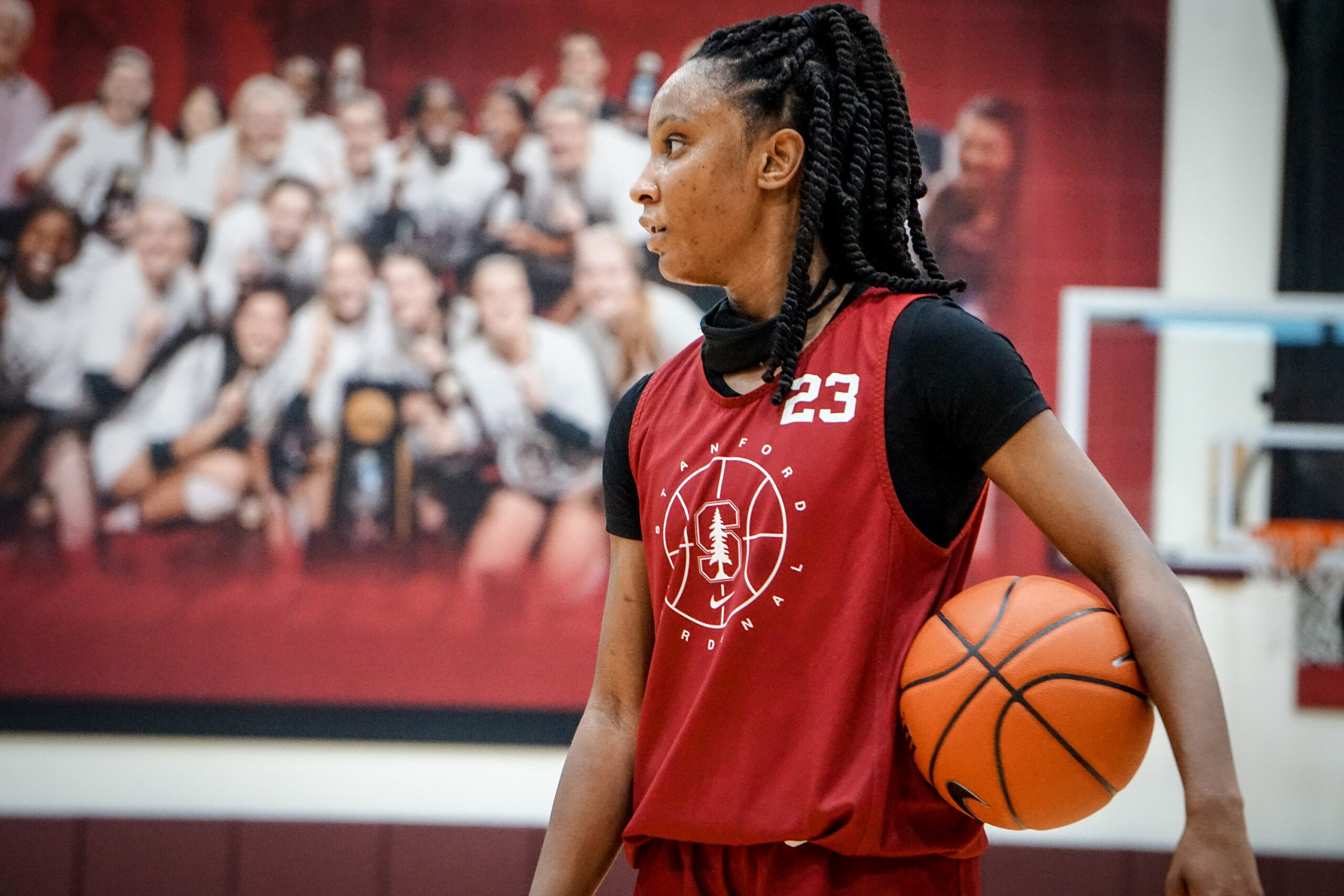 Stanford senior guard Kiana Williams had her best night of the season so far Saturday night in her team's 80-60 road win over USC (1-4, 0-4). The No. 1 Cardinal move to 6-0 with the win, and the program's all-time winningest coach in women's college basketball history, Tara VanDerveer, now has 1,100 victories.
In the five games leading up to the matchup against the Trojans, Williams was averaging 9.6 points per outing, below her 2019-20 average of 15.0 points per contest. And while she had no assists against USC, she nearly tripled her scoring outpoint to 27 points, a figure that included seven treys.
"I try to pass the ball and find my teammates, but the roles were reversed," Williams said. "They were finding me. I knew I had to stand out there and make the shots."
VanDerveer praised her performance.
"I thought I thought Kiana really, really made a big difference for us, going seven for 12 from three."
The outburst was needed as players who have been consistently in double digits underperformed, including sophomores Haley Jones and Fran Belibi. Freshman phenom, forward Cameron Brink, who is averaging 12.3 points per game, got into foul trouble and only played 10 minutes. She entered the last quarter with four fouls and committed her fifth at 3:57 in the fourth quarter.
"Cameron Brink was spectacular and her short minutes," VanDerveer said. "But you know, she's got to stay on the floor. You can't play ten minutes and foul out, so that you know that was disappointing."
USC played Stanford (6-0, 3-0) close for much of the first half, but the Cardinal never let the Trojans take the lead and went into the break with a 32-24 lead. After a sluggish start to the third quarter, Stanford finished that period outpacing the home team 22-17. By that time, senior guard Kiana Williams led the visitors and all scorers with 21 points. Her team sealed the deal in the last period scoring 26 points to USC's 19.
Overall, USC outperformed Stanford from the floor, going 40.4 percent to the Cardinal's 39.2 percent. However, Stanford made 11 treys and outworked the Trojans in the rebounding column, 52-26.
"This is the Pac-12, and we're going to have to really step up our game defensively," VanDerveer said about the game. "You know, we need to finish on some of those shots…we got some really nice shots. But I want to credit USC; they've got some great players."
Junior guard Lexie Hull joined Williams in double digits for Stanford with 16 points, eight rebounds, and six assists. Brink finished with 12 points and six rebounds.
Sophomore guard Endyia Rogers led USC with 26 points, and grad student, forward Jordan Sanders, contributed 10 points.
Stanford improves their all-time season record vs. the Trojans to 64-20.
VanDerveer commented that she expects more from Belibi, Jones, and sophomore forward Ashten Prechtel in the next outing.
"Some of our big guns need to step up more," she said. "We have our work cut out for us."
Stanford finishes its Los Angeles road trip with a game at UCLA on Monday. The team will finally get to head back to Northern California after being on the road since the end of November due to health orders issued by Santa Clara County, including a mandatory halt in contact sports and a 10-day quarantine for anyone coming from more than 150 miles away. The team will not be allowed to go home for Christmas. Williams said she told her family not to come to California to visit and commented that she would be spending the holidays in a hotel room.
"As a senior, I'm making a sacrifice so I can play."
USC continues its homestand hosting Cal on Monday.