Atlanta Dream co-owner Kelly Loeffler loses runoff election to candidate supported by WNBA players, Rev. Raphael Warnock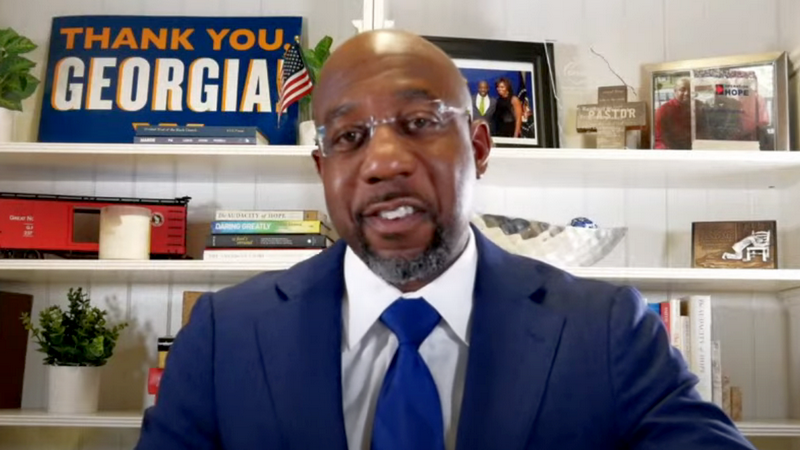 In a contentious election, Democrat Raphael Warnock, the pastor of Atlanta's historic Ebenezer Baptist Church, defeated Atlanta Dream co-owner and Republican U.S. Sen. Kelly Loeffler in a runoff. Warnock becomes Georgia's first black U.S. senator.
After being appointed to the Senate in December 2019 to fill a vacant seat, Loeffler began a full-fledged image makeover to paint herself as a far-right conservative to appeal to a base that supports President Donald Trump.
Before her appointment, there was no indication that she was at odds with stances put forth by the WNBA and her team. These positions included supporting organizations and actions that advocate for racial equality, reproductive rights, and support of the LGBTQ+ community.
With an election set for early November 2020, Loeffler displayed a rapid escalation in radical rhetoric that denounced responses to police brutality against Black citizens, protests for racial equality, and the Black Lives Matter movement. The acceleration of her divisive behavior did not go unnoticed by many, including the media, Dream players, and fans.
However, for months, the WNBA and the Atlanta Dream declined to address any of Loeffler's posturing. The Dream's boilerplate response during last spring:
"The Atlanta Dream is not a political entity, and we are in the business of sports and entertainment. We are focused on building a successful team on the court and creating a top fan experience."
WNBA Commissioner Cathy Engelbert made a neutral statement in mid-April: "We're not going to comment on that side of her world, which is the political side of her world. So, no comment from me on Senator Loeffler."
Loeffler intensified her attacks as the league ducked, regularly spewing homophobic, transphobic, and anti-abortion screed. In July, she wrote a letter to Engelbert denouncing the WNBA's initiatives to support Black Lives Matter during the season.
Engelbert's response:
"The WNBA is based on the principle of equal and fair treatment of all people, and we, along with the teams and players, will continue to use our platforms to vigorously advocate for social justice. Sen. Kelly Loeffler has not served as a Governor of the Atlanta Dream since October 2019 and is no longer involved in the day-to-day business of the team."
WNBA players responded via social media and in many other ways, including wearing t-shirts to support Warnock and actively campaigning for the first-time candidate.
Dear @SenatorLoeffler ….

I'm pretty sad to see that my team ownership is not supportive of the movement & all that it stands for. I was already sitting out this season & this is an example of why. I would love to have a conversation with you about the matter if you're down?

— Renee Montgomery (@ReneeMontgomery) July 7, 2020
https://twitter.com/SydJColson/status/1280590946980290567
As athletes and activists, the Atlanta Dream should be celebrated. But when they stood up to say #BlackLivesMatter, @KLoeffler attacked them to further her political campaign.

Georgia deserves better than a senator who only seeks to divide us.https://t.co/Sp7QIMwNDm

— Reverend Raphael Warnock (@ReverendWarnock) December 27, 2020
As Loeffler continued to express her loyalty to President Donald Trump, her campaigning led her to meet, greet and accept endorsements from known racists and radical conspiracy theorists. No candidate in the November election received the necessary majority to take the seat, setting up a runoff for Jan. 5.
In the months leading up to the runoff, Loeffler went so far as to pose for a photo with a known white supremacist, twice. Each time she denied knowing who was in the picture with her. It was the same man both times.
This is who @KLoeffler campaigned with. pic.twitter.com/EFf4G1Wvt6

— Reverend Raphael Warnock (@ReverendWarnock) December 31, 2020
Her campaign came to an end early Wednesday morning as Warnock overtook her in the last stages of the race. In his first address after the election, Warnock told viewers, "I am honored by the faith that you have shown in me."
This no doubt includes the members of the Atlanta Dream and other teams around the league that supported him over the past six months or so.
"To everyone out there struggling today, whether you voted for me or not, know this: I hear you. I see you," Warnock continued. "Every day I'm in the United States Senate, I will fight for you. I will fight for your family."
It remains to be seen whether the WNBA will try to oust Loeffler. However, after the election, NBA superstar LeBron James posted via Twitter that he wanted to put together an ownership group to buy the team.