Stanford dominates Washington State in sweep, capping season series with a 77-49 win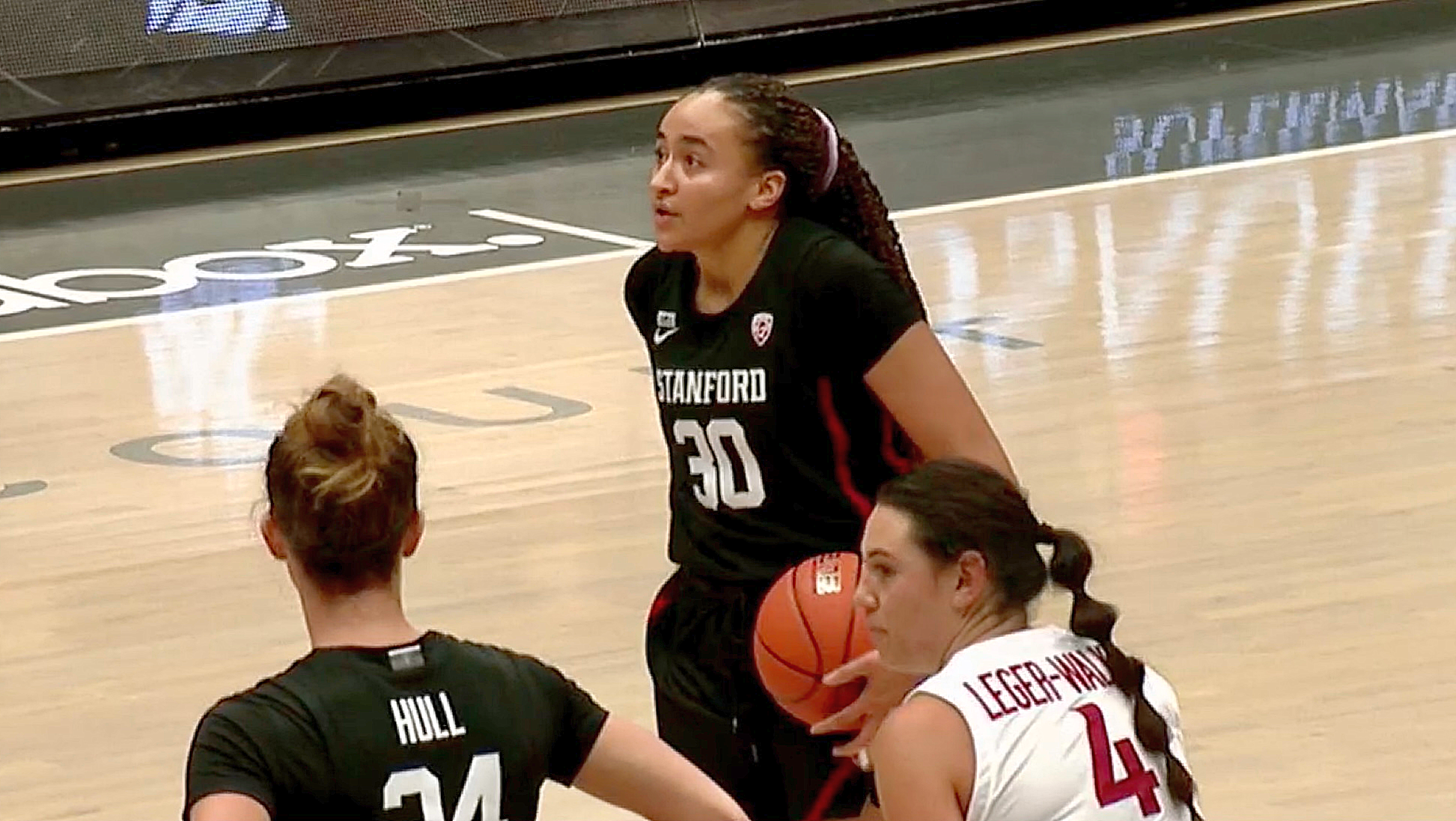 No. 6 Stanford (14-2, 11-2 Pac-12) established dominance over Washington State for the 69th time in a row Friday afternoon with a 77-49 victory in Pullman. The Cougars, who have never won against the Cardinal, fell for the second time in 48 hours to the visitors.
Senior guard Kiana Williams and sophomore guard Haley Jones led their team to beat WSU by 28 while fifth-year guard Anna Wilson set the defensive tone. The Cardinal improved their winning margin by 6 since Wednesday's game between the teams.
Stanford head coach Tara VanDerveer praised the leadership, competitive spirit, and defense of Williams and Wilson.
"They set the tone for us with their defense," VanDerveer said and went on to laud the efforts of Jones as well.
"Haley stepped up big for us," the coach said. "I was really excited about how she was aggressive offensively, five assists and only one turnover."
Stanford held the team's dynamic sibling duo of guards Charlisse and Krystal Leger-Walker to well below their season averages in both games. Charlisse, a freshman, averages 19.2 points per game but made just 2 free throws and zero field goals. Krystal, who averages 12.2 points per contest, scored just 5. While sophomore center Bella Murekatete stepped up big for the Cougars with a career-high 17 points and 7 rebounds, it was not enough to overcome Stanford.
WSU got off the first shot of the game and went back and forth with the Cardinal for about seven minutes before the Cardinal went on an offensive blitz, ending the first period on an 8-0 run, giving them a 22-15 lead.
The trend continued into the second quarter, and at halftime, Stanford had a 40-27 advantage.
WSU's resolve did not waver, and in the third quarter, the Cougars fought hard enough to get within 8 of their opponents. Murekatete played a large role in the comeback attempt. At one point, she scored 6 straight points to get her team within 9, leading Stanford to call a timeout.
"The timeout was maybe just to get everyone's attention," VanDerveer said. "'Hey, we need to we need to tighten up our defense.'"
The Cardinal countered the streak of the phenom from Rwanda with an 8-2 to finish out the period.
In addition to Murekatete, junior forward Ula Motuga was also in double figures for WSU, scoring 10 points and pulling down six rebounds.
For Stanford, Willians and Jones had 16 points each. Jones also grabbed six rebounds and dished out five assists. Sophomore forward Ashten Prechtel contributed 11 points and four rebounds to the win.
Stanford remains on the road to face Washington in Seattle on Sunday at 1 p.m. PT. Washington State stays home to face No. 5 UCLA next Friday. The Cougars' game this weekend against California, previously scheduled for Sunday, was postponed due to Covid-19 issues within the Golden Bears program.