NCAA Notebook: Administrators Talk to Media, the Numbers, Practices Underway, $27 Million for San Antonio and Unequal Conditions Cause a Storm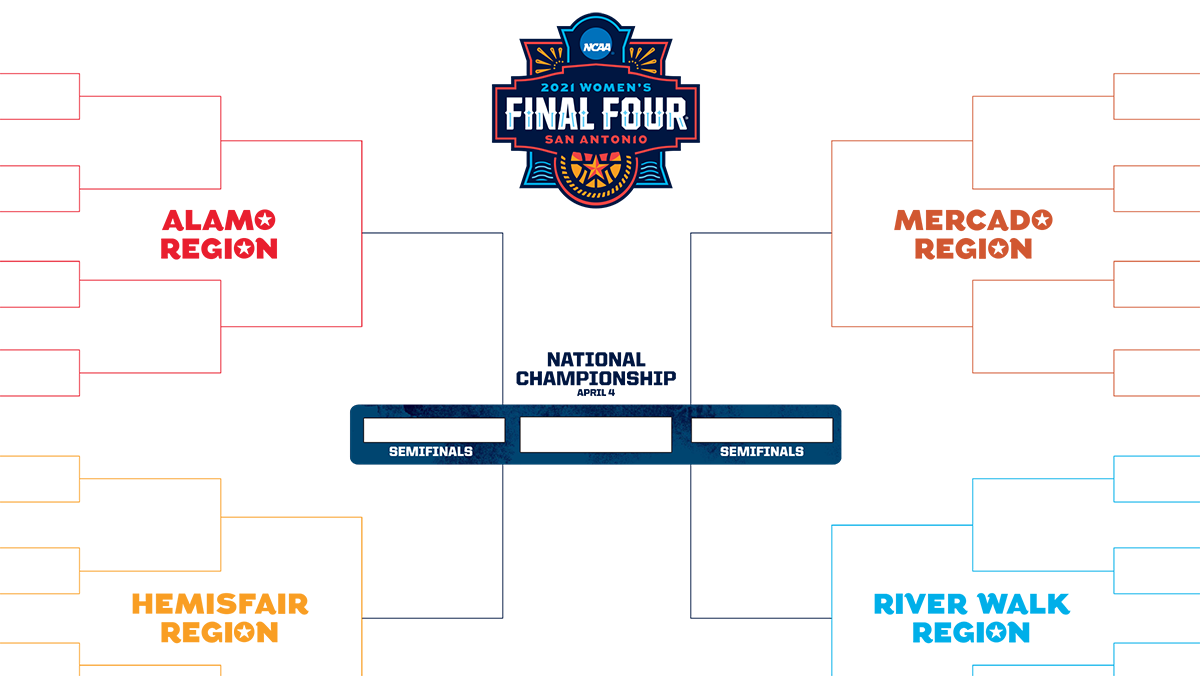 The teams are in San Antonio. Pre-game practices are underway. Team press conferences are in progress. And at this point, not one program has been dropped out of the field of 64 due to Covid-19. The 2021 NCAA Tournament is almost here, with games beginning Sunday.
With the cancelation of last season's tournament due to the coronavirus pandemic, everyone from fans to teams to NCAA administrators is hungry for the postseason competition's return.
On Thursday, Lynn Holzman, the NCAA vice president of women's basketball, and Jenny Carnes, the executive director of the San Antonio Local Organizing Committee, met with the media to discuss the tournament.
By the Numbers
Holzman revealed some interesting statistics about the tournament so far.
Thirty-one teams arrived in San Antonio on Tuesday; the remaining 33 came on Wednesday.
Teams are spread across seven hotels. In each hotel, teams have their own floor. Elevator movement is regulated, so teams do not mix.
Approximately 2,000 participants are involved in the tournament.
Teams began practicing Thursday after undergoing medical protocols.
During the season, across Division I, "85% of the scheduled contests were completed," the same as on the men's side.
As of Thursday, there was only one positive Covid-19 test of over 2,600 tests taken. Those numbers include team traveling parties.
There are 60 officials scheduled to work the tournament, the same number hired for the men's side.
The Alamodome, the site for all games from the Sweet 16 to the championship, will be limited to 17% capacity. The Alamodome's basketball configuration seats 31,900.
Given that the tournament is operating within a sort of bubble to protect teams, staffers, and officials, the amount of organization required to plan or execute was massive. Holzman addressed the gargantuan task.
"There were challenges because of the need to have patience and timing as we continued to see how the pandemic was going to unfold," she said.
She compared the effort to a marathon being run at a spring pace because "we've never done this before with 64 teams."
"But we have pivoted. There's been twists and turns, and we are getting it done. I mean, it is everything. It is every aspect of the championship and things that I didn't even think about … we are trying to make sure we are providing a tremendous experience for our student-athletes."
Unfair Conditions
Several hours after the presser, images of what some student-athletes considered unfair conditions compared to the men's tournament in Indianapolis began to surface on social media, first posted by Stanford sports performance coach Ali Kerschner.
The images show a fully equipped gym for the men and one set of weights, some yoga mats, and a stationary bike in a small area for the women.
Former Oregon Star Sabrina Ionescu and current Ducks players Sedona Price also chimed in with their opinions on the weight room. The photos were already going viral on social media. They received an even bigger boost when NBA star Steph Curry shared Prince's post, and more professional players followed with commentary of their own.
Let me put it on Twitter too cause this needs the attention pic.twitter.com/t0DWKL2YHR

— Sedona Prince (@sedonaprince_) March 19, 2021
In response, Holzman released the following statement:
"We acknowledge that some of the amenities teams would typically have access to have not been in place as available inside the controlled environment. In part, this is due to the limited space, and the original plan was to expand the workout area once additional space was available later in the tournament. However, we want to be responsive to the needs of our participating teams, and we are actively working to enhance existing resources at practice courts, including additional weight training equipment."
This morning, in another media briefing, Holzman addressed what she called "the elephant in the room" in her opening remarks. Nina King, senior deputy director of athletics and chief of staff at Duke, and chair of the women's basketball committee, was also in the briefing along with Dan Gavitt, the NCAA senior vice president of basketball.
"I'm a former women's basketball student-athlete," Holzman began with heavy emotion clearly present in her voice, "and it's always been my priority to make this event the best possible experience for everyone involved. This is my passion. I care about women's basketball and women in sport."
She went on to take full responsibility for the unequal conditions that included sparse weight rooms and subpar food choices. She said that she and other NCAA officials met with coaches and team administrators Thursday evening to discuss their experiences and how to improve the situation. Two representatives from the Women's Basketball Coaches Association also joined the meeting: executive director Danielle Donehew, and Toledo head coach Tricia Cullop, who is the chair of the WBCA's executive committee.
According to Holzman, she and others in the NCAA organization in San Antonio first heard about the complaints via social media, not from players or coaches directly.  She immediately began to contact coaches and team administrators to address the concerns and the meeting was the immediate result.
As far as the food experience, Holzman said "we've begun to immediately address that with the hotels and also identifying additional flexibility so that other food can be brought to them."
Going forward, Holzman and King plan to have regular meetings with coaches to keep tabs on conditions and any other issues that crop up. Thursday's meeting "very strongly reinforced that our staff is accessible."
"We are all we're trying to do the right thing," Holzman added. "And as I noted earlier, there's several numerous different things that we've adjusted on the fly now that we're here in San Antonio, and with the, with the teams all being here and everything. We have a responsibility to continue to do that on an ongoing basis to improve what we are doing and try to address what we can address within the construct of the controlled environment that we're in right now."
Local Economic Impact
Even though the fan capacity is limited, the city of San Antonio will still bear the financial fruit of having such a large-scale sports event.
"We anticipate about $27 million being pumped into the local economy, which is just fantastic for San Antonio right now," Carnes said.
According to Carnes, San Antonio, which is home to several sports teams on the pro and collegiate level, is a prime location for the tournament.
"We are so excited for this opportunity for the city of San Antonio. I can't think of a better destination and backdrop to host the entire women's basketball championship. We are so honored and grateful to the NCAA for entrusting this year's historic championship in our hands."
The first two games of the tournament take place at noon ET on Sunday, with No. 10 seed Marquette facing No. 7-seeded Virginia Tech in the River Walk bracket on ESPNU and No. 12 seed Central Michigan playing No 5 seed Iowa in the same region.
NCAA VP of WBB Lynn Holzman addresses "the elephant in the room" to begin her presser: "We fell short this year in what we've been doing to prepare…We acknowledge that." She added that after meeting with coaches last night, "things will be in place tomorrow morning." #ncaaw

— Hoopfeed.com ? (@hoopfeed) March 19, 2021