Team WNBA tops Team USA in All-Star Game
Team WNBA defeated Team USA 93-85 in the 2021 WNBA All-Star Game, a special edition of the event that featured All-Stars vs. the USA Senior Women's National Team.
First-time All-Star Arike Ogunbowale (Dallas Wings) helped lead Team WNBA to the victory with 26 points. Her efforts landed her the event's MVP honor. Her teammate, Jonquel Jones (Connecticut Sun), finished with a double-double of 18 points, 14 rebounds, and four assists. Courtney Williams (Atlanta Dream) was also in double figures with 15 points.
Ogunbowale gave credit to her teammates for facilitating her game-high performance.
"Nobody is selfish on this team, so they're going to feed whoever is hot," she said. "[Jonquel Jones] was knocking shots down; we're feeding her, we're feeding whoever is hot. It just turned out I scored a little more points."
Brittney Griner (Phoenix Mercury) led Team USA with 17 points, while Breanna Stewart (Seattle Storm) added 15 points plus six rebounds. Sylvia Fowles (Minnesota Lynx) put up 12 points plus seven rebounds for the USA team.
Phoenix Mercury guard Diana Taurasi did not play for the USA due to a hip muscle strain. On the All-Star side, Australian Olympian Liz Cambage also sat out.
"I was just there enjoying the game today," Cambage said. "I was sad I didn't get to touch the court. I've been carrying a lot of Achilles issues this season, and we've been in a hard Australian-team camp the past week, and we take off to Tokyo in a couple of days."
Like the Australian national team, the USA squad is in the home stretch of preparations for the Tokyo Games, where the team hopes to win a seventh straight Olympic gold medal. The team has two exhibition games, facing Australia and Nigeria, before leaving for Tokyo.
Three Times the Charm for Allie Quigley
During halftime, four players competed in the traditional 3-Point Contest: Allie Quigley (Chicago Sky), Jewell Loyd (Seattle Storm), Sami Whitcomb (New York Liberty), and Jones. After the first round, Jones and Quigley advanced to the final round. Jones scored 24 points, and Quigley followed with 28 for the win. Her prize was $10,000 allocated to the charity of her choice. She chose the Patrick Quigley Memorial Scholarship Fund at Joliet Catholic Academy. The scholarship honors her father, who died when Quigley was a child.
Paying Homage to Legends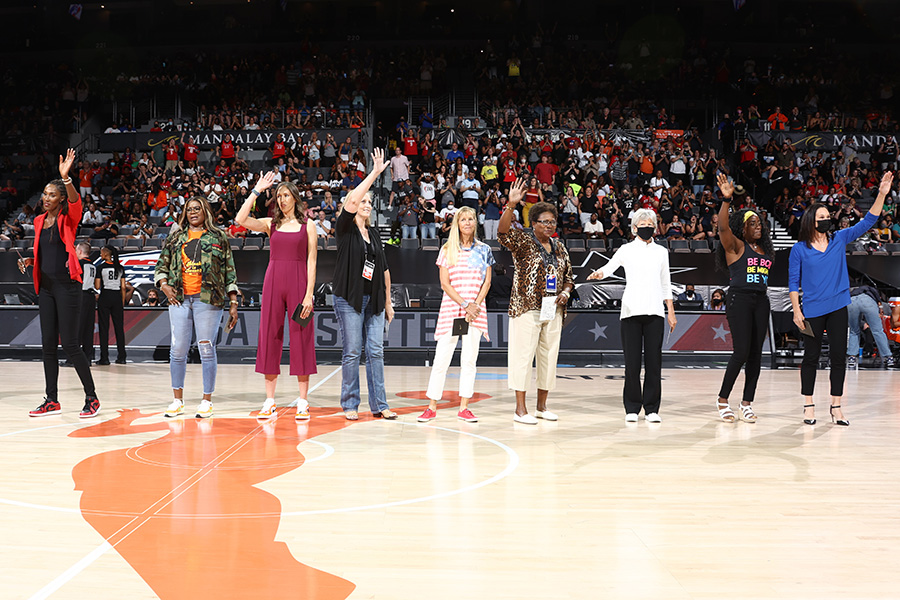 The All-Star festivities also included celebratory events for the groundbreaking 1996 U.S. Olympic Women's Basketball Team. The success of the team, coached by Hall of Famer Tara VanDerveer, set the groundwork for the creation of the WNBA. The current coach of the U.S. national team, Dawn Staley, was a member of that squad as well as several Hall of Famers including Teresa Edwards, Lisa Leslie, Rebecca Lobo, Katrina McClain, Sheryl Swoopes, and Staley.
Leslie and two-time Olympian Tina Thompson were the coaches for Team WNBA.