Ole Miss leaves California with Raising the B.A.R. Invitational title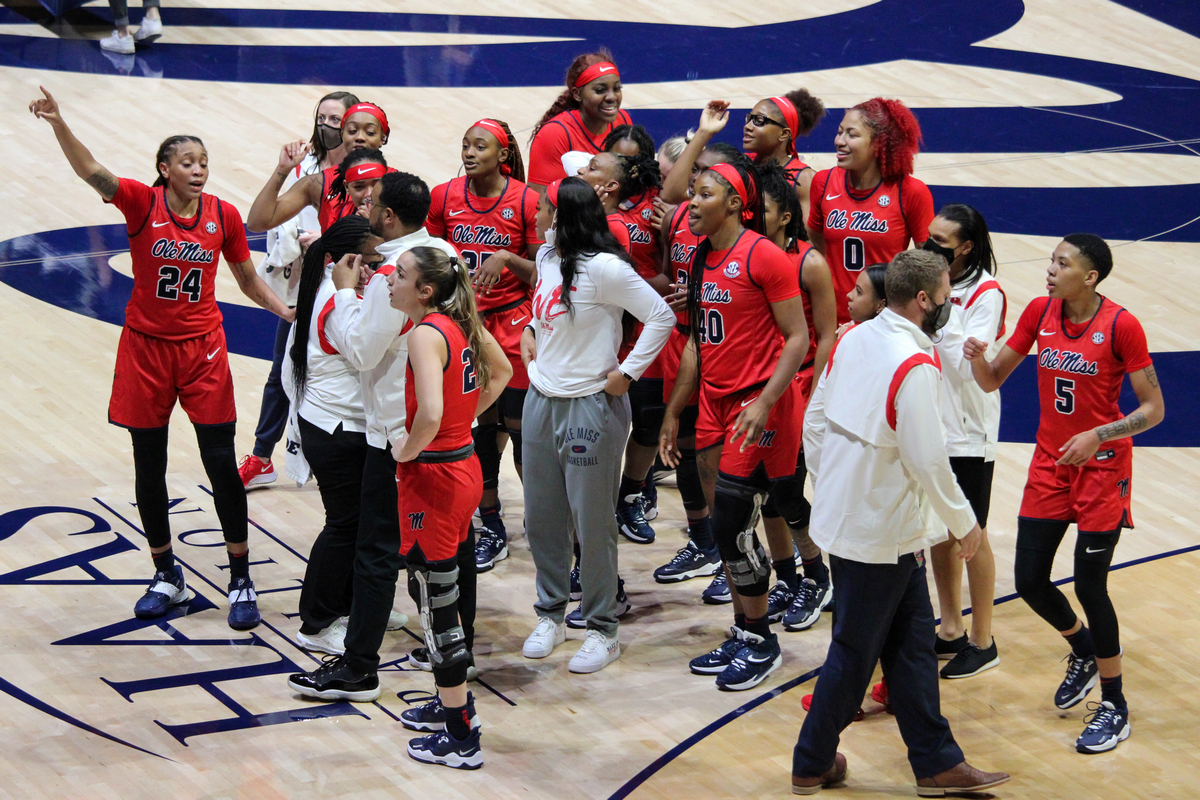 Berkeley, CA – In Cal's rebranded semi-annual holiday tournament, the Raising the B.A.R. Invitational, Ole Miss won the title downing the home team Saturday afternoon at Haas Pavilion. With multiple players in double-digits and a deep roster, the Rebels go back home to Mississippi with the tournament trophy and wins against teams that they faced for the first time program history. And in a historic milestone all teams in the invitational have a Black woman as the head coach.
The Rebels broke Cal's five-game win streak and go home to host New Orleans. Cal hosts Fresno State on Thursday in a matinee matchup. Furman has another road game on the horizon played Radford in Virginia on Wednesday. San Diego State heads home to face area rival University of San Diego.
All-Tournament Team and MVP
MVP: Shakira Austin, Ole Miss
Sophia Ramos, San Diego State
Tierra Hodges, Furman
Jayda Curry, California
Madison Scott, Ole Miss
Lashonda Monk, Ole Miss
Fri., Nov. 26
Ole Miss 62, San Diego State 48
Ole Miss opened the tournament with their first road win of the season. The win broke SDSU's two-game winning streak. The Aztecs committed 19 turnovers which led to 22 Rebel points.
Senior center Shakira Austin led Ole Miss with 13 points and 9 rebounds. Sophomore forward Madison Scott added 12 points, shooting 5-of-6 from the field. For San Diego State, senior guard Sophia Ramos paced the Aztecs with 18 points.
California 82, Furman 73
Led by two-time Pac-12 Freshman of the Week Jayda Curry, the Golden Bears won their first game in the tourney. The young phenom led all scorers with 26 points and scored five of those points in the last two minutes of the contest. Cal junior guard Cailyn Crocker put up 17 points plus six assists; junior forward Evelien Lutje Schipholt contributed 18 points and 14 rebounds. Dalayah Daniels had eight points and a season-high 10 rebounds in her first start of the season.
For Furman, senior guard/forward Tierra Hodges put up 25 points plus seven rebounds. Sophomore guard/forward Sydney James added 16 and sophomore guard Tate Walters was also in double figures with 15 points plus five rebounds, four assists and four steals.
Sat., Nov. 27
Furman 71, San Diego State 62
Tate Walters earned a game-high 24 points as Furman cranked it up in the second quarter to overcome an early double-digit deficit against San Diego State. Sydney James was also in double digits with while freshman forward Kate Johnson added 10 points, including seven in the second quarter. Tierra Hodges finished with nine points to go with a game high 14 rebounds.
Senior guard Mercedes Staples led San Diego State with 20 points. With the win in the consolation game, Furman improves to 5-2. San Diego State falls to 4-3.
Ole Miss 64, California 45
Led by Shakira Austin, Ole Miss highlighted an impressive defensive display to defeat Cal in the championship game. In the wire-to-wire victory, the Rebels also displayed depth as 14 players saw minutes. Austin led all scorers with 14 points plus 10 rebounds. Three other Ole Miss players scored in double figures including Madison Scott with a double-double (12 points, 11 rebounds, Lashonda Monk (12 points), and Snudda Collins (10 points).
The Rebels held Jayda Curry to 12 points and six rebounds. The freshman came into the game averaging 23.1 points per game. Junior guard Cailyn Crocker scored 12 points and pulled down six rebounds for the Bears. Ole Miss improves to 6-1 and Call falls to 5-1.