Las Vegas Aces name WNBA legend Becky Hammon as head coach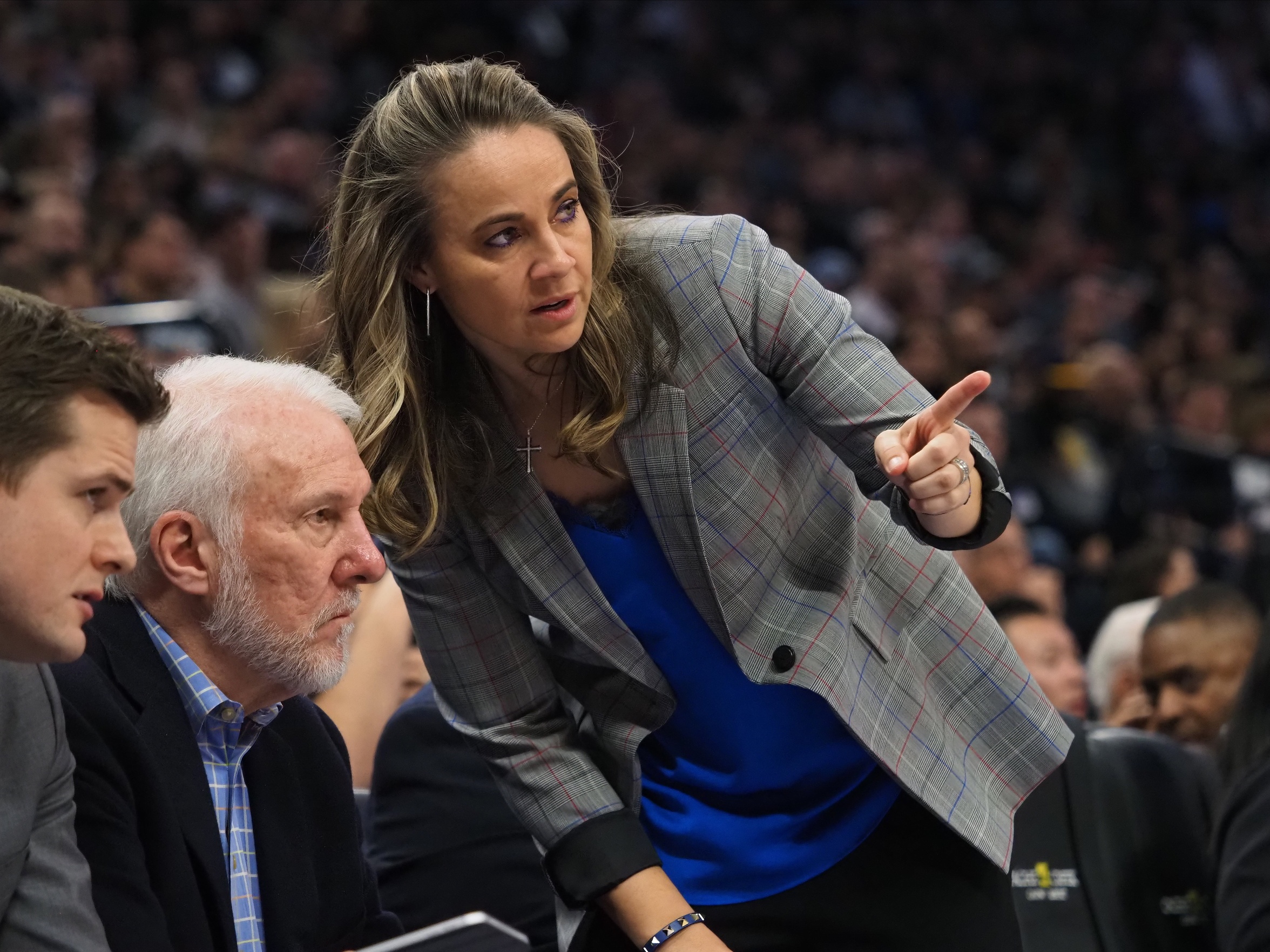 Feb 8, 2020; Sacramento, California, USA; San Antonio Spurs assistant coach Becky Hammon speaks to head coach Gregg Popovich during the fourth quarter against the Sacramento Kings at Golden 1 Center. Mandatory Credit: Kelley L Cox-USA TODAY Sports
With Bill Laimbeer transitioning into another role with the Las Vegas Aces, the franchise named WNBA legend Becky Hammon as head coach. Las Vegas Aces President Nikki Fargas announced the hire on New Year's Eve. Per sources, Hammon signed a five-year deal with the team.
"We're very excited to have Becky return to the Aces' franchise as our head coach," said Fargas. "Her success in the sport of basketball as both a player and a coach is unparalleled, and fueled by a tenacious desire to be the best she can possibly be. We have one of the most talented rosters in the WNBA, and Becky is the absolute best person to lead this team."
The six-time All-Star comes to Las Vegas after serving as an assistant coach for the NBA's San Antonio Spurs since August 2014. Her hire with the Spurs was groundbreaking as she became the first-ever woman to be an assistant coach in the league full-time. She is also the first woman to serve as head coach in the NBA's Summer League. She led the Spurs to the league title.
The Rapid City, South Dakota native spent 16 years in the WNBA, starting out as a free agent with the New York Liberty and spending the second half of that time in San Antonio. She entered the league undrafted after an All-American college career at Colorado State.
"I am so excited to return to the WNBA and grateful for Mark Davis and Nikki Fargas having a vision for me to lead the Aces," said Hammon. "This is where I come from, and I wouldn't be me without the W. I'm thrilled to be able to give back and lead this next group of women."
The Aces, a team that initially began as the Utah Starzz and then the San Antonio Silver Stars (later shortened to just Stars), retired Hammon's jersey on September 13, 2021.
"This is an exciting day for the Aces organization," team owner Mark Davis said. "From the moment I met Becky Hammon, I was hopeful that one day she would rejoin the family. I just never imagined it would happen this soon."
Laimbeer, who coached the first four years of the team's time in Las Vegas, will remain with the Aces, "focusing initially on assisting with the team's roster construction for 2022," according to the franchise.