Led by Bueckers, UConn returns to national title game after downing reigning champs Stanford 63-58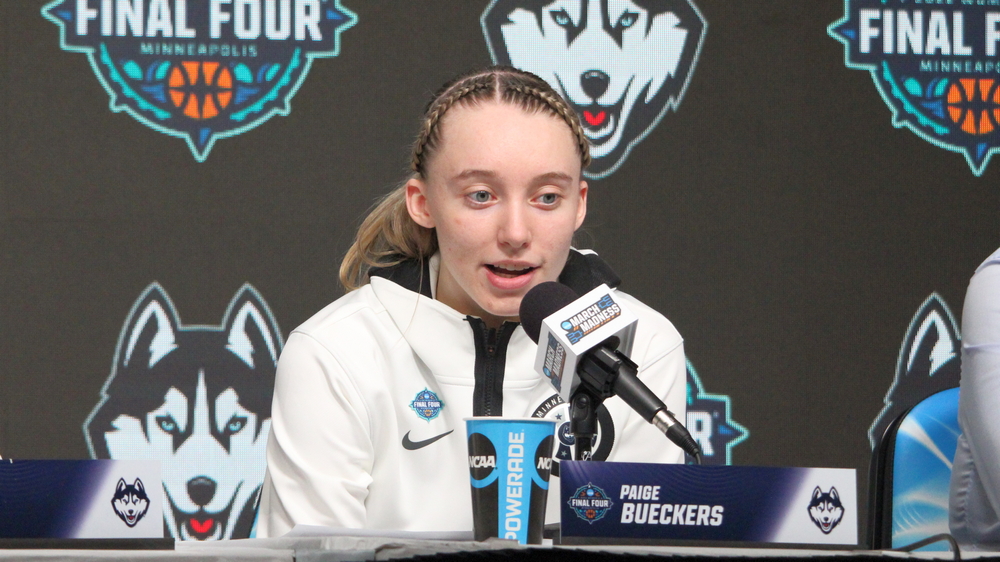 MINNEAPOLIS – UConn sophomore guard Paige Bueckers started off her homecoming in the best way possible way Friday night, leading her team to a win over the reigning national champion and No. 1-seeded Stanford (32-4) in the Final Four.
In the second game of the night's NCAA tournament semifinals, the No. 2 seed Huskies outlasted the Cardinal who nipped at UConn's heals all game but could never build enough momentum to overtake their opponent down the stretch. Instead, it was Bueckers, who hails from nearby Hopkins, who made key shots time and time again when Stanford looked to make a decisive run past UConn.
Both teams got off to a sluggish start offensively, with UConn (30-5) leading Stanford 12-9 at the end of the first quarter. Huskies head coach Geno Auriemma addressed the low-scoring beginning.
"We said the other day that points are hard to come by in this tournament," he said. "Today was certainly no different. You're going to have to win some other way than thinking you're just going to come out here and it's going to be nicey nicey and they're going to let you shoot whatever shot you want to shoot. And same with them, we're going to guard them, they're going to guard us and you've just got to tough it out, you've got to rebound the ball better, you've got to play defense better, you've got to get every loose ball, you've got to make your free throws."
Bueckers expressed a similar view. 
"I knew it was going to be a very competitive sort of sluggish game," she said. "Both teams are trying to win a National Championship. It's a Final Four game and everybody is going to lay it on the line and that's just basketball."
Bueckers led her team with 14 points, four rebounds, and five assists. Senior guard Evina Westbrook, who made several key baskets as well to seal the deal against Stanford, was also in double figures with 12 points plus six rebounds. Senior guard Christyn Williams added 10 points.
Stanford junior guard Haley Jones led all scorers with 20 points along with 11 rebounds for a double-double. Sophomore forward Cameron Brink contributed 15 points and seven rebounds.
Cardinal head coach Tara VanDerveer was blunt in her assessment of her team's performance.
"We did not play very well tonight, and we just — I think we really struggled running our offense," she said. "I think there were some self-inflicted wounds, what we were doing out there, and it was disappointing."
The meeting between the teams had a historic element. The two played against each in 1995 in the Final Four in Minneapolis. The Huskies won that game and went on to beat Tennessee for the national championship. It was the first-ever title for UConn.
On Sunday, UConn will face South Carolina, who beat Louisville in the first semifinal of the evening. The national championship game is set for 8 p.m. ET and will be televised on ESPN.