Elena Delle Donne Returns to Lead Washington Past a Young, Talented Fever, 84-70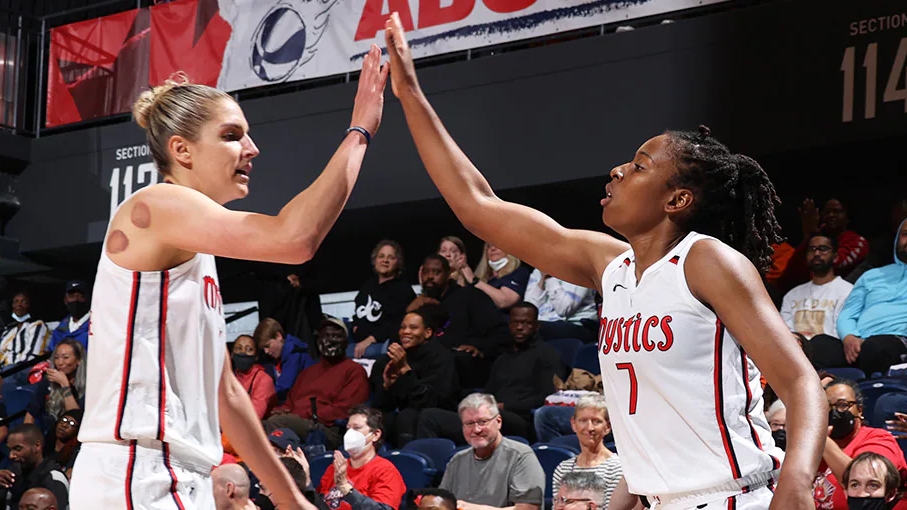 All Opening Day Scores
Washington 84, Indiana 70
Los Angeles 98, Chicago 91 OT
Las Vegas 106, Phoenix 88
Seattle 97, Minnesota 74
In her first start in a home opener since 2018, Washington Mystics forward and former league MVP Elena Delle Donne led her team in holding off a young Indiana Fever squad 84-70 Friday night at Entertainment and Sports Arena in front of a sold-out crowd.
The Fever, with the most rookies of any other team in the league, put up a good fight late in the game to get within six points midway through the fourth quarter after trailing by 21 early in the third period.
Mystics coach and general manager Mike Thibault said that late in the game his team began settling for long jump shots and not putting the Fever in foul trouble like they did in the first half, but "all in all, a good start."
With a balanced effort, the Mystics pulled away for a 31-16 lead in the first quarter after a close contest in the first five minutes.
Veteran guard Natasha Cloud guided the Mystics in the first ten minutes. Leading all scorers with eight points heading into the second period. Newcomers, including rookie Center Shakira Austin, had significant contributions early in the game. At the half, Cloud was in double digits with 15 points while Austin had seven.
Delle Donne, who missed two seasons due to injuries and Covid-19 precautions on her part, turned it up in the second half with seven points in the third quarter and eight in the last ten minutes to finish with a team-high 21 plus nine rebounds. She said postgame that she was "feeling great and just grateful to be out here."
"I feel like it took me a little bit to get my rhythm but my teammates kind of stuck with me, just stuck with the process of making reads, knowing that our looks were good and staying on it. But yeah, I came out with a little bit of butterflies, but good ones. I mean, shoot. I'm playing basketball again. So, this is fun."
Cloud's contribution was also significant: 17 points, four rebounds, and six assists. She was also 100% (5-5) from the free-throw line. Ariel Atkins added 15 points and Shatori Walker-Kimbrough scored 10 points.
While fourth-year guard Tiffany Mitchell led the Fever with 18 points, the other two Fever players in double figures were rookies who started. NaLyssa Smith, a forward out of Baylor and the No. 2 pick in the 2022 draft, put up a double-double of 13 points plus 13 rebounds. Her fellow Baylor alumna, center Queen Egbo, added 10 points plus six rebounds. Another rookie starter, guard Destanni Henderson out of South Carolina played about 17 minutes and scored four points, and dished out a team-high five assists. Off the bench, rookie Emily Engstler (Louisville) had four points plus nine rebounds.
The Fever return home to face the Los Angeles Sparks on Sunday at 3 p.m. ET. Washington goes on the road to play at Minnesota on the same day at 8 p.m. ET.
Notes
Washington's Rui Machida, in her WNBA debut, entered the game at 4:36 in the first quarter.
Mystics rookie Shakira Austin, with a power move on the baseline, earned her first points as a pro at 2:12 in the first quarter.
Indiana signed guard Crystal Dangerfield on Friday and she played 18 minutes and finished with five points.
The Fever outrebounded the Mystics 42-31.
Officials: #13 Cheryl Flores, #9 Tim Greene, #85 Robert Hussey
Inactive Indiana players: Alaina Coates (Not With Team – Overseas Commitment), Bria Hartley (Not With Team – Overseas Commitment), Danielle Robinson (Not With Team – Overseas Commitment)
Inactive Washington players: Alysha Clark (Injury/Illness – Right Foot), Elizabeth Williams (Not With Team – Overseas Commitment)
Stats
| | | |
| --- | --- | --- |
|   | IND | WAS |
| Record (W/L) | 0-1 | 1-0 |
| Point In the Paint | 38 | 42 |
| 2 nd Chance Points | 19 | 9 |
| Fast Break Points | 6 | 4 |
| Biggest Lead | 4 | 21 |
| Team Rebounds | 8 | 4 |
| Team Turnovers | 4 | 1 |
| Total Turnovers | 18 | 8 |
| Points Off Turnovers | 20 | 6 |
Shot Charts