Stanford holds off Gonzaga with a barrage of treys, 84-63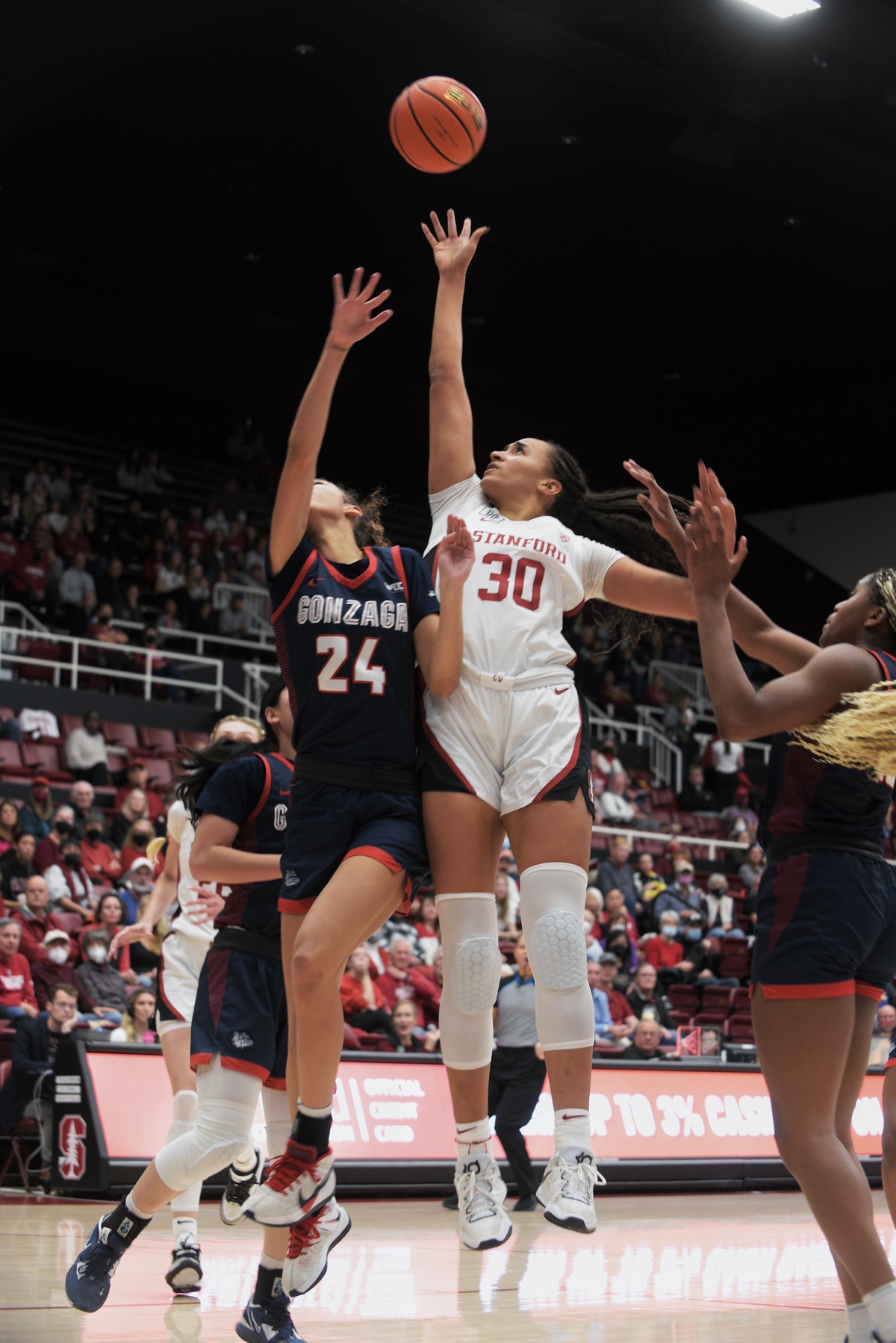 STANFORD, Calif. – No. 2 Stanford (10-1) held off No. 23 Gonzaga (7-2) in a matchup that saw the teams have a close battle in the first two quarters. The game was tied early in the second period, and the Bulldogs earned a short-lived one-point lead. However, with a depleted roster due to several players being out sick or injured, Stanford was too much for the visitors to handle down the stretch.
"Gonzaga, unfortunately, had some injuries and some players out that were sick," Cardinal head coach Tara VanDerveer said. "I just want to give them a lot of credit for going ahead with the game. They only had seven or eight players. I think that's a real credit to Lisa [Fortier] and her staff. She is a great coach. Their team really executes really well no matter who is out there. That this is a team that is a top 25 team."
After a close first quarter with Stanford leading 19-18, the Zags stayed in close proximity with a free throw from Kaylynne Truong giving her team three one-point advantage. a barrage of three-pointers from both teams followed. There were 10 treys made in the period, with Stanford making seven of them. Over the course of the game, the Cardinal shot 53.6% percent (15-28) from beyond the arc compared to 35.3% (6-17) by Gonzaga. After the three-point fest, the home team led 45-36 at the half.
Stanford overpowered the Bulldogs in the third quarter, outscoring them 21-15 with key contributions from sophomore guard Brooke Demetre, junior forward Cameron Brink, and senior guard Haley Jones. The fourth quarter was much of the same, with Stanford outscoring Gonzaga 18-12.
The Zags came to Stanford as a new member of the Associated Press Top 25 this season after taking down ranked teams Louisville and Tennessee.
"I think for us this was a huge game, because we have two weeks off coming so we didn't want to end with two weeks off on a loss," Brink said. The Cardinal are at the end of their academic quarter to study before Finals week.
Demetre led Stanford with 17 points. Brink added a double-double of 14 points and 16 rebounds. Senior guard Hannah Jump scored 14 points. Jones contributed 12 points, five rebounds, and six assists. Twelve Stanford players scored in all.
Senior guard Kaylynne Truong paced Gonzaga with 22 points and six rebounds. Graduate student guard Brynna Maxwell scored 19 points and pulled down four rebounds.
After their break, Stanford hosts Tennessee on Dec. 18. Gonzaga goes home to play Queens University on Dec. 6.