Miami placed on probation for recruiting violations
After completing an investigation that started last May, the NCAA placed Miami women's basketball on probation for one year for recruiting violations.
According to the NCAA, head coach Katie Meier "violated NCAA rules when she facilitated impermissible contact between two prospects and a booster." While Meier didn't know the booster personally, she met with them at a university event for donors,  and later facilitated meetings between the booster, prospects, and the prospects' agent.
"The head coach's involvement in arranging contact between the prospects and a booster violated NCAA recruiting rules. Boosters are not authorized recruiters and cannot have in-person, off-campus contact with prospects, and when the prospects visited the booster's home, it violated recruiting rules. Similarly, when the booster provided the prospects with a meal, it violated inducement rules."
The NCAA didn't name the booster or prospects in its report. However, it did mention a Twitter post that included booster John Ruiz and Miami players Haley and Hanna Cavinder.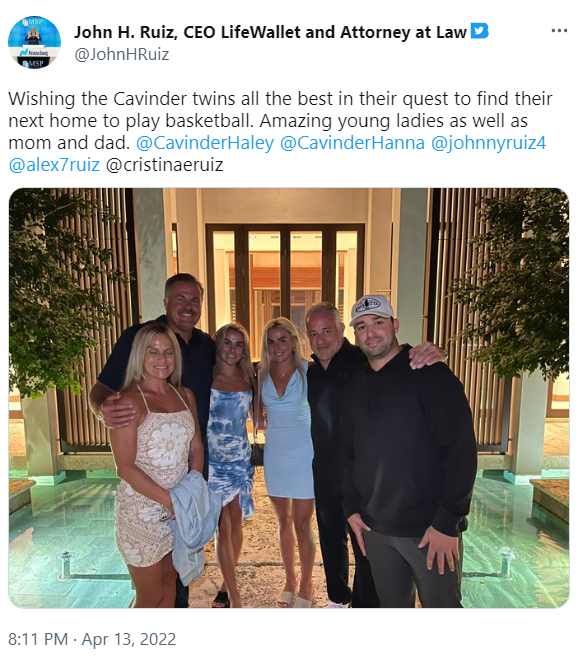 Penalties included a suspension of Meier for three games to start the 2022-23 season, which she completed.
The other penalties:
One year of probation.
A $5,000 fine plus 1% of the women's basketball budget.
A 7% reduction in the number of official visits in women's basketball during the 2022-23 academic year.
A reduction of nine recruiting-person days in women's basketball during the 2022-23 academic year.
A three-week prohibition against recruiting communications by women's basketball staff beginning with the open date of the Transfer Portal (from March 13 through April 2, 2023).
Read the complete NCAA report.
Miami is currently 17-11 and in sixth place in the ACC. The Hurricanes have one game left in the regular season, a home contest against Virginia on Feb. 26.