The 2023 NCAA DI Final Four Field is Set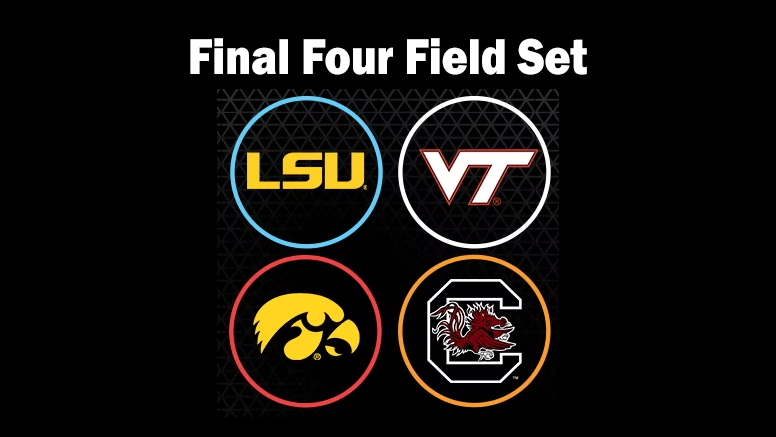 With two No.1 seeds out of the tournament and the completion of the Elite Eight, the 2023 Final Four has a different look this season. No UConn, no Stanford, a newcomer in Virginia Tech, and returnees after many years in Iowa and LSU. These teams join the reigning champion, undefeated South Carolina, in Dallas this week for the semifinals on Friday.
LSU  heads to its first Final Four since 2008 under second-year head coach Kim Mulkey who built a powerhouse from scratch at Baylor before returning to her home state. Iowa makes its first appearance in the Final Four since 1993. With Kenny Brooks at the helm, Virginia Tech made it to the semifinals for the first time in program history.
Friday, March 31 — Final Four
No. 1 Virginia Tech vs. No. 3 LSU | 7 p.m. ET | ESPN
No. 1 South Carolina vs. No. 2 Iowa | 9 p.m. ET | ESPN
Sunday, April 2 — National Championship
TBD vs. TBD | 3:30 p.m. ET | ABC
The Final Four coaches met with the media Tuesday morning via videoconferencing. Here are a few tidbits from the calls.
Virginia Tech @HokiesWBB's @CoachBrooksVT up early before going to Dallas: "I'm sleepless in Seattle, have not slept much at all." He mentions Elizabeth Kitley, Georgia Amoore, Cayla King & Taylor Geiman as players that "really transformed the culture of this program"#WFinalFour pic.twitter.com/tS1cfJj2b1

— Hoopfeed.com ? (@hoopfeed) March 28, 2023
.@GamecockWBB's @DawnStaley begins her morning presser with "I just want to say congratulations to all Final Four coaches and programs."
In regards to the growth of WBB & the tourney: "Any program can make it to the Final Four because of the parity of our game" #WFinalFour #ncaaw

— Hoopfeed.com ? (@hoopfeed) March 28, 2023
.@IowaWBB is in Dallas. After her team's #Elite8 win, coach Lisa Bluder says her 1st voicemail was from @CVivianStringer, who led the Hawkeyes to the 1993 #WFinalFour. "She called me immediately…I know Coach Stringer is behind us." #ncaaw #WFinalFour pic.twitter.com/94Z9vgSjmg

— Hoopfeed.com ? (@hoopfeed) March 28, 2023
.@LSUwbkb's Kim Mulkey on fast success at LSU: "The easy part for me was I'm now selling tickets to the entire state….and it's because I grew up here. Everybody seems to think that they know me, and they probably do…I didn't have to reintroduce myself." #ncaaw #WFinalFour pic.twitter.com/2jaGfz2tB6

— Hoopfeed.com ? (@hoopfeed) March 28, 2023