Bloomberg's Scarlet Fu asks WNBA Commissioner Cathy Engelbert about the league playing in Saudi Arabia
Today, during the Bloomberg Invest conference, Bloomberg's Scarlet Fu asked WNBA Commissioner Cathy Engelbert about the possibility of the league playing a game in Saudi Arabia in light of recent news of the merger of Saudi-backed LIV Golf and the PGA Tour. Engelbert commented that if Saudi Arabia, a country with "a deplorable rights record" according to Human Rights Watch, approached the league about hosting, it would be put under consideration.
Wednesday evening, Atlanta Dream managing partner Larry Gottesdiener chimed in via Twitter with his opinion of the Bloomberg interview: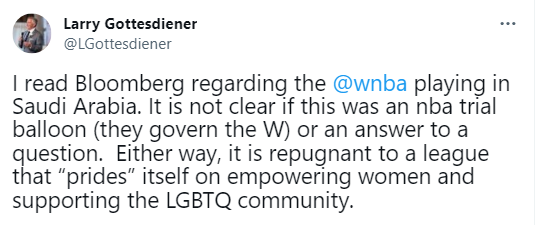 "I read Bloomberg regarding the @wnba playing in Saudi Arabia. It is not clear if this was an nba trial balloon (they govern the W) or an answer to a question. Either way, it is repugnant to a league that "prides" itself on empowering women and supporting the LGBTQ community."
The full Bloomberg article and video of the interview are paywalled. Here is the transcript of the exchange between Fu and Engelbert (bold emphasis ours):
Scarlet Fu: So we're in sports this week, which of course, is the unexpected merger of the PGA Tour and LIV Golf. What intrigued me though, was how women's golf thought about potentially doing business with Saudi Arabia. And I know you're on the board of LPGA because the LPGA Commissioner last summer said she would take a phone call from LIV Golf because it's my responsibility to evaluate every opportunity. What do you think about that idea that women's sports can't afford to ignore a potential benefactor even when the Benefactor might not be their first choice?

Cathy Engelbert: Right. Well, first, I'm not on the board of the LPGA I'm a board of the USGA, which is I talked is an non-profit about the game of golf. So just but um, look, I think women's sports is really hard. It's like pushing a big boulder up a hill and whenever you can look at opportunities, but it also has to be whether it's a company that you're looking at partnering with, or a country who are looking to partner with, it has to share your values. And that's how we think about it at the WNBA so I can't comment on the LPGA or golf specifically. But I do have [gets cut off]

Fu: Hypothetically, if Saudi Arabia came to you, how do you think you might respond to that?

Engelbert: I think we'd evaluate it across what our global games platform looks like. It wouldn't be the first place I went for sure. But we have this opportunity like we have in Canada, in Europe, in Asia and Africa. I mean, Africa would love for a WNBA game to come there. So, we'd look at it in the context of maybe an EMEA games, you know, Europe, Middle East, Africa, as part of our global platform. But we'd look at it too, so I don't disagree with Molly, commissioner, you know, of the LPGA. But it is something I think you have to think through and the WNBA players. We're running a very player-first, player-led league and I would go to them first and say where do you want to play.
While WNBA is celebrating Pride month, there are no legal protections for members of the LGBTQ+ community in Saudi Arabia, and homosexual acts are punishable by death. Here is the country's scorecard from Equaldex's Equality Index.