Phoenix vs. San Antonio or…Lisa Leslie on "The Superstars"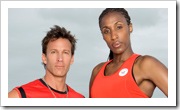 Thirty minutes after the Phoenix Mercury and the San Antonio Silver Stars tipoff tonight in Texas, injured WNBA star Lisa Leslie appears on the ABC sports series "The Superstars."
If you grew up during the 1970s and early 1980s you probably remember "The Superstars" and larger-than-life athletes like Joe Frazier and Renaldo Nehemiah competing in events such as 50-meter swimming races.
Leslie is not the first female basketball star to be on the show. Basketball legend and former sportscaster Ann Meyers Drysdale, the current General Manager of the Phoenix Mercury competed and won the basketball competition for three years in a row from 1981 through 1983. Nancy Lieberman won in 1984.
The show is super-lite fare and while it pre-dates today's reality show craze, it still fits right into the genre alongside competition-based shows such as "Survivor" and "American Gladiators."
Leslie, a center for the Los Angeles Sparks center, hurt her knee and bruised her right hip Friday in a game against Phoenix. She is expected to miss about six games. In the meantime, she is blogging about her "Superstars" experience on WNBA.com and says she'll post about each episode as they air (the show is pre-taped). While she indicated that everyone on the show was nice she did write that there were two participants who were "attitude challenged at times." So much for anticipating the over-the-top and scripted drama of most reality shows. However, she does promise comedy.
"I think people will find that even though it is a sports show, there is a lot of comedy involved," she wrote. "And I being Lisa Leslie – and at times being Lucille Ball – am a part of that."
And viewers will get to see if there are any life-threatening moments like the one that happened to Frazier when he was on the show in 1973. He almost drowned in the swimming race. He failed to tell the show's producers that he could not swim. When asked why he tried the event Frazier answered "How was I to know I couldn't unless I tried it?"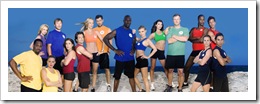 Leslie' partner on the Superstars is actor and former University of North Carolina football player Dan Cortese. Participants found out who their selected partners were only when they met for the first time at the Atlantis Resort in the Bahamas.
The other teams are:
The six-episode series premieres tonight, 8:00 p.m., ET on ABC.