Bad news for Diana Taurasi, Mercury star faces extreme-DUI charge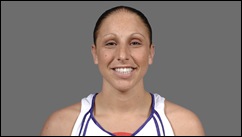 Phoenix Mercury star Diana Taurasi pleads not-guilty to three drunk-driving related charges stemming from a July 2 incident in which she was cited for a DUI. The charges, filed in Phoenix Municipal court, originate from an early morning police traffic stop, the day after her team won a game versus Seattle. Taurasi scored 22 points in that victory over the Storm.
According to a Phoenix police report released today, Taurasi had a blood-alcohol level of 0.17, more than twice the Arizona legal limit of 0.08 percent, when she was pulled over. The arresting officer detected what he believed to be the odor of intoxicating beverages and a series of field sobriety tests were conducted at the scene. She told police she had "a few" drinks at a club.
Taurasi was transported to a Phoenix Police Mobile DUI van where a sample of her blood was obtained. The police issued citations and she was released to friends.
In the past, WNBA players who have been charged with first-time DUI are suspended for two games. Detroit center Kara Braxton served a six-game suspension for a DUI plea at the beginning of the season because it was not her first time getting caught driving under the influence.
Shortly after Taurasi received the citations she released this statement about her arrest:
"As part of the Phoenix community and the Mercury it's just something that's embarrassing and unfortunate for my family and for our organization. We'll have some other stuff to say later, but personally it's just a bad situation and I'm gonna have to do some things to make it straight. "
In Arizona, a blood-alcohol level of 0.150 or more means a driver can be charged with an extreme-DUI. If convicted, Taurasi faces the following penalties (from the Arizona Revised Statutes):
Shall be sentenced to serve not less than thirty consecutive days in jail and is not eligible for probation or suspension of execution of sentence unless the entire sentence is served. The Court may suspend 20 of the 30 days if she agrees to get an alcohol and/or drug evaluation, and submit to treatment.
Shall pay a fine of not less than two hundred fifty dollars.
Shall pay an additional assessment of two hundred fifty dollars.
May be ordered by a court to perform community service.
Shall be required by the department, on receipt of the report of conviction, to equip any motor vehicle the person operates with a certified ignition interlock.
Shall pay an additional assessment of one thousand dollars to be deposited by the state treasurer in the prison construction and operations.
Shall pay an additional assessment of one thousand dollars to be deposited by the state treasurer in the public safety equipment.
Phoenix Mercury's stance on Taurasi was to wait until the outcome of the blood-alcohol tests before meting out any punishment. They released this brief statement July 3: "We're aware of the situation. Diana notified the team immediately. We'll have no further comment until all the facts are known."
Her next scheduled court date is July 22.
Taurasi is the Phoenix Mercury's leading scorer and was a league front-runner in 2009 All-Star balloting. She was not selected as an All-Star starter.
Update (7/14/09, 11:49 p.m.)
The Mercury released a statement regarding Diana Taurasi's DUI charges.
Mercury Statement in Response to Media Inquiries

July 14, 2009

We're aware of the recent reports in regards to the situation with Diana
Taurasi. Our organization takes these matters very seriously. We have
discussed the matter internally and determined that until all the facts are
known to us, it would be inappropriate to announce a particular course of
action.