Starting lineups announced for WNBA All-Star Game, Tamika Catchings tops balloting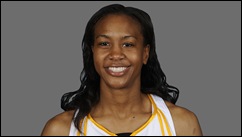 Tamika Catchings received the most votes (94,316) in WNBA All-Star Balloting. It was the second time the Indiana Fever guard led in voting, having also earned the honor in 2006.
San Antonio Silver Stars guard Becky Hammon (88,991), Seattle Storm forward Lauren Jackson (88,685) and Storm guard Sue Bird (88,591) followed closely behind and topped all players in the Western Conference.
Just a week and a half ago, Phoenx Mercury guard, Diana Taurasi led all players. She was charged with a DUI today as the result of a July 2 citation from Phoenix police.
Fans voted for the starters of the game, which will be played at Mohegan Sun Arena on Saturday, July 25. It will be nationally televised on ABC beginning at 3:30 p.m. EDT.  Mohegan Sun Arena also hosted the WNBA All-Star festivities in 2005.
The full roster of starters:
Eastern Conference Starters:
Katie Douglas, Guard (Indiana Fever)
Alana Beard, Guard (Washington Mystics)
Sylvia Fowles, Center (Chicago Sky)
Candice Dupree, Forward (Chicago Sky)
Tamika Catchings, Forward (Indiana Fever)
Western Conference Starters:
Sue Bird, Guard (Seattle Storm)
Becky Hammon, Guard (San Antonio Silver Stars)
Lisa Leslie, Center (Los Angeles Sparks)
Swin Cash, Forward (Seattle Storm)
Lauren Jackson, Forward (Seattle Storm)
The 13 WNBA head coaches will select the reserves by voting for six players within their conference, including two guards, two forwards, one center and one player regardless of position. Coaches are not permitted to vote for players on their team.
San Antonio Head Coach Dan Hughes will coach the West by virtue of winning the 2008 Western Conference title. The East will be led by Indiana Head Coach Lin Dunn, who was named the coach after the Fever clinched the best winning percentage in the Eastern Conference for games through July 15. This method was used because Bill Laimbeer, head coach of the 2008 Eastern Conference champion Detroit Shock, stepped down from his post in early June.