Diana Taurasi named 2009 WNBA Most Valuable Player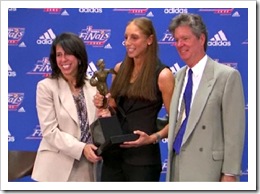 Phoenix Mercury guard/forward Diana Taurasi has been named the 2009 WNBA Most Valuable Player. Taurasi received 323 total points and 27 first place votes from a national panel of sportswriters and broadcasters, earning her first career MVP award. Indiana Fever forward Tamika Catchings ranked second with 163 points (three first place votes) while her teammate Katie Douglas finished third with 128 points (five). Taurasi's teammate, Cappie Pondexter, finished fourth with 99 points (one).
"The award should say Phoenix Mercury on it," said Taurasi during the press conference announcing the award, "because everyone contributed to this."
Other top vote getters included San Antonio Silver Stars guard Becky Hammon with 77 points (three), Seattle Storm forward Lauren Jackson with 73 points, Los Angeles Sparks forward Candace Parker with 39 points and Detroit Shock guard Deanna Nolan with 27 points. In all, five different players received first place votes this year. Jackson is a two-time WNBA MVP (2003, 2007) and Parker won the award last year as a rookie (2008).
Taurasi caps a season in which she led the WNBA with 20.4 points per game and captured her third-career Peak Performer Award for scoring (2006, 2008, 2009). She shot a career-best 46.1 percent from the field and tallied 20 or more points in 20 games this season, including a season-high 34 at New York on July 26. She boosted her league-record for 30 point games to 23 with two 30-point performances. On Sept. 5, Taurasi became the fastest player to 4,000 career points doing so in 197 games to break Lauren Jackson's record (209). She led the league in three pointers made with 79 and ranked seventh in the league in three-point shooting percentage (40.7). Taurasi ranks 13th in league history for points scored (4,029) and third in all-time points per game (20.3).
In 2009, Taurasi ranked among the WNBA's top ten leaders in nearly every category, including points per game (first), three point field goals made (first), three-point field goals attempted (fourth), three-point field goal percentage (seventh), free throws made (third), free throws attempted (fifth), free throw percentage (sixth), field goals made (fifth), field goals attempted (10th), blocks per game (eighth) and defensive rebounds per game (sixth).
Previous MVP winners
1997- Cynthia Cooper – Houston Comets
1998- Cynthia Cooper (2) – Houston Comets
1999- Yolanda Griffith – Sacramento Monarchs
2000- Sheryl Swoopes – Houston Comets
2001- Lisa Leslie – Los Angeles Sparks
2002- Sheryl Swoopes (2) – Houston Comets
2003- Lauren Jackson – Seattle Storm
2004- Lisa Leslie (2) – Los Angeles Sparks
2005- Sheryl Swoopes (3) – Houston Comets
2006- Lisa Leslie (3) -L os Angeles Sparks
2007- Lauren Jackson (2) – Seattle Storm
2008- Candace Parker – Los Angeles Sparks